George Gascon
Legal System Fails Again: No Charges for Trucker Who Killed Amelie
5:33 PM PDT on May 14, 2014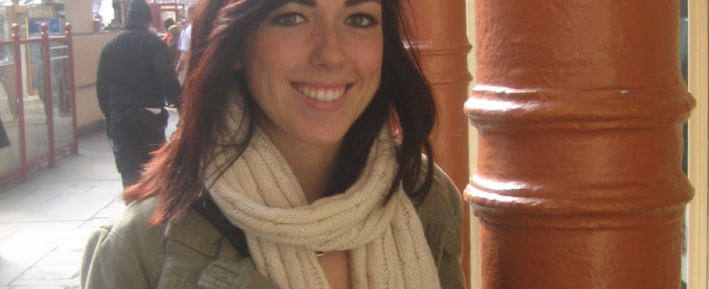 Note: Amelie Le Moullac's mother, Jessie Jewitt, and other Bay Area musicians will perform at a benefit concert on Friday in Palo Alto at 7:30 p.m. Proceeds will go to Amélie's Angels, "a fund dedicated to bringing the gifts of education, food, clothing, toys, and most importantly love and laughter, to the children of Haiti."
The truck driver who hit and killed Amelie Le Moullac on her bike at Folsom and Sixth Streets last August will face no charges from District Attorney George Gascón, despite surveillance video showing the driver at fault in the incident.
Gilberto Alcantar, the truck driver, is shown making an unsafe right turn in the bike lane in the video found by an SF Bicycle Coalition staffer. SFPD investigators initially claimed they could find no such video, and blamed Le Moullac for her own death. SFPD Chief Greg Suhr later apologized for the botched investigation, as well as the behavior of the sergeant who purposefully blocked a bike lane at a rally for safer streets in her honor. Suhr declared that the video evidence showed the fault was mainly with the driver, but DA Gascón says prosecutors can't make an adequate case to file charges.
The news was broken yesterday by KQED's Bryan Goebel, founding editor of Streetsblog SF:
After watching the video, investigators concluded Alcantar was to blame for making an unsafe turn into the bike lane, killing the young public relations professional. Despite that key piece of evidence, prosecutors ultimately felt it wasn't enough to convince a jury.

"Unfortunately, with the evidence presented, we are unable to prove this case beyond a reasonable doubt," said Alex Bastian, a spokesman for San Francisco District Attorney George Gascón.

Micah Liberty, an attorney for the Le Moullac family, has filed a wrongful death lawsuit against Alcantar and Milipitas-based distributor Daylight Foods. She said the family was disappointed and heartbroken that charges aren't being filed, and that Alcantar wasn't issued a ticket.

"After reviewing the evidence that we have, looking at the video of the incident, it's really hard for this grieving family to understand how a driver can do what he did without receiving even a slap on the wrist for a minor violation of the vehicle code," Liberty said.
"There is no issue about what happened. The video is clear, from what I understand -- he made an unlawful turn across the bike lane," said Shaana Rahman, an attorney who represents pedestrian and bicyclist victims in civil court. "It's not all the time that you get such a clear piece of evidence in cases, either civil or criminal. There aren't videos for every bike accident that happens -- and here we have one."
As frustrating as the lack of charges in this case may be, it's par for the course when it comes to holding drivers accountable for killing people biking and walking. As the Center for Investigative Reporting found last year, 60 percent of the 238 drivers who killed pedestrians in the Bay Area between 2007 and 2011 were found to be at fault or suspected of a crime but faced no criminal charges, and those who did usually only faced a slap on the wrist. Drivers tend not to be charged unless they were drunk or fled the scene.
Even drunk drivers can get off easy. Kieran Brewer, who was intoxicated when he ran over 17-year-old Hanren Chan in a crosswalk on Sloat Boulevard, was sentenced to just six months in jail last month.
DA Gascón says he's increasing efforts to prosecute traffic violence, and plans to hire a dedicated vehicular manslaughter unit of prosecutors to specialize in such cases, and it's expected to be funded in the city budget this year. But his office claims that in Le Moullac's case, there isn't evidence to justify criminal negligence on the driver's part -- even with the video.
Yet Gascón did manage to prosecute the only two bicycle riders in SF history known to have killed pedestrians, and said those charges should "send a message" that "cyclists need to understand that they're held accountable to the same standard as anybody else operating any other type of vehicle."
It's clear, however, that the "standard" for holding deadly drivers accountable remains high, and that the failure to bring charges in cases like Le Moullac's lies with both the DA and the SFPD investigators who submit cases to his office.
Rahman says there's room for improvement each step of the way, but that she can especially attest to a regular pattern of inadequate SFPD investigations in bike and pedestrian crashes. In Le Moullac's case, she said, "The way the video came to light was problematic. They didn't do any canvass, didn't do any investigation, which is per usual. The cops failed to do their jobs to secure evidence."
In January, Chief Suhr announced reforms to improve police investigations in pedestrian and bicycle crashes, including allowing officers to cite the party found at fault on the scene. In regards to the investigation of Le Moullac's case, he said, "We're better than that."
When Suhr was asked on Bike to Work Day last week about the strong perception of SFPD bias against bicycle riders, he told Goebel and me that "the numbers don't bear it out" because most traffic tickets go to drivers. When Goebel pressed him specifically about officers' treatment of bicycle riders in crashes, he said the SFPD recently added "complaint of pain" to its investigation forms, and said "we need the bicyclists, when they're not fine, to say they're not fine."
Then there's the matter of the DA. On the relatively rare occasions when the SFPD submits cases to the District Attorney for investigation, does the DA make every effort to prosecute lethal recklessness?
Gascón says yes, and told KQED, "If the driver was the one at fault and there is a death, then we have a prosecutable case and we look at the evidence and whether we can prove it beyond a reasonable doubt."
That claim is still a bit hard to swallow when looking at comparable cases. In prosecuting racing cyclist Chris Bucchere for killing 71-year-old Sutchi Hui at Market and Castro Streets, the DA's investigators went to great lengths to gather evidence, as they should for any traffic death. They collected GPS data and surveillance footage, and spent weeks tracking down witnesses to make the case that Bucchere was reckless because he was speeding and running stop signs leading up to the crash.
In Cleveland in 2009, 22-year-old Sylvia Bingham, originally of San Rafael, was killed in a strikingly similar case to Le Moullac's -- a truck driver ran her over while making a right turn. The driver, Herschel Roberts, was sentenced to three years in prison and lost his driver's license for life. The judge in that case said Roberts had likely passed Bingham on her bike seconds earlier and had a duty to look in the truck's mirrors before turning right.
Meanwhile, in another San Francisco crash where video evidence was available, a DA spokesperson said prosecutors couldn't charge a driver who ran over a man walking with a cane in a crosswalk because the victim didn't die.
All told, Le Moullac's story seems to show that it's fine for a driver to run over and kill a woman on her bike -- even when the deadly violation is caught on tape -- as long as the driver wasn't shown to be driving in a brazenly reckless manner moments beforehand. Deadly negligence by a professional driver is still okay in the eyes of the law here in San Francisco.
Gascón has yet to uphold his claim that he holds drivers to the same standard he held Bucchere to. "You're going to have to be consistent," said Rahman. "It's a little bit unclear what the standard is going to be going forward."
Aaron was the editor of Streetsblog San Francisco from January 2012 until October 2015. He joined Streetsblog in 2010 after studying rhetoric and political communication at SF State University and spending a semester in Denmark.
Read More:
Stay in touch
Sign up for our free newsletter