Car-Free Streets
SFMTA Considers Restricting Cars on Crooked Lombard Street
4:58 PM PDT on May 19, 2014
The "crookedest street in the world" block of Lombard Street is a world-famous tourist attraction, but the resulting car traffic causes congestion and safety problems and may lead the SFMTA to ban tourists from driving that stretch.
In an attempt to reduce pedestrian injuries and blocks-long car queues, the SFMTA Board of Directors on Tuesday will consider several summer trials to allow only "local" cars on two blocks of Lombard. The restrictions would apply on eastbound Lombard, between Larkin and Leavenworth Streets, on Saturdays and Sundays from June 21 through July 13, and on Friday, July 4. The SFMTA will consider longer-term, even permanent, restrictions after monitoring the impacts.
According to an SFMTA report [PDF], the push for restricting tourists from driving on curvy Lombard came from the residents who live on it, as well as District 2 Supervisor Mark Farrell. The effort has support from Russian Hill Neighbors and the Lombard Hill Improvement Association.
"In prior years, this portion of Lombard Street has experienced a number of vehicular collisions, pedestrian injuries, and residential property damage," the report says, also noting "chronic congestion in the summer months" that reaches three blocks back to Van Ness Avenue, where queued drivers "can delay regional transit and vehicular traffic." At the entrance to the crooked block, drivers also often block the Hyde Street cable car.
"Residents are also concerned about the mixing of large pedestrian crowds... with vehicular traffic," the report notes, listing several crashes with railings, pedestrians, and fire hydrants on the block within the last few years. In one incident, a speeding driver reportedly crashed into a retaining wall, rolled the car over and fled on foot.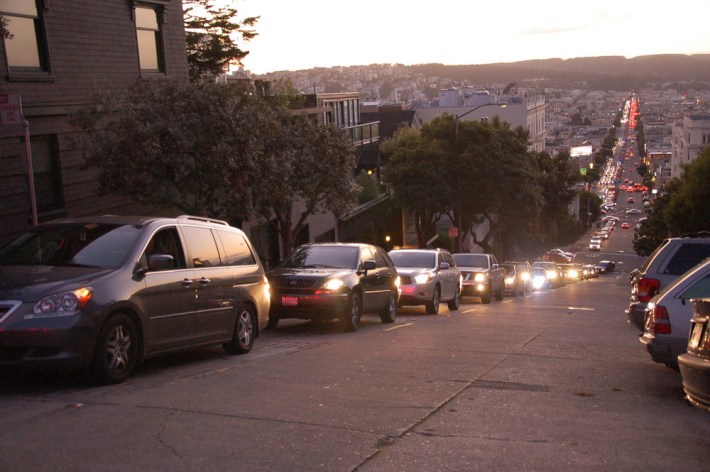 In January, SF Chronicle columnist C.W. Nevius reported on the issue, which has been debated for several decades:
"Every summer day it is screeching tires and burning clutches all afternoon," says David Crimmins, who is working on the issue for the Russian Hill Neighbors. "You've got engines revving, oil dripping and all kinds of mayhem. With the smell, no one wants to open their windows."

"We've had an incredible amount of incidents with people walking down the middle of the road," says Supervisor Mark Farrell... "The crookedest street has been in icon in San Francisco for years, but when it takes an hour and a half to get to your house, it becomes a neighborhood issue."
According to Nevius' article, the city has considered options like banning cars on the block completely, but neighbors don't want to be blocked themselves, and allowing only residents access to a public street is illegal.
The SFMTA report says the agency would monitor the pilot car restrictions and consider "temporary street closures on a more regular basis or, more long-term, seek State legislation to allow the City to gate Lombard Street so that only local traffic can drive down the Crooked Street at all times or when deemed necessary."
SFMTA staff is scheduled to make a presentation on the temporary car closures to the SFMTA Board at its meeting at City Hall on Tuesday at 1 p.m., where the board will consider approving them.
Aaron was the editor of Streetsblog San Francisco from January 2012 until October 2015. He joined Streetsblog in 2010 after studying rhetoric and political communication at SF State University and spending a semester in Denmark.
Stay in touch
Sign up for our free newsletter