Parking
Census: SF Has Enough Street Parking Spaces To Fill CA's Coastline
5:05 PM PDT on May 22, 2014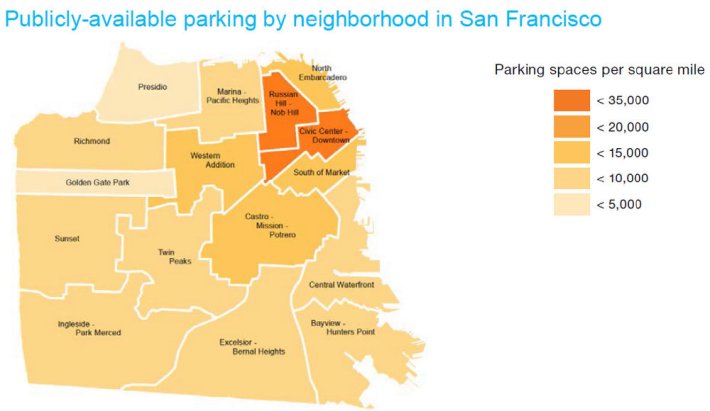 Clarification: California's coastline (840 miles) is shorter than the end-to-end length of SF's on-street parking spaces alone (900 miles). This post originally compared it to the length of SF's total public parking supply (1,451 miles long), which is actually longer than the United States' west coast from Mexico to Canada (1,360 miles).
Here's a point of fact for those naysayers who insist that SF absolutely needs every single one of its car parking spaces, and can't spare any for safer or more efficient streets: San Francisco has 441,950 publicly-accessible car parking spaces. Of that, the 275,450 on-street parking spaces alone are enough to parallel-park a line of cars 60 miles longer than California's entire 840-mile coastline, as the SFMTA pointed out to the SF Examiner today. That's enough parking to fill parking lots that would cover the Presidio, Golden Gate Park, and Lake Merced.
The figures come from SFMTA's newly-updated parking census. The census is a manual count conducted to refine the agency's 2010 estimate, which was based on a random sample of 30 percent of city streets. Parking spaces are most heavily concentrated in dense downtown areas, with 35,000 parking spots per square mile in areas like downtown, Civic Center, Russian Hill, and Nob Hill. On the lower end, most neighborhoods have about 10,000.
None of the counts included private parking spaces in residential garages, which are estimated to be in the hundreds of thousands.
"...With almost 10,000 vehicles registered per square mile, San Francisco today has one of the densest concentrations of cars on the planet, more than any peer city in the United States," wrote SF State University Geography Professor Jason Henderson in an SF Bay Guardian column this month.
The vast majority of curb space in San Francisco is devoted to 275,450 spaces for car storage. Each of those takes up roughly 140 square feet of real estate, 17 to 20 feet long and about 7 feet wide, according to the census. Ninety percent of those spaces are unmetered, and free to use at all times of day.
"A source of San Francisco's parking problem is you have some of the most valuable land on Earth, and it's free, and people complain there's not enough," Donald Shoup, UCLA professor and guru of modern parking policy, told the Examiner. "I think San Francisco has to figure out a smarter way to manage parking, other than just making it free to everybody."
Shoup called the reversal of Sunday parking metering to appease church leaders "another step backwards, telling the Examiner that "I believe in the separation of church and parking."
Bruce Osterweil, a car-owning Richmond resident, pointed out the absurdity of the free parking situation to SFMTA Director Ed Reiskin during a community meeting yesterday, after city officials had explained their proposed transportation funding ballot measures.
"Why can I park my car on the street for free?" said Osterweil, who previously sat on the Geary Bus Rapid Transit Citizens Advisory Committee for ten years. "My understanding is real estate is quite expensive in San Francisco. But we have this policy where you can own a car -- or more than one car -- and take up a lot of room, and park on the street for free. It seems like we should be paying for all that space."
Osterweil argued that putting a more rational price on parking, by expanding parking metering and permit restrictions, would reduce parking demand -- thereby opening up parking spaces and reducing traffic from cars circling for parking, all while raising money to improve transportation options.
That's the rationale behind the SFMTA's SFpark program, for which the parking census was conducted. SFpark is in a transitional phase as its two-year pilot period ends, and the agency is no longer using the in-ground sensors that were used to collect parking usage data. The SFMTA expects to present its SFpark pilot evaluation next month.
SFMTA Director Reiskin said nothing in response to Osterweil's comments, but after the meeting he told Streetsblog that the agency is essentially "institutionalizing" SFpark's principles into the agency's general parking management program. SFpark has been moved from the Finance Division to the Sustainable Streets Division, he said. And instead of using sensors, the SFMTA is now monitoring parking occupancy by using smart meters that track payments.
Still, the SFMTA isn't quite ready to try expanding parking meters again, after the backlash in Potrero Hill, Dogpatch, and the northeast Mission neighborhoods. "There were things done under the SFpark banner that hit some walls, but the general concepts, I think, have been fairly well validated empirically," said Reiskin.
But avoiding a car-clogged future for San Francisco will ultimately require recognizing that there's an upper limit to the number of cars that can safely and reasonably fit onto a 7-by-7-mile peninsula. Studies show that when more parking is built -- and underpriced -- then more residents tend to own and drive cars.
Yet as we've written, the more space we devote to parking, the less space we'll have to house people -- and SF is poised to build another 92,000 spots for personal car storage by 2040 under current policies.
Meanwhile, attempts by the SFMTA to take even a sliver of curbside parking for protected bike lanes or transit bulb-outs invariably result in merchants and residents fighting tooth and nail to preserve every last spot. And SF's political leadership rarely steps up to defend such rational efforts to more efficiently re-purpose public space.
"I think a lot of people don't realize that parking is the cause of congestion," said Osterweil. "If you charge for it, people might not have five extra cars."
Aaron was the editor of Streetsblog San Francisco from January 2012 until October 2015. He joined Streetsblog in 2010 after studying rhetoric and political communication at SF State University and spending a semester in Denmark.
Read More:
Stay in touch
Sign up for our free newsletter