Mayor Ed Lee
Muni's Absymal Breakdown Rate: One Reason SF Needs a Vehicle License Fee
6:04 PM PDT on June 5, 2014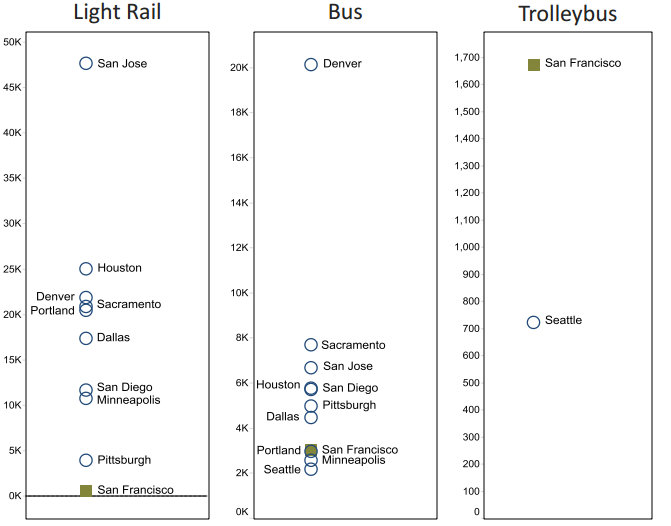 Muni vehicles break down far more frequently than in other cities, after years of the system being starved of the necessary funding to adequately maintain its fleet of trains and buses.
Muni's heavily-used light rail vehicles, which serve 50 million riders every year, have a failure rate that's off the charts. According to a City Controller audit [PDF] of Muni's performance compared to that of nine similar transit agencies, Muni metro LRVs broke down every 617 miles on average. At the other end of the spectrum, light rail vehicles in San Jose go 47,630 miles between breakdowns, which means that Muni vehicles break down 77 times as often. The second worst-ranked city after SF was Pittsburgh, at 3,923 miles.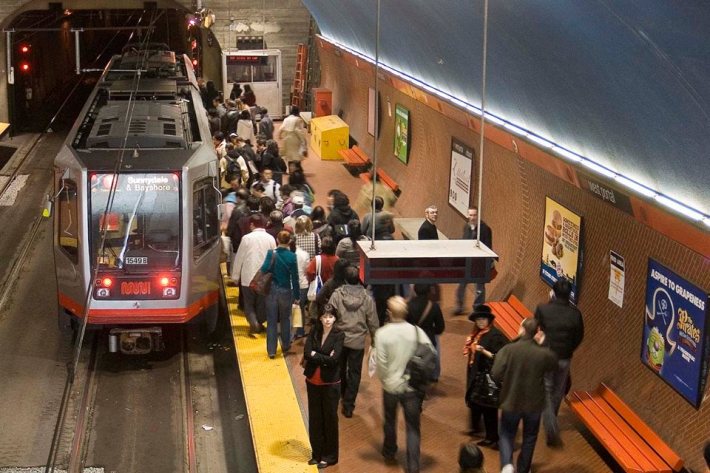 "Our light-rail seems eggshell-fragile compared to everyone else's," said Malcolm Henicke, a member of the SFMTA Board of Directors, who seemed surprised by the data and asked Muni management for answers at a board meeting on Tuesday.
SFMTA Director Ed Reiskin said that many of the LRV component systems haven't undergone overdue mid-life overhauls, which "we would be able to do with the vehicle license fee revenues." The VLF increase is one ballot measure proposed by the Mayor's 2030 Transportation Task Force, along with a $500 million general obligation bond. These measures would fund upgrades for the transportation network, including Muni rehabs and vehicle replacements.
But Mayor Ed Lee announced this week that he would abandon his support for the measure to restore the VLF to historic levels on this November's ballot -- even though the measure would raise $1 billion over 15 years. The SF Transit Riders Union called the mayor's announcement yet another "refusal to prioritize Muni at every turn" and a "complete failure of leadership."
In a separate audit presented by the City Controller a year ago, Muni delays were estimated to cost the economy at least $50 million a year.
Many Muni vehicles need to be overhauled, but the agency also needs to replace much of its aging fleet, both of which the ballot measures would fund. AnsaldoBreda, the manufacturer of Muni's notoriously breakdown-prone fleet of 151 trains, has already been disqualified from Muni's next fleet purchase. Pending full funding, those trains are expected to roll out in the coming years.
Reiskin blamed the design of the Breda trains for the metro system's high breakdown rate, as Muni has been plagued with a host of mechanical issues and design flaws since the vehicles went into operation in 1996. He noted that there are 220 moving parts within the steps and doors alone.
"It's a very high-failure design," said Reiskin.
Granted, the SFMTA has put more money into catching up on its transit vehicle and infrastructure maintenance in recent years, but the results haven't quite manifested themselves in any noticeable improvements to the Muni-riding experience. And while a highly-touted component of that effort is the ongoing replacement of diesel-run buses with new hybrid buses, SF Weekly's Joe Eskanazi reported in January that they, too, come with fundamental design flaws and a notoriously high breakdown rate. (Eskanazi has also covered Muni's maintenance and management woes extensively.)
The breakdown rate of Muni's diesel-engine buses was ranked third-poorest in the audit, roughly equivalent to Portland's and better than Minneapolis and Seattle's. Muni buses broke down about once every 3,000 miles on average, compared to nearly 8,000 in Sacramento and 20,000 in Denver.
Seattle was the only one other city analyzed in the audit that also runs electric trolley buses. SF actually beat Seattle in this category -- Muni's breakdown rate was just once every 1,700 miles, compared to Seattle at just over 700. Still, since both cities' trolley buses are aging and in need of replacement, both systems see much worse reliability than any fleet of diesel buses and light-rail vehicles -- except when it comes to Muni (again, its light rail vehicles at 617).
By the way, the VLF isn't dead. Stay tuned for more coverage of developing efforts to continue the campaign to get it passed.
Aaron was the editor of Streetsblog San Francisco from January 2012 until October 2015. He joined Streetsblog in 2010 after studying rhetoric and political communication at SF State University and spending a semester in Denmark.
Stay in touch
Sign up for our free newsletter