Media Watch
SF Chronicle Regurgitates Misinformation From the Free Parking Crowd
6:43 PM PDT on June 9, 2014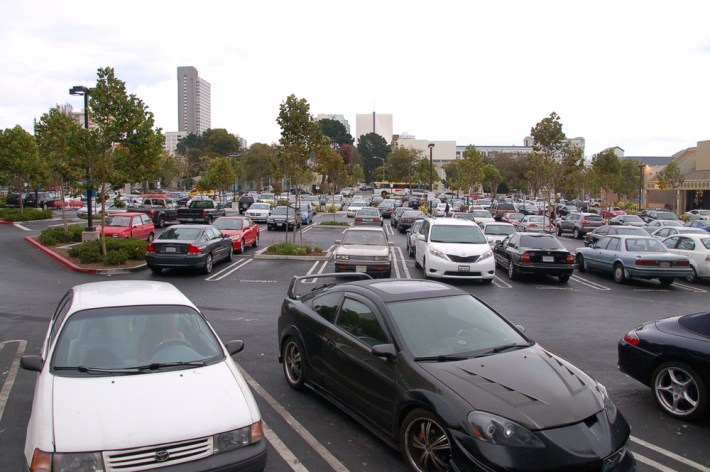 The SF Chronicle printed an op-ed this weekend, written by the Republican-backed group that aims to "restore balance" on San Francisco's streets. And by "balance," they mean enshrining a status quo where cars, not people, get the lion's share of the public streets, in the form of more pavement and more traffic.
Unfortunately, the Chronicle didn't seem to have a problem reprinting the misinformation that plagues the column, which was written by right-wing author Bill Bowen. Given that the Chronicle failed to challenge, or even "balance," Bowen's unfounded claims and factual errors, we thought we'd clear some things up.
Transportation policy has been set by the agency's governing board, whose members are appointed by the mayor. By law, a majority must be regular riders of Muni.

The loudest voices? The San Francisco Bicycle Coalition and those who envision a "car-free" city, despite the fact that 79 percent of households have a motor vehicle and nearly half of those commuting to work do so by car.
This is a misleading and hyperbolic way to misrepresent policies aimed at giving San Franciscans better alternatives to owning cars. Another way to look at car ownership stats: 37.1 percent of households own only one car, so 58 percent of households own one or zero cars. Despite having a solid car-light majority, San Francisco already devotes most of its street space to moving and parking cars -- mostly for free -- and furthermore has long mandated off-street parking with every new building even while demonstrable shortages exist of many other land uses (notably housing). Meanwhile, most of those cars stand still most of the time: only 36.6 percent of San Franciscans drive alone to work, with most accomplishing their daily tasks by foot, transit, or bike.
The assertion that the SF Bicycle Coalition is responsible for the SFMTA's shift away from car-centric policies might be flattering to the organization, but SFBC doesn't call for a "car-free city." Instead, they sensibly advocate safer streets, to make bicycling a safe and comfortable option for more residents and more trips.
The failed effort to dissuade people from using cars falls into two categories:

Don't build it and they won't come: With San Francisco growing by 10,000 residents per year, the strategy is to force people out of cars by making parking impossible. Where construction codes once required a developer to provide at least one parking space per apartment, new apartment building often offer far fewer. Thousands of parking spaces have been eliminated as new buildings rise on empty lots. Bicycle lanes now take an increased portion of the streets. No new public parking lots have been built in nearly 20 years. New proposals would dedicate 1,000 existing parking spaces to ride-share vehicles and "parklets."
Actually, a guaranteed parking space is a huge artificial incentive for residents to own and drive cars, even when they otherwise wouldn't. This was confirmed by research published in 2012 by University of Pennsylvania planning professor Rachel Weinberger, who compared three New York city boroughs developed with different amounts of off-street parking.
The research "demonstrates a clear relationship between increased access to guaranteed parking at home and a propensity to drive to work in the Manhattan Core," Weinberger wrote, as Streetsblog reported after it was released. "Off-street parking correlates to driving to work both indirectly by its contribution to car ownership and directly by easing car use."
In other words, if a home comes with a parking space, its residents will feel inclined to use it. And providing that parking reduces the supply and raises the cost of housing. In neighborhoods where residents can use their unwanted parking space for storage, they often do: A study found that half of residential garages in the Mission were used for storage, not to park cars, thus defeating the requirement's purpose.
It's not as if there's some natural amount of parking spaces that cities must build to satiate demand. Building forever more parking to chase that unattainable goal of "enough parking" comes at great cost. On the other hand, reserving spots for car-share (which we assume Bowen means when he refers to "ride-share" spots) reduces parking demand by a factor of about 13 to one, which any advocate of parking availability should be loudly cheering. And Bowen tosses parklets into the list of "forcible" evils, even though they're requested by merchants who think the sliver of street space fronting their shop can serve a higher use than car storage.
Make car ownership so expensive that most residents will give up the convenience: Rates for city-owned parking garages, parking meters, residential parking permits and parking tickets have all had double-digit increases. There was a move - which will be temporarily suspended - to begin Sunday parking meter enforcement. "Peak-demand period" meter rates were introduced. The transit agency has called for tripling the vehicle license fee charged by the state by adding a city surcharge in order to raise another $100 million per year from motorists. Fees on cars exceed user fares as a source of funding for the public transit system. Some of this cost for motorists is just the normal behavior of an inefficient agency; some of it is social engineering.
Where to start? Under SFpark, the SFMTA has actually dropped its garage parking rates to as low as $1 an hour to help fill up its underutilized spaces. Overall, SFpark has decreased rates by 1 percent, while saving drivers countless hours trying to find open parking spots, all through the "social engineering" of market pricing. Residential parking permits still only cost $109 per year, or just 30 cents per day. All in all, 90 percent of SF's 441,950 public parking spaces -- longer than the U.S. west coast -- remain free, not "expensive," to use at all hours.
Lastly, Bowen doesn't explain his strange mention of the Sunday parking meter repeal being "temporary," but I surmise it reflects his group's delusional view that the free parking crowd somehow doesn't hold sway at City Hall. "At the moment, Mayor Ed Lee does not support the VLF surcharge. Both it and Sunday parking meters will be back," he wrote. Could SF really be so fortunate?
Aaron was the editor of Streetsblog San Francisco from January 2012 until October 2015. He joined Streetsblog in 2010 after studying rhetoric and political communication at SF State University and spending a semester in Denmark.
Stay in touch
Sign up for our free newsletter