Bicycle Infrastructure
SFMTA to Add Bike Lane Buffer on Howard, Fix at Folsom On-Ramp
5:16 PM PDT on June 26, 2014
The SFMTA plans make upgrades to the Howard and Folsom Street bike lanes, a couplet of one-way bike routes that run through SoMa. A section of Howard will get a three-foot buffer zone added to its bike lane, as well as painted sidewalk bulb-outs. On Folsom, an intersection with the Bay Bridge on-ramp at Essex Street will be re-configured with a new bike traffic signal.
On Howard, the three-foot-wide bike lane buffer will come from narrowing the street's three traffic lanes, one of which is about 15 feet wide, down to roughly 11 feet, SFMTA staff said at a community meeting yesterday. That differs from last year's pilot project on parallel Folsom, in which one traffic lane was re-purposed to expand the skinny bike lane to 10 feet, including a buffer zone.
The Howard project can be implemented this year, much more quickly than most bike lane projects because the SFMTA won't remove traffic lanes and thus incur a lengthy environmental review, said SFMTA Livable Streets Section Leader Darby Watson. The inner section of Howard east of Sixth Street, however, is narrower, and traffic lane removal would be necessary. Watson said that the SFMTA plans to look at improving that section next year.
A handful of painted sidewalk bulb-outs, similar to those installed on Sixth Street, will also be added at corners on Howard at Sixth and Tenth Streets, to slow drivers' turns. SFMTA staff noted that they won't include fixtures within the painted bulb-outs, like the boulders and concrete planters that were placed in the painted bulb-outs along Sixth Street in November. In fact, those fixtures will be removed, since they've been trashed and are too costly to maintain.
The Howard improvements are branded as one of the 24 Vision Zero projects the SFMTA pledged to implement over 24 months. "These are targeted improvements to help safety where we know there are a lot of collisions," said Neal Patel of SFMTA Livable Streets.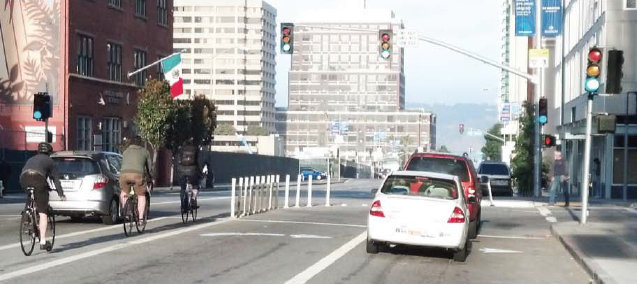 In a separate project at Folsom and Essex, just north of Second Street, the SFMTA will re-configure the bike lane. Currently, bike commuters are sandwiched in the middle of four traffic lanes, which forces bicyclists to merge to the left of two right-turn lanes bound for a Bay Bridge on-ramp. The bike lane will instead be placed curbside, and expanded with a buffer zone that will remove seven car parking spaces. A bike traffic signal will be added to allow bike traffic to proceed straight, during a separate signal phase, from drivers turning on to the ramp.
Crosswalks at the intersection will also be upgraded to the more visible "continental," or zebra, style.
"This is a smart solution to improve a well-known problem area along one of San Francisco's busiest bicycling routes," said SF Bicycle Coalition Executive Director Leah Shahum. "This will make the ride more comfortable and smooth for thousands of people each day."
The SFMTA hasn't issued a timeline for building the Folsom/Essex project, but it received preliminary approval at a recent public engineering hearing, and expects it to be approved by the SFMTA Board of Directors soon.
Bi-directional protected bike lanes could be constructed on Folsom, between Second and Steuart Streets (near the Embarcadero), as soon as next year [PDF], as part of the Transbay Transit Center District Plan.
"We look forward to the city stepping up its attention to other well-known problem areas -- particularly throughout the South of Market area -- where improvements are needed most, and the number of people biking is growing significantly," she added.
Aaron was the editor of Streetsblog San Francisco from January 2012 until October 2015. He joined Streetsblog in 2010 after studying rhetoric and political communication at SF State University and spending a semester in Denmark.
Read More:
Stay in touch
Sign up for our free newsletter