Bicycle Safety
Will San Mateo County Make Real Changes for a Safer Middlefield Road?
2:38 PM PDT on June 27, 2014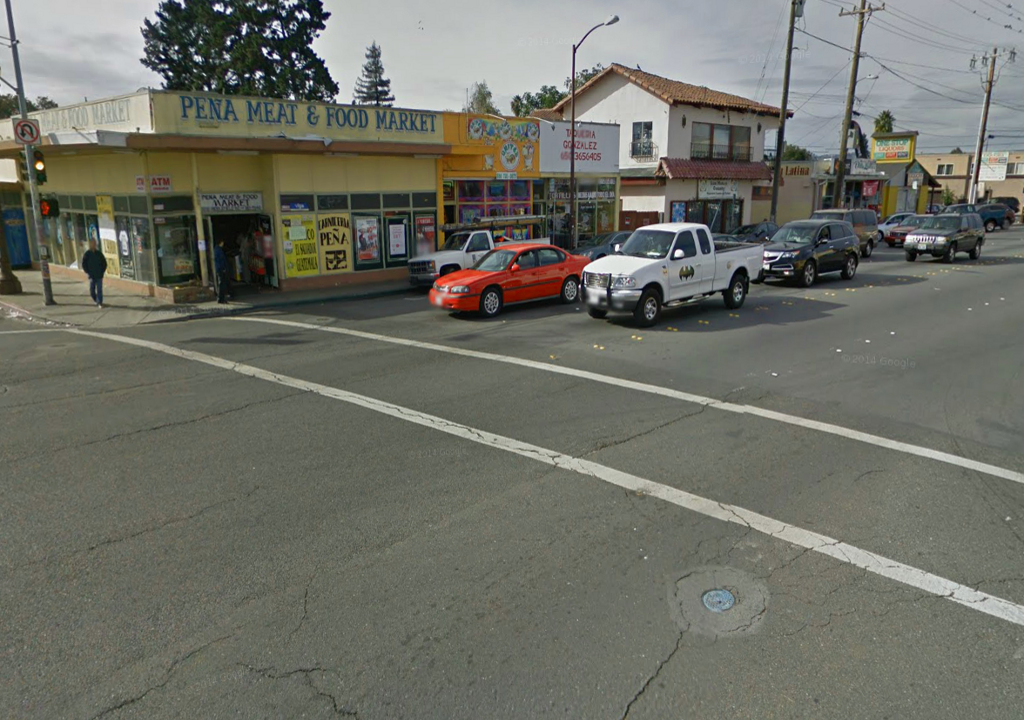 Residents of North Fair Oaks have made it clear that they want a safer Middlefield Road with wider sidewalks, but San Mateo County has yet to commit to a redesign that could make a real difference on this important commercial street.
On Tuesday, county officials presented the results of a community survey on the $12.5 million streetscape project for Middlefield Road between Fifth Avenue and Pacific Avenue in North Fair Oaks. The wide, four-lane street is home to most of the local businesses serving this densely-populated, 1.25-square-mile unincorporated area east of El Camino Real and south of downtown Redwood City.
"The common themes found in the survey's results, how residents and workers want Middlefield Road to be... were safety, accessibility, attractiveness, and a more active and vibrant urban area," said Deputy County Manager Peggy Jensen.
More than 2,100 people responded to the survey, conducted in April and May. Despite strong support for wider sidewalks and bike lanes, the county has still not committed to a road diet on Middlefield Road that's needed to create space for them. Planners are instead opting to keep the street's current four-lane configuration on the table, awaiting a recommendation on the street's design from the North Fair Oaks Community Council expected at their August 28 meeting.
Middlefield Road's outdated design presents serious hazards for anyone walking across or bicycling on the street, and it even poses difficulties for car access and parking. The long crossing distances for pedestrians prevent many children and seniors from walking across the street at all, especially at unsignalized intersections. With angled parking in most places, drivers' view of pedestrians stepping from the sidewalk into the street is often blocked by parked vehicles, and drivers can't see approaching traffic while backing out of a parking space.
The street's five-foot-wide sidewalks, narrowed even further by power line poles, make walking in groups uncomfortable and don't allow restaurants and cafes to provide outdoor seating as in the neighboring downtowns of Redwood City, Menlo Park, and Palo Alto. Utilities were placed underground and sidewalks widened in the downtown retail districts of those cities long ago to attract shoppers and diners.
A four-to-three lane conversion would open up room for wider sidewalks and bike lanes. Since the center lanes are often used by left-turning vehicles in the current design, converting them into one center left-turn lane should actually help traffic flow more smoothly, since drivers won't have to weave as much.
Meanwhile, retaining four lanes on Middlefield Road would only allow for door-zone bike lanes and slightly wider sidewalks.
"Three lanes on Middlefield is really key to creating a safer community," said Sequoia District Adult School Administrative Secretary Brianna Chavez at the meeting. "We want children to be safe and that means slowing down car traffic."
The redesign of Middlefield Road is one of many infrastructure projects identified as top priorities by the North Fair Oaks Community Plan, unanimously adopted in 2011 by the County's Board of Supervisors. It envisions "a community that is safe and accessible for pedestrians and bicyclists," and the first of its 11 primary goals is to "reduce mobility barriers through North Fair Oaks for all types of travel, including pedestrian, bicycle, automobile, and public transit."
The County's Public Works Department will present the results of a traffic analysis that includes both the three-lane and four-lane options at the North Fair Oaks Community Council meeting on July 17 and at a final community meeting on Middlefield Road on July 24, after which the council is expected to conduct its final review of the project and recommend a design at its August 28 meeting.
Andrew Boone covers the Livable Streets Movements for Streetsblog in San Mateo and Santa Clara counties. Andrew's claim to fame is once having bicycled more than 12,000 miles of smiles in one year. nauboone@gmail.com
Stay in touch
Sign up for our free newsletter