Aaron Naparstek
Streetsblog's Beginnings: Founder Aaron Naparstek to Speak in SF Tuesday
5:37 PM PDT on July 11, 2014
Streetsblog founding editor Aaron Naparstek will be in SF to serve as the keynote speaker at the SF Bicycle Coalition's Golden Wheel Awards on Tuesday evening. We thought it'd be a good opportunity to look back on how Streetsblog San Francisco came to be, and get Naparstek's take on what's changed in the city since we launched at the start of 2009.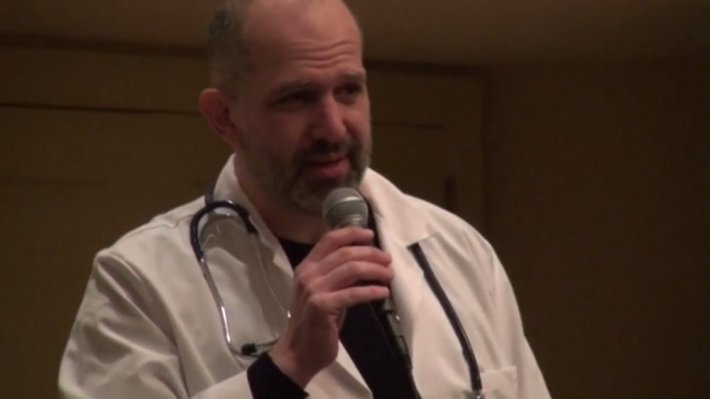 Naparstek founded Streetsblog in New York City in 2006 as a project of OpenPlans, our non-profit parent organization founded by Mark Gorton. Naparstek was the editor-in-chief until 2010, during which time he launched Streetsblog San Francisco, Los Angeles, Capitol Hill (now USA), and the Streetsblog Network. He recently completed a Loeb Fellowship at Harvard University's Graduate School of Design and has been working as a Visiting Scholar at MIT's Department of Urban Studies and Planning.
Naparstek was approached by a group of SF's sustainable transportation advocates, led by SFBC Executive Director Leah Shahum, in the summer of 2008 at the World Car-Free Cities Conference in Portland.
"They said, we think bringing Streetsblog here can really help energize the movement," he said. "To me it said, there's a community here that wants it, so let's try to make it happen."
With a four-year injunction on bicycle infrastructure in effect at the time, Naparstek said he'd been following SF's issues for a while. "It seemed like there was all this pent-up demand," he said. "I thought, San Francisco would be great for this."
Naparstek and the SFBC worked together to organize Streetsblog SF, raising funds and interviewing candidates for editor. At one point in that process, Naparstek said Shahum recommended interviewing Bryan Goebel, who had volunteered for the SFBC and had nearly 20 years of experience in journalism, primarily in radio. Goebel was chosen to become the editor of Streetsblog SF, and was partnered with Matthew Roth, who moved from New York City after working in livable streets advocacy there. Ultimately, Goebel took me on as an intern and trained me on the job, and I was chosen to fill the position after he left.
Naparstek noted that he was impressed by Shahum's commitment to helping launch a separate project in an environment where non-profits compete for scarce funds. "A lot of non-profit executive directors would be hesitant to bring us into their orbit because we're another mouth to feed, looking for progressive transportation advocacy dollars, when it's not that easy to raise money," he said. "I was impressed that the Bike Coalition had a broad enough view of the movement as a whole that they recognized that we could help make the pie bigger."
Streetsblog was formed around the idea of a media outlet that could cover issues around sustainable transportation and livable streets from an advocacy standpoint, highlighting stories not covered by traditional media. The aim is to promote the growing movement and shed light on the responsibility of government leaders and agencies to shape streets in ways that promote safer and more efficient ways of getting around.
In New York City in 2005, the city's department of transportation was still operating under car-centric policies out of the 1950s, turning quiet, two-way neighborhood streets into "one-way drag strips," Naparstek said. "There was this sense that New York transportation policy was really starting to fall behind," he said. "There was a push coming together to really get people to think about a bigger vision for New York City transportation."
In cities like London and Paris, leaders "were talking about transportation in this new way, where it wasn't about moving cars, it's about moving people, and being aware of the environment, and how streets could affect a city's business climate and economic opportunity," said Naparstek.
"I thought, I could write about this every day," he said. "There's stuff happening every day, there's lessons from other cities, there's watchdogging to be done for the city. The local media does not take this stuff seriously or care about it one iota."
Not long after Streetsblog launched, Mayor Michael Bloomberg made major changes to the leadership at NYC DOT. He appointed Transportation Commissioner Janette Sadik-Khan, who is now known as a national livable streets luminary. (Sadik-Khan was the keynote speaker at SFBC's Golden Wheel Awards last year.)
So, how does San Francisco look these days from the perspective of an outsider, more than five years after he created a branch of Streetsblog here?
"I don't think San Francisco's going to have its JSK (Janette Sadik-Khan) moment until it gets a mayor who really believes in this stuff and is not afraid to overcome the pushback, the bikelash, when changes are made on the street," said Naparstek. "I think all the pieces are in place in San Francisco -- there's an incredibly strong grassroots movement, but you're not getting the kind of mayoral leadership needed. I think there's a lot of fear still among the politicians."
The "bikelash," as Naparstek called it in a presentation at the National Bike Summit last year, seems to partly stem from the experiences of a generation of city dwellers who saw neighborhoods torn apart by freeways and re-development projects in the 20th century. As a result, "a lot of the older generation, particularly the baby-boomer generation that lives in cities, they almost have a kind of post-traumatic development syndrome."
"Particularly in a place where people care about their city, they like their city, they want to defend their city, when they see government making changes, they get really afraid," he said. "People saw a lot of really bad plans imposed on cities in the 50s, 60s, 70s, and into the 80s. So there's a real kind of skepticism when government comes in and says, 'Now we have another idea, we're going to put a bike lane in on Polk Street."
"People say, oh, yeah, I remember the last time you did that. We ended up with a double-decker freeway on our waterfront."
Today, there's a new generation of people moving into cities who are less interested in owning cars, and want to see safer streets for walking and biking, and more reliable transit. However, "I don't think this generation necessarily registers on the political radar yet," said Naparstek. "Politicians are still hearing from this older generation that, in a lot of cases, doesn't want change. And they're afraid -- they don't want to make people angry."
You can hear more from Aaron Naparstek at SFBC's Golden Wheel Awards event on Tuesday at 6:30 p.m., at the Delancey Street Foundation at 600 The Embarcadero.
Aaron was the editor of Streetsblog San Francisco from January 2012 until October 2015. He joined Streetsblog in 2010 after studying rhetoric and political communication at SF State University and spending a semester in Denmark.
Stay in touch
Sign up for our free newsletter