Muni
SFMTA Board Approves Contract for New Fleet of Muni Metro Trains
5:39 PM PDT on July 15, 2014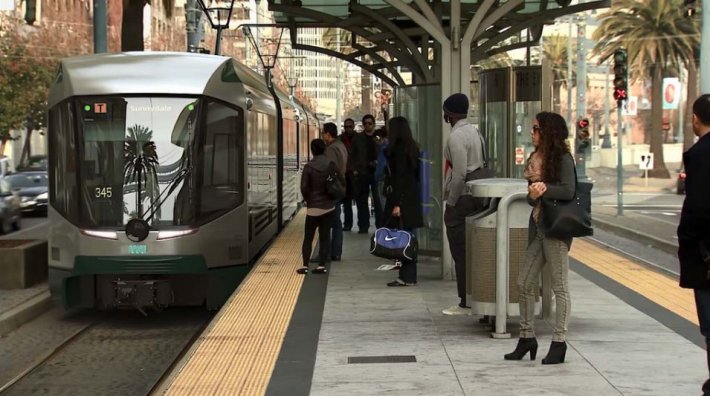 The purchase of Muni's next metro train fleet took a major step forward today as the SFMTA Board of Directors unanimously approved a manufacturing contract with Siemens.
Muni officials lauded the design of the new trains as far superior to the current, abysmally breakdown-prone fleet of light-rail vehicles, which were built by AnsaldoBreda. The fleet of 260 new trains will be manufactured by the German company Siemens at its Sacramento factory, and will roll out in phases starting at the end of 2016.
The contract approval "will put us on a structured, long-term course to take care of our most immediate and pressing service need right now -- to fix the very heart of our transit service network," said Muni Operations Director John Haley.
Muni metro riders can expect breakdowns to become much less common with the new fleet. The current Breda trains have a "mean distance between failure" rate of fewer than 5,000 miles, according to Haley, which means that they break down routinely. A city audit painted an even more dire picture, finding that Muni metro's aging trains break down every 617 miles on average -- far more often than any comparable transit system.
The Siemens trains have proven to break down every 59,000 miles in service elsewhere, more than double the minimum of 25,000 that Muni officials had set as a minimum for qualifying contract bidders. It's also "more than twice around the equator," said Haley.
As an example of the improvement of what Haley has called Breda's "high-failure design," the current trains have over 220 moving parts in the doors and raising steps alone. The Siemens trains have 20, Haley said.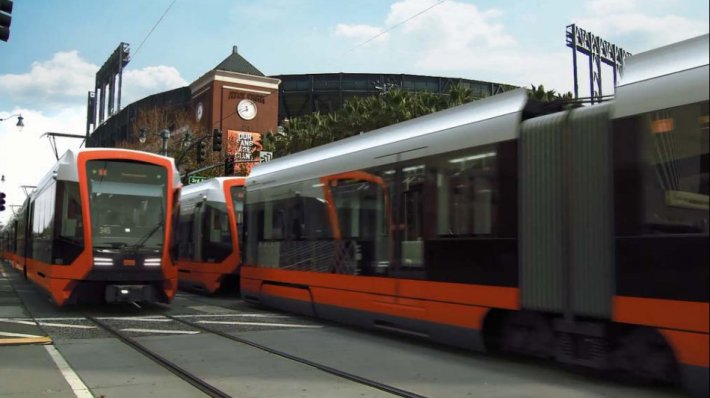 Breda was disqualified from bidding for the new contract, and successfully appealed, but did not bid anyway, according to SFMTA spokesperson Paul Rose.
The SFMTA Board authorized the agency to spend up $1,192,651,577  to purchase up to 260 Siemens trains, to be rolled out in phases by 2028. The first batch of 24 trains is expected to be phased in from the end of 2016 to 2018, and thus ready in time for the completion of the Central Subway in 2019.
Haley called Siemens an "industry leader," and said the company has a proven record, with about 1,300 of its trains used by North American transit systems. He said that Siemens has a "strong and consistent track record of meeting delivery schedules." The bidding price also was better than expected, and so Muni will be able to buy 215 within the same budget allotted for 175 cars.
The Siemens trains are expected to be lighter than the Bredas, feature more efficient motors and brakes, and require far less maintenance, said Haley. The operator cabs will also feature a more open design, making it easier for operators to see pedestrians, bicyclists, and drivers on the street. The specifics of the interior design are expected be vetted through a public process.
The new models will come with several variations [PDF], and will be able to couple with Breda trains -- which will continue to run in conjunction with Siemens trains for years, until the current fleet is completely retired. Haley noted that the train cars will also be able to couple and de-couple easily, and allow Muni to run trains as long as four cars long.
Haley said the SFMTA currently has most of the funding to replace the 151 Breda cars, and to buy the 24 additional train cars needed for Central Subway service. Funding for the remaining 85 cars would need to be secured down the line.
Aaron was the editor of Streetsblog San Francisco from January 2012 until October 2015. He joined Streetsblog in 2010 after studying rhetoric and political communication at SF State University and spending a semester in Denmark.
Read More:
Stay in touch
Sign up for our free newsletter