Board of Supervisors
Mayor Vows to Punish Supes Who Backed Wiener's Transit Funding Measure
5:45 PM PDT on July 29, 2014
Mayor Ed Lee, who has cut into transportation funding by nixing Sunday parking meters and abandoning a proposed vehicle license fee increase, now says that he will punish the six supervisors who voted to approve a ballot measure to increase transportation's share of the general fund. Supervisor Scott Wiener proposed the charter amendment as a stop-gap measure to fund the city's transportation needs, while SF waits two years for the mayor to support a vehicle license fee measure.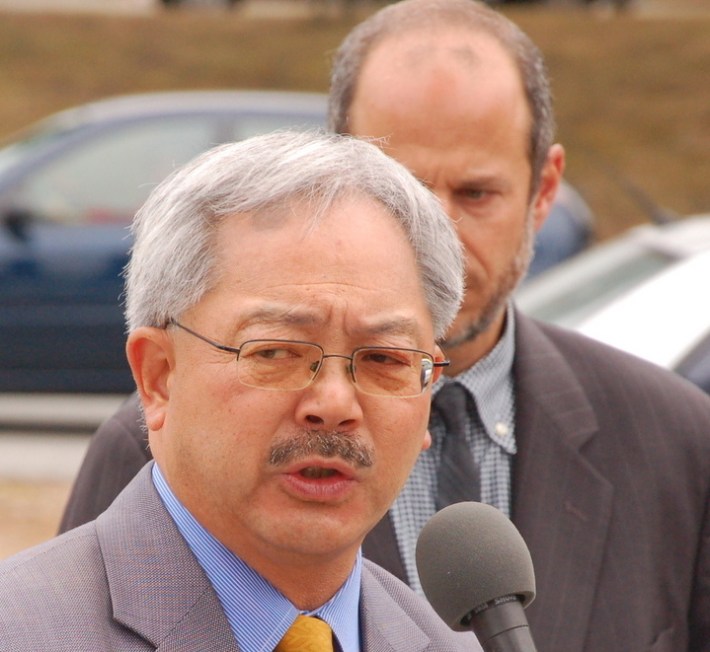 The SF Chronicle reported on Sunday that "the mayor's office seems to be hinting that it will target programs important to the six supervisors who voted to place Wiener's proposal on the ballot -- Wiener, David Chiu, Jane Kim, London Breed, Malia Cohen and David Campos."
Lee confirmed this report at a press conference yesterday, where he signed his touted $500 million transportation bond ballot measure. The mayor told reporters, "I have to hold the supervisors that did this accountable," and called Wiener's measure "disturbing," adding that it "can be very damaging" to the city budget.
"Fiscally, it was not responsible to have done," Lee said. "It disbalances the budget, and it was not what we had all collaboratively agreed to do."
If passed, Wiener's charter amendment would allocate an estimated $22 million to transportation in fiscal year 2015-2016, with 75 percent dedicated to Muni and the rest dedicated to bicycle and pedestrian safety improvements. Subsequent increases, based on population growth, would follow each year. A provision in the measure allows the mayor to nix it, once voters approve the vehicle license fee -- as expected in November 2016, if the mayor follows through on his pledged support.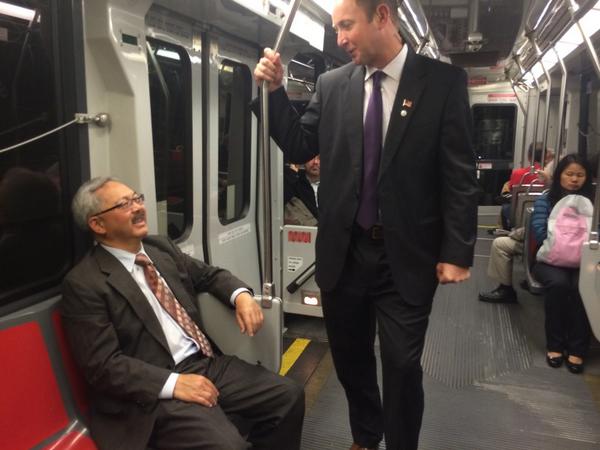 The mayor apparently tried to stop Wiener from moving forward with his ballot measure, on the grounds that it would take general funds from other city services, and hurt voter support for the $500 million general obligation bond for transportation that Lee has put on the ballot. Those arguments have been echoed by Supervisors Katy Tang, Mark Farrell, and Norman Yee, who voted against Wiener's ballot measure.
Wiener's measure will compete with ballot measures to increase funding for the Children's Fund and to boost the local minimum wage to $15 per hour. The Chronicle reports:
The minimum wage proposal - which calls for a gradual increase in the city's minimum wage until it hits $15 in 2018 - would account over time for the greatest increase in public spending, jumping from $12.8 million next year to $56.3 million by 2018, mostly because city contractors, such as in-home care workers, would be paid more. And that wage increase, combined with the children's fund increase, would make up 75 percent of the $104 million annual increase by 2018. But Lee and other critics are seizing on Wiener's proposal.
Mayor Lee's budget director, Kate Howard, told the Chronicle that "the mayor did ask the sponsor [Wiener] to not move forward with this, very directly." Wiener dismissed the mayor's concerns, saying that although the supervisors approved a two-year budget, the second year will be revised anyway:
This is really about priorities and choices -- that's what the budget is about. They have chosen to prioritize other things. I know it's always tempting, when you don't like a proposal, to use scare tactics -- but if this passes, it will fit into the budget just fine. Voters should have the opportunity to tell City Hall that Muni is a priority.
Keep in mind Mayor Lee's record on responsible transportation funding. He used his leverage over the SFMTA Board of Directors to repeal Sunday parking meters this year, which increased car traffic on the streets and cost Muni an estimated $11 million annually. The mayor said that doing so would win over support from car-driving voters for both the GO bond measure and VLF increase, both recommended by his own task force. However, he subsequently abandoned the VLF -- until Wiener convinced him to say he'll support it in the 2016 election.
This month, it was revealed that a major mayoral campaign donor, tech billionaire Sean Parker, has funded an advisory ballot measure that attempts to kill Sunday meters and enshrine free parking in perpetuity.
Mayor Lee may not see a problem with any of that -- or with parking in bus stops and crosswalks, for that matter. But to him, letting voters choose to fund Muni and safer streets with their own tax dollars is "disturbing" and "not responsible."
Aaron was the editor of Streetsblog San Francisco from January 2012 until October 2015. He joined Streetsblog in 2010 after studying rhetoric and political communication at SF State University and spending a semester in Denmark.
Stay in touch
Sign up for our free newsletter