Bicycle Safety
Santa Clara County Still Plans to Widen Expressways, Despite Lower Traffic
2:02 PM PDT on July 29, 2014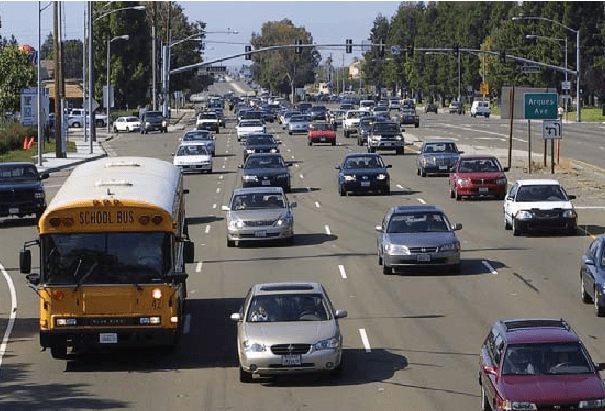 Santa Clara County is still operating under plans that assume it can build its way out of traffic congestion by adding more lanes of traffic, plus new overpasses and underpasses, to the county's 62 miles of expressways -- dangerous arterial roadways that were "upgraded" decades ago with freeway-like ramps and overpasses. This is in stark contrast to the 21st-century approach taken by other cities and transit agencies in the region, which are planning for reduced traffic volumes by centering future urban growth around transit corridors and high-quality networks for walking and bicycling.
The county is still in the preliminary stages of its Expressways Plan 2040 -- a long-term plan to "improve" the county's system of eight 1960's-era expressways, which "were designed to relieve local streets and supplement the freeway system." The current expressways plan is a 2008 update of a 2003 planning study, which identified and prioritized among a long list of highway expansion projects that could meet "expressway needs." Those "needs," of course, consisted of reducing traffic delays at intersections for drivers.
"The Santa Clara County Expressway Master Plan has historically promoted additional auto capacity and grade separations (separating cars from local cross-traffic to increase their throughput), with limited accommodation for other types of travelers," SPUR stated in its July report on strategies to improve transportation in the South Bay. "Future expressway master plans should aim for a multi-modal expressways system that is integrated with local efforts to grow sustainable, multi-modal communities."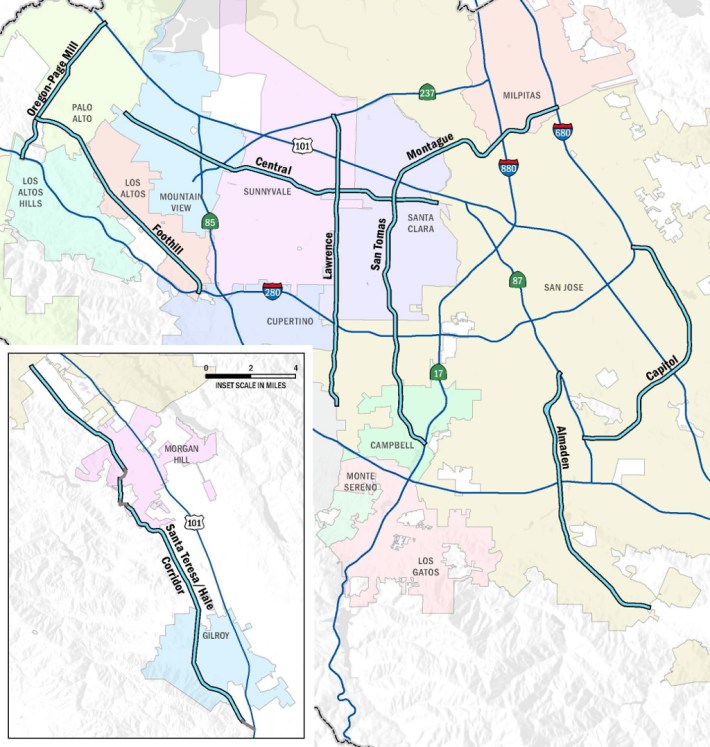 "Going back to the 1960's, the expressways were built with the intention of carrying automobiles," said Santa Clara County Transportation Planner Dawn Cameron. "For over two decades, we've been working at what is basically retrofitting an expressway system that was built fifty years ago."
The 2003 and 2008 plans did recommend new sidewalks, better crosswalks, improved signal timing, and striping changes, all of which would reduce hazards for walking and biking across or along the expressways. Long crossing distances and high speed traffic make the expressways inherently dangerous to walk or bicycle along, or even just to cross.
Twenty-six-year-old Daniel Campbell was killed in April while walking across Capitol Expressway at Seven Trees Boulevard in south San Jose, in what KTVU called a "hit and run accident." In June, 51-year-old Richard Yanis was severely injured after being struck by a hit-and-run driver just two miles away, on Capitol Expressway at Silver Creek Road.
Despite this clear danger, projects to reduce hazards for people walking or bicycling remain a low funding priority for the expressways, comprising three percent of the estimated $2.5 to $2.8 billion in capital program funding needs identified by the 2008 plan.
In comparison, sound walls and landscaping would receive four percent of funds, and the remaining 93 percent of funds would be spent on increasing vehicle capacity.
Meanwhile, traffic congestion seems to be going away on its own, without billions of dollars in new construction.
Data collected by the county since 2001 shows that traffic congestion on the expressways has declined in most places, with the notable exception of Lawrence Expressway. The number of signalized intersections along the county's expressways that received the worst Automotive Level of Service grade of "F" -- at which drivers face a delay (compared to free-flow traffic conditions) of more than 80 seconds -- dropped from 30 intersections in 2001 to 16 intersections in 2013. The 2003 and 2008 expressway plans are both based on traffic analyses that assume no change in the mix of transportation modes used over the coming decades, and therefore predict ever-increasing vehicle trips and worsening congestion.
San Jose, whose one million residents outnumber those of all other cities in Santa Clara County combined, decided in 2011 not to permit further increases in vehicle traffic, as the expressways plan assumes. Instead, San Jose set a goal to reduce the number of vehicle miles traveled in the city by 40 percent in its Envision San Jose 2040 General Plan.
The county's transportation agency, the Valley Transportation Authority, is implementing a series of major improvements to its transit networks that will help make this shift possible. The Santa Clara Street - Alum Rock Avenue "Bus Rapid Transit" project is under construction, with two more BRT lines for El Camino Real and Stevens Creek Boulevard in the planning stages. BART is also expected to connect to San Jose's Berryessa neighborhood in 2018, and more frequent, electric Caltrain service will begin in 2019. San Jose and neighboring cities are also making gradual improvements to streets that will make walking and bicycling safer.
"The greatest shifts in auto and transit usage have been achieved in places with highly interconnected transit networks that are linked with safe and direct walking and bicycling networks," wrote SPUR Transportation Policy Director Ratna Amin in an article outlining how walkable urban centers and practical networks of roads, transit, and bikeways can accommodate a growing population, while reducing car travel on the region's clogged highways and expressways.
The Expressway Plan 2040's Policy Advisory Board, consisting of public officials representing the county and cities, will meet on August 25 to discuss expressway expansion projects and incorporating "complete streets" principles. A draft of the updated expressways plan is expected to be available for public review later this year, and a series of community meetings will gather input before the final plan is adopted in mid-2015.
Andrew Boone covers the Livable Streets Movements for Streetsblog in San Mateo and Santa Clara counties. Andrew's claim to fame is once having bicycled more than 12,000 miles of smiles in one year. nauboone@gmail.com
Stay in touch
Sign up for our free newsletter