Bicycling
Prop L Proponent Makes False Accusations Against SFBC, SFMTA About Polk
6:00 PM PDT on August 13, 2014
Chris Bowman, a Republican proponent of the Prop L "Restore Transportation Balance" ballot measure, aimed false accusations at the SF Bicycle Coalition and pro-bike SFMTA officials in a panel discussion this week.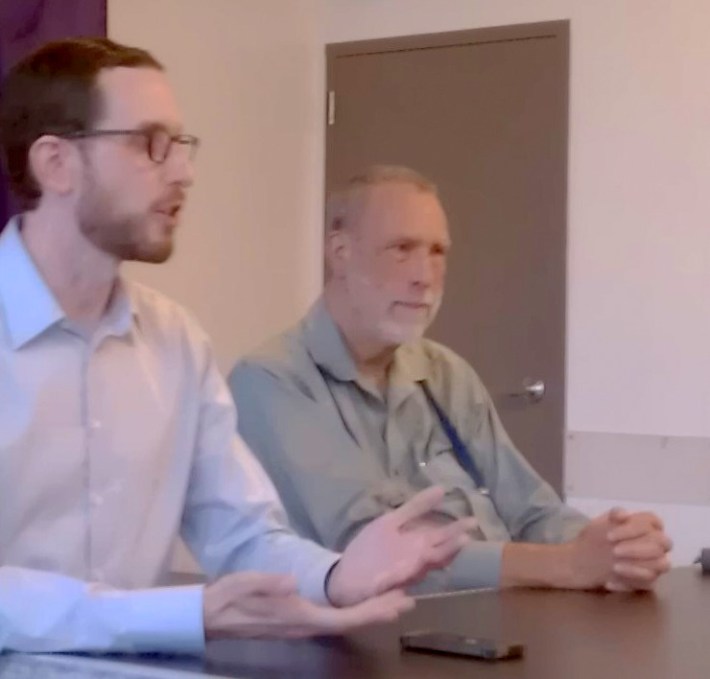 Bowman and Supervisor Scott Wiener were featured at the forum, organized by the Alice B. Toklas LGBT Democratic Club, to discuss Prop L. The proposition claims to promote motorists' interests, calling to enshrine free parking and build more garages. Prop L is funded by tech billionaire and Mayor Ed Lee backer Sean Parker and the SF Republican Party.
Even though nobody else at the meeting brought up the SFBC in discussing Prop L's implications, Bowman devoted much of his speaking time to attacking bike lanes, and making false claims about the SFBC and SFMTA Vice Chair Cheryl Brinkman.
Bowman said that the SFBC urged a boycott of certain Polk Street merchants who had opposed removing car parking for protected bike lanes: "The Bicycle Coalition, to add insult to injury, got the transcripts from [an SFMTA Board] hearing and put on their website, 'these people testified, these are their businesses, boycott them because they're anti-bike'... That is hardball politics and that does not create a respectful dialogue. That never should have been tolerated by anyone."
In fact, the SFBC did the opposite -- the organization has "actively encouraged our members, and the broader bike community, to frequent Polk Street businesses -- and show support for biking to local businesses on popular bike routes," said SFBC Executive Director Leah Shahum. "Those claims are absolutely untrue."
As to where such misconceptions could come from, Shahum noted that the SFBC did hear from individual members, who had urged the organization to launch a boycott through social media posts on Facebook. She said she suspected that those spreading the lie could have misconstrued such messages, although they were written by individuals who don't speak for the SFBC.
Shahum listed four "Dine on Polk" events the SFBC held "with partners, to explicitly promote people to bike to Polk Street businesses and support the local economy." They were held last October and November as well as this May, at the Crepe House; Bitters, Bock & Rye; and Amsterdam Cafe.
"We would encourage the Yes on L campaign to be more careful and honest in their description," said Shahum. "We'd welcome anyone to call us to get the facts straight."
When I asked Bowman during the forum's Q&A session why I couldn't find any post of the sort on the SFBC's website, he simply responded, "My source is the former president of the Small Business Commission."
Bowman didn't provide a name, but as we reported in May of last year, former Small Business Commission President Luke O'Brien told SFMTA Director Ed Reiskin that San Francisco needs more parking garages, and that transit-first policies "give rise to this feeling that a way of life is being imposed" upon those who would like to drive.
Bowman also claimed that "300" Polk merchants testified at the SFMTA Board against the agency's proposals to remove street parking for protected bike lanes, and that SFMTA Vice Chair Brinkman "said 'you're a bunch of greedy merchants.'"
It's unclear which SFMTA Board meeting Bowman was referring to -- there were only two last year where anyone from the public protested the Polk bike lanes. At an August 20 meeting, there were six complaints. At an April 2 meeting, there were just two speakers, including Dawn Trennert, who represents the Middle Polk Neighborhood Association. Meanwhile, roughly a dozen people spoke in favor of protected bike lanes at that meeting.
Brinkman's comments at the April 2 meeting seem to bear the closest resemblance to Bowman's purported "greedy merchants" comment. Brinkman had been describing her experience at an MPNA meeting she'd attended the month before, where speakers lied about bike lanes being removed, and attendees booed any suggestion that replacing car parking with pedestrian and bicycle amenities might be worthwhile.
Brinkman actually said at the board meeting that she "took offense at the behavior of a lot of the participants there," noting that supporters may have felt too "intimidated to speak up, because that was probably one of the worst public meetings that I have ever been to -- and I feel like I've been to some bad ones."
The misinformation spread by Bowman is par for the course for Prop L's proponents, who have been caught falsely telling petition signers that Sunday parking meters had not been repealed, and penning an SF Chronicle op-ed rife with misinformation. Prop L's proponents are expected to continue to speak to more organizations in the coming months to seek their endorsements.
The San Francisco Democratic County Central Committee, which includes Supervisors Wiener, David Chiu, Malia Cohen, David Campos, John Avalos, and Eric Mar, as well as Representative Nancy Pelosi and Senator Dianne Feinstein, will consider an endorsement of Prop L tonight. All of those supervisors, except for Cohen, are on the "No on L" campaign's endorsement list, as is Supervisor Jane Kim.
The DCCC meeting will start at 7 p.m. at the State Building at 455 Golden Gate Avenue.
Aaron was the editor of Streetsblog San Francisco from January 2012 until October 2015. He joined Streetsblog in 2010 after studying rhetoric and political communication at SF State University and spending a semester in Denmark.
Stay in touch
Sign up for our free newsletter