Livable City
After 50 Events, Sunday Streets Director Departs to Spread the Word
6:14 PM PDT on August 25, 2014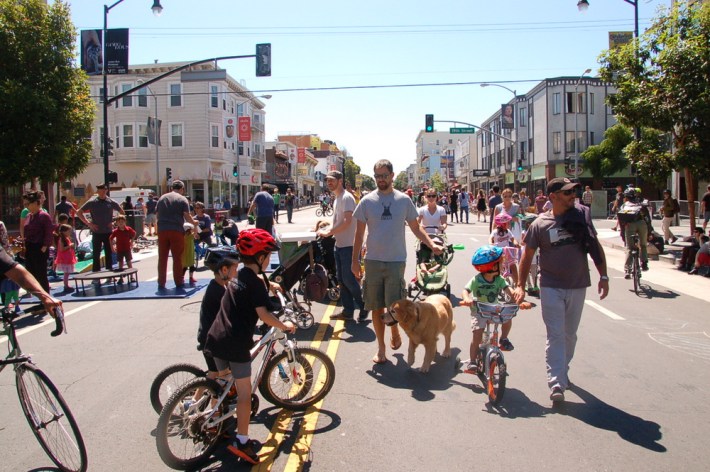 Susan King is moving on from her position at Livable City as director of SF's Sunday Streets, after hosting the 50th open streets event yesterday in the Mission. King plans to bring open streets events to cities across the state by establishing the California Open Streets Network (CAOS).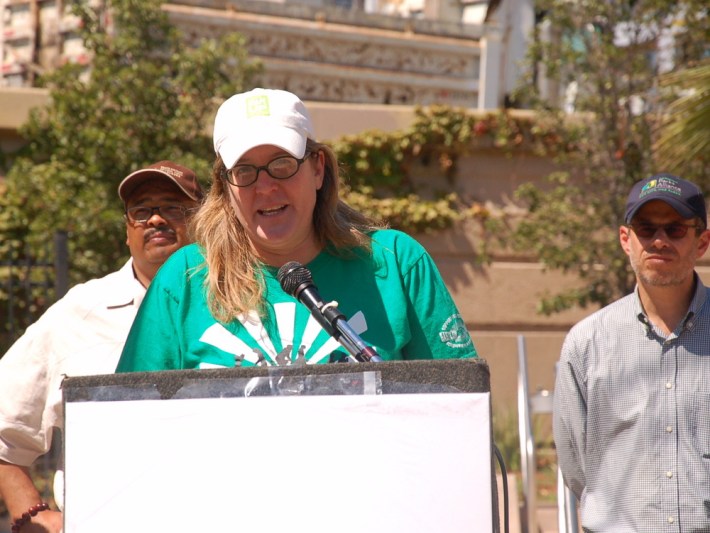 "I feel great that this program is so solid and successful, and there are really fantastic people pushing the ball forward," said King.
To help other California cities learn from King's experience in spearheading a nationally-renowned model for open streets, CAOS will provide services like a "calendar, shared resources, peer-to-peer advocacy, one-on-one trainings, regional trainings, webinars, and advocacy on the state level for a framework that addresses some of the barriers," she said.
When Sunday Streets was first proposed in collaboration with then-Mayor Gavin Newsom's office in 2008, it saw resistance from merchants who believed that their businesses would be hurt by opening streets to people and closing them to cars. The 50 events since have shown the opposite result, providing a boon for both business and public health. Merchants have since clamored for the event to bring customers to their neighborhoods, with as many as 75,000 regularly attending Sunday Streets in the Mission.
Today, San Francisco has held more major open streets events than any other American city, and Sunday Streets is "mundane, it's part of everyday life," said King. "That's a good thing to create -- as a fabric of what a livable community looks like."
For today's youngest San Franciscans, the ability to play in car-free streets may even be taken for granted, as a generation grows up with a fundamentally different experience of city streets. King told an anecdote about a woman who said her five-year-old grandson "didn't know what life was without Sunday Streets."
"I'm supremely proud to think about the generation that's going to lead us, that are still in school and growing up in this city with the expectation that Sunday Streets is just part of city life," said King. "The next generation really has a different idea of how we use and interact with our city streets."
SFMTA Director Ed Reiskin said the events have been a "catalyst for us to re-think how to use our streets," spurring support for projects that re-purpose street space for people rather than cars. He pointed out that 25 percent of city land is "taken up by our public rights-of-way, but they've largely been used for, and designed, just to move and store motor vehicles."
"Streets are not just places to pass through, but places to be in," he said. "From block parties to parklets to major streetscape designs and plazas, it's really helping us to re-think the way we use them."
Despite its success, efforts to expand Sunday Streets have hit road blocks. Without more funding or cost reductions, the number of annual events has remained at nine to ten each year for the past few years. Livable City's push to streamline city bureaucracy and reduce fees for smaller neighborhood events have not been embraced by city agencies.
The city's Play Streets program, intended to facilitate small-scale open streets events initiated by communities, faltered after it failed to provide a process easy enough for neighbors to navigate on their own, said Livable City Director Tom Radulovich.
"We don't yet have the red tape manageable so we think a community group could do it themselves," he said. "It still requires someone with a lot of experience who knows the process." Livable City and open streets advocates in City Hall are continuing to push reform of the approval process, while Sunday Streets is expected to stay the course with at least as many annual events in the coming years.
Meanwhile, King isn't resting on her laurels. She plans to dive straight into her work in bringing open streets to other cities, and is already helping to organize a Sunday Streets Berkeley event in October. Berkeley has held a handful of events since its program launched in 2012.
"San Francisco gets it," said King. "Now, on to the next. There are a lot of other neighborhoods that really need this kind of program."
Aaron was the editor of Streetsblog San Francisco from January 2012 until October 2015. He joined Streetsblog in 2010 after studying rhetoric and political communication at SF State University and spending a semester in Denmark.
Read More:
Stay in touch
Sign up for our free newsletter