Muni
Tomorrow: Hearing on Traffic Signals to Speed Muni on Haight, McAllister
5:09 PM PDT on September 4, 2014

On the agenda [PDF] for tomorrow's SFMTA public engineering hearing are proposals to speed up Muni lines with transit-priority traffic signals and bus bulb-outs along Haight and McAllister Streets. These types of changes are central to the Muni Transit Effectiveness Project, but some residents have voiced concerns about replacing stop signs with traffic signals and requiring pedestrians to wait before crossing.
The SFMTA plans to replace stop signs with signals at ten intersections on Haight and five on McAllister. These would be transit-priority signals, meaning that they will stay green when they detect approaching buses on the 5-Fulton, 71-Haight/Noriega, and 6-Parnassus lines.
On the 5, the SFMTA predicts that the signals alone will save 1.5 minutes in each direction, in addition to six minutes saved by adding bus bulb-outs, removing and relocating some stops, and adding right-turn lanes to keep turning cars out of the way. On Haight itself, those improvements are also expected to save three minutes for the 71 and 6, in addition to several more minutes of savings thanks to the contra-flow bus lane being constructed at Market Street. The SFMTA says intersections without signals or stop signs will receive traffic calming treatments, to encourage drivers to yield to people crossing.
Natalie Burdick of Walk SF said the Muni TEP proposals "should not conflict with the SFMTA's own stated priority for ensuring the safety of the city's road users."
"Signalized intersections can support safer walking environments if they are designed effectively," she said. "For instance, signals can be timed to calm traffic with lower speeds, and provide regular phases for pedestrian crossings."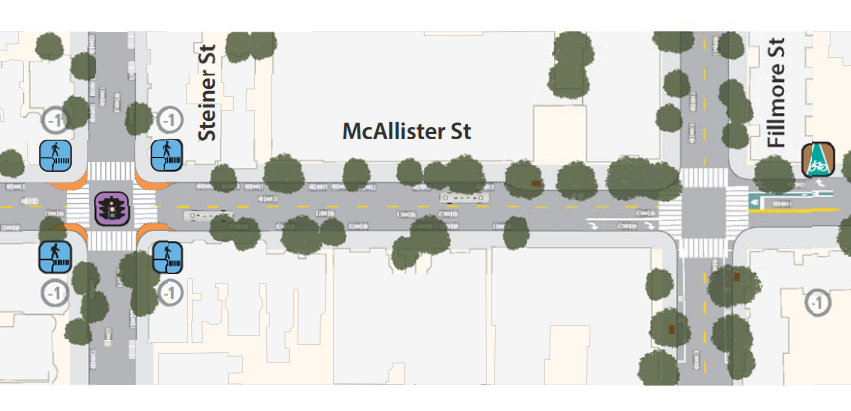 "Transit and walking are complementary modes," said Livable City Executive Director Tom Radulovich. "Transit extends the range of walking, and every transit trip involves a walk at one or both ends." Radulovich said he only wishes the plans included more bulb-outs, which would reduce crossing distances and improve visibility for pedestrians.
"I understand the desire to use traffic signals to improve the speed and reliability of important crosstown routes like the 71 and the 5," he added. "Even if it means that some pedestrians will have to wait at those signals, it will benefit many thousands of riders per day -- including many of the same folks who walk these same streets."
You can weigh in on the street changes by speaking at the hearing at City Hall tomorrow at 10 a.m., in room 416, or by emailing sustainable.streets@sfmta.com.
Here's the list of intersections on the agenda [PDF] for signals:
22(a). ESTABLISH – TRAFFIC SIGNALA. Haight Street at Shrader Street (replaces 4-way stop signs)B. Haight Street at Clayton Street (replaces 4-way stop signs)C. Haight Street at Central Avenue (replaces 4-way stop signs)D. Haight Street at Baker Street (replaces 4-way stop signs)E. Haight Street at Broderick Street (replaces 4-way stop signs)F. Haight Street at Scott Street (replaces 4-way stop signs)G. Haight Street at Pierce Street (replaces 4-way stop signs)H. Haight Street at Webster Street (replaces 4-way stop signs)I. Haight Street at Buchanan Street (replaces 4-way stop signs)J. Haight Street at Laguna Street (replaces 4-way stop signs)

24(f). ESTABLISH – TRAFFIC SIGNALA. McAllister Street at Baker StreetB. McAllister Street at Broderick StreetC. McAllister Street at Scott StreetD. McAllister Street at Pierce StreetE. McAllister Street at Steiner Street
Aaron was the editor of Streetsblog San Francisco from January 2012 until October 2015. He joined Streetsblog in 2010 after studying rhetoric and political communication at SF State University and spending a semester in Denmark.
Read More:
Stay in touch
Sign up for our free newsletter