Bus Rapid Transit
Can VTA's Bus Route Changes Keep Up With Suburban Office Park Growth?
4:48 PM PDT on September 16, 2014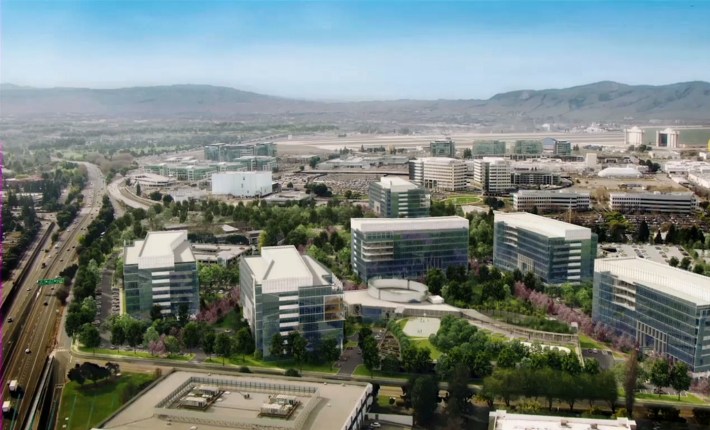 Office development is booming in Santa Clara County. As the number of jobs increases, will the Valley Transportation Authority ramp up bus service to keep pace, or will streets become overrun with traffic?
VTA hosted a public meeting last week to present a set of proposed changes to its bus service that the agency calls its North Central County Bus Improvement Plan, designed to adapt to commuting patterns created by the recent growth of large office parks in areas that lack transit. About 70 people, mostly seniors and residents of Sunnyvale, attended the meeting at Sunnyvale's City Hall.
"We've seen a lot of changes in land use in these four cities," said VTA Transportation Planner Adam Burger, who pointed to major office developments that are expected to bring several thousand more commuters through the region in coming years. Campuses are growing for Google and Intuit in Mountain View, Apple in Cupertino, Moffett Towers and LinkedIn in Sunnyvale, and the Levi's Stadium area in Santa Clara.
"All these land use changes create new travel demand," said Burger. "So we have to adapt our bus system to match the new travel patterns that people use." VTA aims to provide major office developments with better transit and connect them to the bus rapid transit routes coming to El Camino Real in 2018 and Stevens Creek Boulevard in 2019.
But VTA only proposes improvements on a single north-south route that would help a significant number of passengers transfer to and from buses on the BRT routes. A new Bus 354 would supplement the existing Bus 54 with limited-stop service along a similar route on Mathilda and Hollenbeck Avenues between the Lockheed Martin Transit Center in Moffett Park and De Anza Community College in Cupertino. Despite large and growing concentrations of jobs in Moffett Park, along Mathilda Avenue, and in downtown Sunnyvale, Bus 54 still only runs every 30 minutes on weekdays and every 45 minutes on weekends.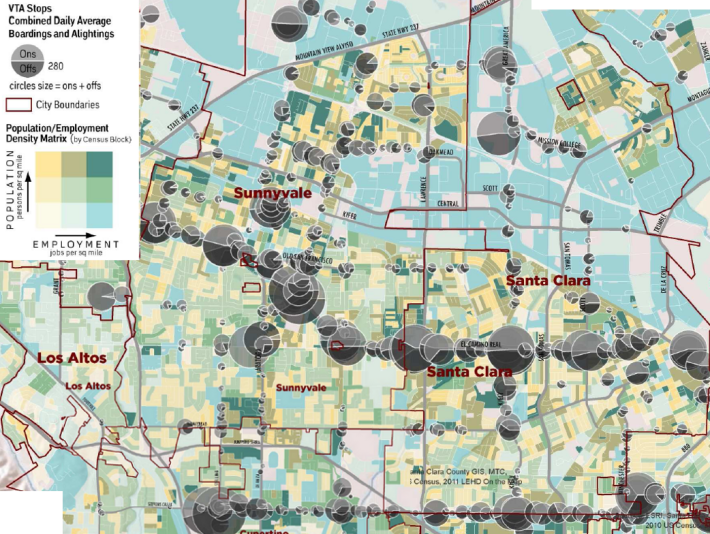 Residents expressed frustration at Tuesday's meeting that thousands of car commuters are now clogging local streets and highways in Sunnyvale and Santa Clara on their way to jobs in massive new corporate campuses, while few improvements are being made to the region's bus system.
"Office development is creating more north-south commutes," said Sunnyvale resident Holly Lofgren. "We need a practical commute solution for it."
The VTA needs to act more urgently to improve transit service, former Sunnyvale mayor Tony Spitaleri told the crowd at a TransForm panel discussion on the future of transit on El Camino Real Thursday evening. "Until we come up with a grid system that works to carry a lot more people north-south from Moffett Park all the way to De Anza, the Bus Rapid Transit project on El Camino will only serve to obstruct traffic," Spitaleri said. "We continue to hear [from VTA], 'We're studying it'."
Mathilda/Hollenbeck was one of six potential bus rapid transit lines analyzed in VTA's 2009 Bus Rapid Transit Strategic Plan, but on that route VTA isn't moving forward with BRT-type improvements, such as frequent, all-day service with limited stops, bus signal priority, and dedicated bus lanes. Only the Alum Rock, El Camino Real, and Stevens Creek BRT projects have been chosen for implementation by 2019.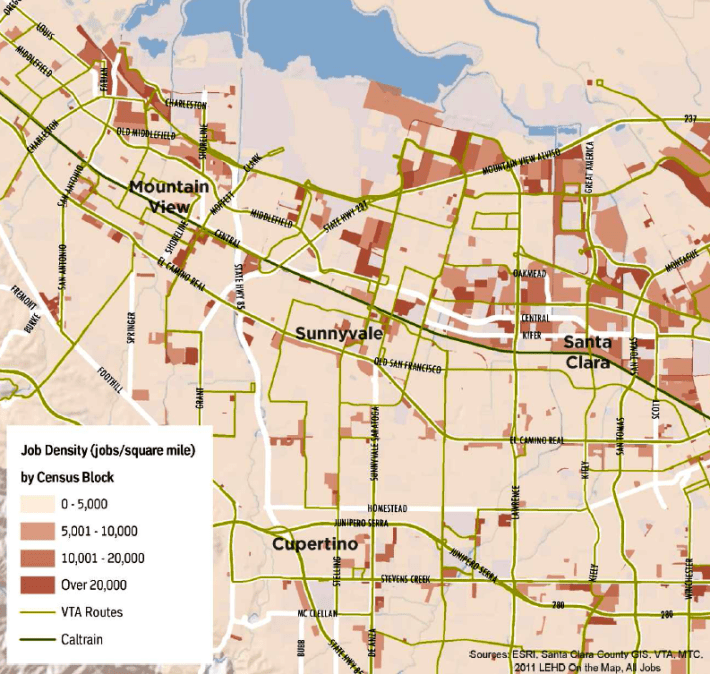 "Current transit demand is low, with few boardings in the middle of the corridor," the Mathilda/Hollenbeck corridor study states. "Land use, congestion, and demand conditions warrant lower cost improvements to local service and bus stops."
"Just run the 54 bus every 15 or 20 minutes," bus rider Michael Ludwig told planners at Tuesday's meeting.
VTA buses 54 and 55, which run north-south from De Anza Community College through downtown Sunnyvale to Moffett Park and northwest Santa Clara, respectively, averaged about 4,000 trips per weekday as of April 2013, despite running only every 30 minutes. In comparison, VTA's bus routes 23 and 323, which provide at least 15-minute frequency along Stevens Creek Boulevard, together carry just over 10,000 passengers, and many of these trips are on Bus 23's eastern segment between downtown San Jose and Alum Rock in east San Jose.
"The demand for better north-south transit is there, even though the frequency is 30 minutes," said Sunnyvale City Council Member David Whittum. "Since that strategic study in 2009, which was based on economic data from 2008, with empty offices and high unemployment, we've had quite a lot of development."
VTA also presented two "study concepts" for the northern and southern ends of the Mathilda/Hollenbeck corridor: a bus station at De Anza Community College and a "circulator shuttle" to the new Moffett Towers development on the western edge of Moffett Park.
In Mountain View, VTA proposes extending Bus 40 about one mile along Shoreline Boulevard to the Mountain View Caltrain Station from the route's current terminus on Shoreline Boulevard just north of Highway 101. Currently, no VTA bus connects downtown Mountain View with the city's North Bayshore office park, which can expand by up to 3.4 million square feet under the city's 2012 General Plan, bringing over 10,000 new workers to the area by 2030.
Oddly, Bus 328 was another north-south route proposed for improved service, despite minuscule ridership -- just 70 trips on an average weekday. The route has the second-lowest "productivity," defined as boardings per hour per bus, out of 23 VTA bus routes serving northern Santa Clara County, according to a report by transportation consulting firm NelsonNygaard. A third daily round-trip bus would be added to the existing two buses that carry peak-hour commuters from the extreme southern edge of San Jose's urbanized area, at the Almaden Expressway and Via Valiente, to Moffett Park.
VTA also proposed three east-west bus route changes to address growing travel to new office developments in Sunnyvale, Santa Clara, and Cupertino. A minor realignment of 1.5 miles of Bus 32's route from Central Expressway to Maude Avenue would serve commuters heading to well over one million square feet of new offices in Sunnyvale's Peery Park. A new east-west route running from the Sunnyvale Caltrain Station to north First Street in San Jose via Arques Avenue and Scott Boulevard would be added to "introduce all-day service to this rapidly-growing office corridor." And Bus 53's current southern end in Saratoga would be re-routed east on Homestead Road, to "reintroduce service to the Homestead corridor between Hollenbeck and Wolfe and improve connections between the Apple Campus 2 and future Stevens Creek Bus Rapid Transit." Finally, Bus 54 would extended south from De Anza Community College to replace the service to Saratoga currently provided by Bus 53.
Two other service changes VTA is considering are the direct result of Santa Clara's enormous City Place proposal, with offices, retail, restaurants, a hotel, and 380 housing units on the site of a city-owned golf course and BMX track. Because this "mixed-use" development would consist mostly of office space, it would hugely increase travel to the area near Levi's Stadium.
North-south bus service would be established on Lafayette Street, "contingent on future development in the Lafayette corridor, including the City Place Santa Clara project." VTA is also considering "relocating the VTA hub in northern Santa Clara from the Old Ironsides Light Rail Station farther east, closer to Levi's Stadium and City Place." This new transit hub would likely result in the re-routing of several VTA buses that currently serve Great American Parkway and Tasman Drive.
VTA says it plans to consider public input, analyze the potential ridership on the new and modified bus routes, and develop a detailed bus service improvement plan to be presented at additional public meetings in early 2015. If approved by the VTA Board in May, the service changes would be implemented in July 2015.
Andrew Boone covers the Livable Streets Movements for Streetsblog in San Mateo and Santa Clara counties. Andrew's claim to fame is once having bicycled more than 12,000 miles of smiles in one year. nauboone@gmail.com
Stay in touch
Sign up for our free newsletter