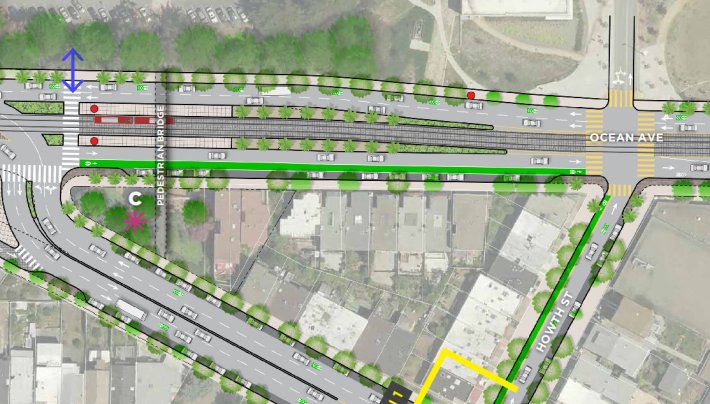 A city proposal for Ocean and Geneva Avenues would do little to make bicycling safer and more comfortable between the Balboa Park BART and Muni station and destinations west of City College's main campus, say bike advocates. While plans to add bulb-outs and tame the hairy Ocean and Geneva intersection would make the streets somewhat safer, overall, the car-centric status quo wouldn't change significantly.
The proposal, presented at a community meeting last week by the Planning Department, SFMTA, and other city agencies, is intended to complement other plans to spruce up Ocean to the west of Phelan Avenue at City College. No roadway space on that stretch is set to be reallocated for biking, walking, or transit, save for a few planted bulb-outs with seating.
The eastern section that passes over Highway 280 and connects to Balboa Park station was addressed separately, planners say, because it's more complex and they wanted to look at re-configuring the roadway there. The designs also take into account the future removal and re-configuration of freeway ramps in the Balboa Park area, which is currently being developed by the SF County Transportation Authority.
The Planning Department is asking people to weigh in via an online survey [PDF] until October 29 (extended from the 22nd, though the website hasn't been updated yet).
These sections of Ocean and Geneva are currently some of the most stressful streets to bike on, despite serving as a vital connection for commuters biking from BART and neighborhoods to the east. Ocean has intermittent bike lanes that disappear at some of the hairiest spots, while Geneva has four traffic lanes and two parking lanes. Both streets have steep inclines in the westbound direction. Combined with heavy motor traffic, it's no wonder planners counted very few people biking on them.
"As anyone who has been out there recently knows, it's a high-stress place to bike or walk or drive, but it's also in an area with a lot of students and families -- people who want to bike," said Tyler Frisbee, deputy director of the SF Bicycle Coalition.
The city has proposed curbside, unprotected bike lanes on Geneva, which has a steep hill and is less direct than Ocean. Once people on bikes reach the massive intersection of Ocean and Geneva, they would be thrown back into heavy motor traffic. Where there are no bikes lanes, the plan calls for nothing more robust than green-backed sharrows.
"As we know, people ride routes, not blocks, and especially in areas with lots of traffic, significant traffic calming measures and protected bikeways are what people need to feel safe," said Frisbee. "To enable those residents to feel safe biking in their neighborhood, and help students, employees, and professors get from the BART station to CCSF and SF State, SFMTA should look at the bigger picture and take steps to address the entire corridor, not just a few blocks around the Ocean/Geneva intersection."
"We look forward to supporting SFMTA and the neighborhood as they address these short-term projects, but hope that in the long-term, the city takes steps to address the entire corridor," she added.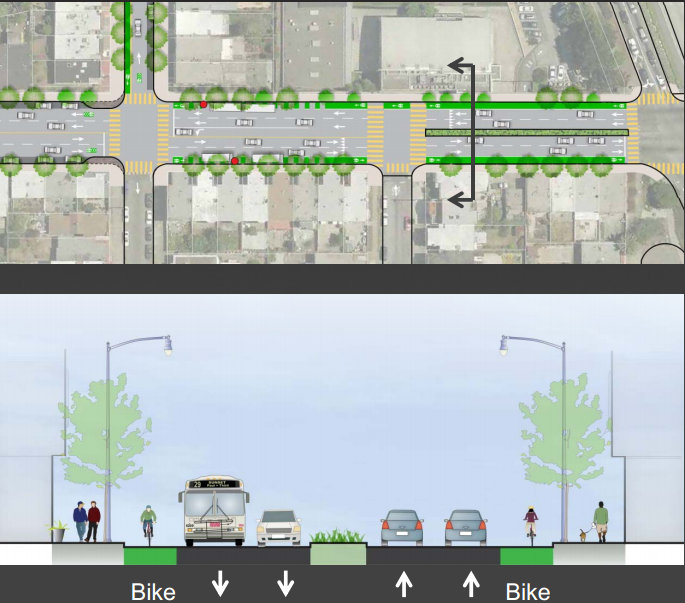 At a previous community meeting this summer, participants said they heavily value wider sidewalks, safer street crossings, and space for transit over space for cars. However, they were more evenly split on favoring space between bikes and cars.
Lily Langlois, project manager for the Planning Department, said she was "surprised that there wasn't total opposition" at last week's meeting to removing the parking on Geneva for bike lanes, though she noted there were only about 20 attendees and 10 survey respondents.
Langlois said no bike lane extensions are proposed on Ocean because "we realized that there just isn't a lot of capacity on Ocean to accommodate taking away a travel lane." Muni's K-Ingleside trains and 49-Mission/Van Ness electric trolley buses can't share the center transit lanes because of "technical challenges" posed by the separate overhead wire systems, she said. "That's perhaps the biggest driver of the design."
The light-rail boarding islands on Ocean at Geneva would be extended lengthwise with plantings, which Langlois said should help "visually narrow the roadway" and calm motor traffic.
Nicole Schneider, executive director of Walk SF, said she's glad to "see some significant improvements to Geneva and Ocean, two high injury streets -- the 6 percent of city streets that account for 60 percent of severe injuries and deaths."
Schneider praised the proposed design to "square off" the complex intersection of Ocean and Geneva. At that location, the beginning of Geneva's two southbound lanes, which are currently angled for drivers to shoot quickly through the intersection, would be re-aligned at a 90-degree angle so drivers would have to stop before turning right. Land currently devoted to traffic lanes and a parking lot would be converted into a "plaza" with a "local access lane" running through it.
Schneider said that the plans do "miss some key opportunities to truly make Geneva a safe street."
"The remaining four lanes of high-speed traffic combined with mid-block crossings without any flashing beacons or signals is a crash waiting to happen," she said. "We hope to see future versions that focus on slowing down speeds and improving crossings."
The design options for Geneva without bike lanes would include corner bulb-outs instead. All of the designs set aside street space for a planted center median, even though they deny space for a protective barrier to separate the bike lanes.
The plans do include bike improvements on a block of Howth, a residential street that runs between Ocean and Geneva and connects to a series of parking lots for the City College campus. The block would get a curbside contra-flow bike lane on the southbound side where car parking is already prohibited, and green-backed sharrows would run in the other direction. That won't do much to improve connections in the east and west directions, however.
The Planning Department is accepting survey responses [PDF] until October 29.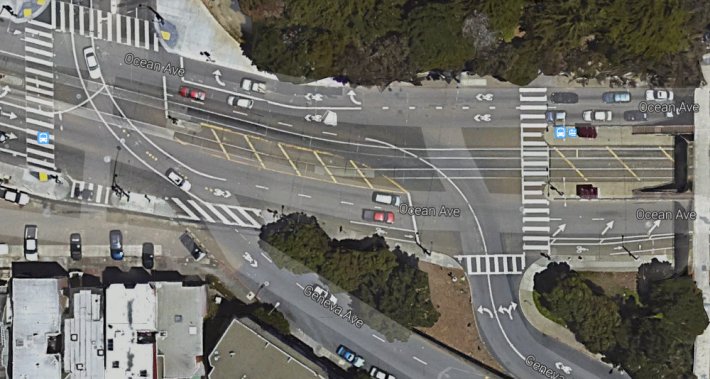 Aaron was the editor of Streetsblog San Francisco from January 2012 until October 2015. He joined Streetsblog in 2010 after studying rhetoric and political communication at SF State University and spending a semester in Denmark.
Stay in touch
Sign up for our free newsletter