Carnage
87-Year-Old Louis Van Velzen Killed by Driver on Deadly Sloat Blvd
5:44 PM PDT on October 20, 2014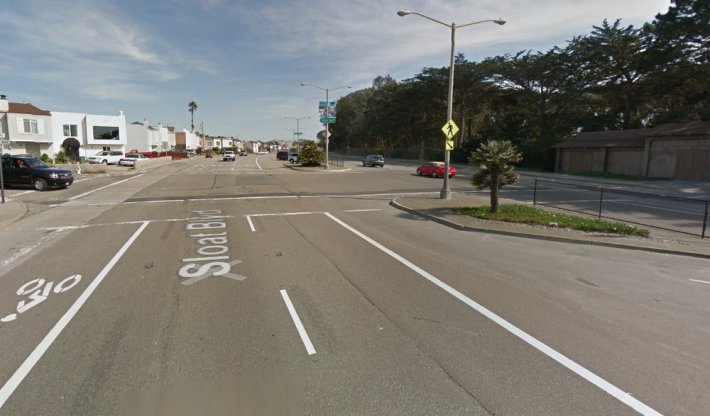 Another life has been taken on Sloat Boulevard -- the deadly, too-wide street slicing through SF's southwestern Parkside and Sunset Districts past the San Francisco Zoo. Louis Van Velzen, an 87-year-old father, was killed by a driver while crossing Sloat at 43rd Avenue at 7:00 a.m. this morning, the SF Chronicle reported. Van Velzen was reportedly trying to catch a bus when he was hit:
Sloat Boulevard has two lanes in each direction, separated by a wide median. The intersection at 43rd has crosswalks but no signal. Police said it appeared Van Velzen was not in a crosswalk when he was hit by a westbound vehicle, and that the dim early-morning light may have been a factor.
That section of Sloat is a wide highway with four lanes, even though it sees less than half the car traffic of two-lane Valencia Street in the Mission. With that much open asphalt, drivers are tempted to speed and too often kill people who are merely attempting to cross the street.
In March of 2013, 17-year-old Hanren Chang was killed in a crosswalk on Sloat and Forest View Drive by drunk driver Kieran Brewer. She had just stepped off a Muni bus to walk home. Brewer was sentenced to just six months in jail.
Van Velzen was reportedly outside of a crosswalk when he was hit. It's unclear exactly where he was, but crosswalks on that stretch of Sloat only exist on every other block.
Van Velzen's daughter, Louisa, who didn't want to give her last name, told the Chronicle "she frequently heard tires screeching from her home on Sloat Boulevard, where she lived with her father and mother. She wants to see a stop sign or traffic light installed at the intersection where her father was killed."
Stop lights and signs don't necessarily achieve the goal of slowing drivers and making streets safer. Broader street redesign, including roadways narrowed to a slower, more human scale as on streets like Valencia, have been proven to work.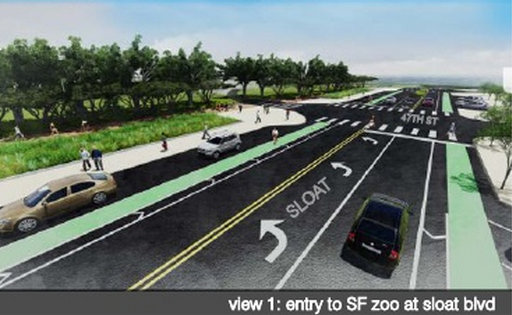 SPUR's Ocean Beach Master Plan recommends narrowing Sloat's zoo-side western section to two thru-traffic lanes, widening bike lanes and sidewalks, and moving all car parking from the center median to the sidewalk curbs. Although SPUR has shelved a similar road diet plan for the Great Highway, the organization may still push for the Sloat redesign.
Van Venzen's daughter told the Chronicle more about her father:
[Louisa] said her father was born in Holland and had moved to New Zealand and then San Francisco more than 50 years ago. He got a job as a printer for The Chronicle in 1959 and retired in 1992, records show.

More recently, Van Velzen spent his days gardening — and decorating his home for Halloween to get ready for trick-or-treaters.

"He was so kind. He was very active and he went to the gym three times a week," Louisa said. "We're all in shock right now."

"The traffic on Sloat goes way too fast," she said.
Van Velzen is the 14th pedestrian killed in SF this year, following 78-year-old Pei Fong Yim's death at Stockton and Sacramento Streets in Chinatown nearly a month ago.
Aaron was the editor of Streetsblog San Francisco from January 2012 until October 2015. He joined Streetsblog in 2010 after studying rhetoric and political communication at SF State University and spending a semester in Denmark.
Stay in touch
Sign up for our free newsletter