Carnage
Woman Killed at City Hall's Doorstep, Right After Ped Safety Ceremony
4:58 PM PDT on October 24, 2014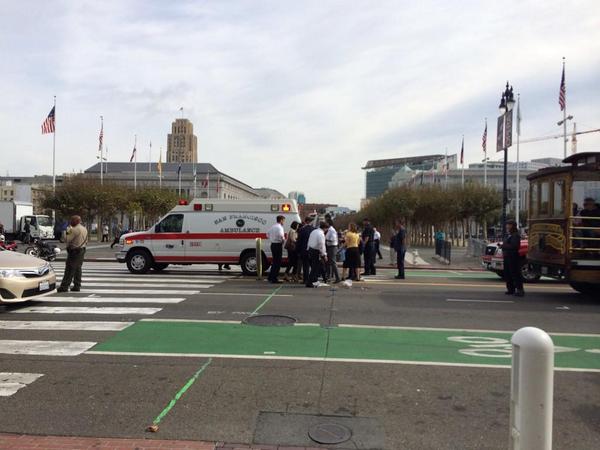 Priscila "Precy" Moreto, a 67-year-old employee in the City Controller's Office, was run over and killed by a tour trolley driver within a wide, clearly-marked mid-block crosswalk on Polk Street, leading to the steps of City Hall, at about 11:30 a.m. yesterday.
About 20 minutes earlier and just across the Civic Center Plaza, at McAllister and Larkin Streets, city officials had just wrapped up a groundbreaking ceremony for pedestrian safety upgrades along two blocks of McAllister. In attendance were D6 Supervisor Jane Kim, Walk SF Executive Director Nicole Schneider, and SF County Transportation Authority Director Tilly Chang.
None of those who attended the event, myself included, were apparently aware of the death until they heard reports about it later in the day.
"Yesterday morning, the pedestrian safety crisis hit home at City Hall's doorstep," Kim said in a statement today, noting that "the central crosswalk in front of City Hall yields heavy pedestrian traffic as constituents, workers and tourists alike travel to and from this historic building." Supervisors themselves can often be found using the crosswalk.
Moreto was run over by the driver of a tour vehicle designed to look like a cable car on rubber tires, operated by Classic Cable Car Charters, which issued a statement saying "our thoughts and prayers are with the pedestrian and her family."
Mayor Ed Lee issued a statement saying that "Precy was a dedicated employee who served our city and residents with great distinction."
"This incident is tragic, and also reminds us that we all have a shared responsibility to protect and care for one another on our busy streets," Lee said. "This incident will be thoroughly investigated."
SFPD Traffic Company Commander Mikail Ali told CBS that police are considering whether to recommend that District Attorney George Gascón file criminal charges against the driver. "Probably there was some level of distraction from what was taking place in the roadway in front of the vehicle," Ali told CBS. "Our challenge is to determine to what extent the distraction was in play."
"If you hit a person in a crosswalk, you're at fault, bottom line," said Schneider of Walk SF, pointing out that Moreto was the third person killed by a professional driver out of 14 pedestrian deaths this year. "If you're operating a huge tour bus, and you're not looking out for other people in a crosswalk you're approaching, then there's a huge problem."
The crosswalk has no traffic signal, leaving no doubt that Moreto had the right-of-way. The SFMTA does have plans to install a signal there next summer.
But Kim and Schneider said the block in front of City Hall between McAllister and Grove, called Dr. Carlton B. Goodlett Place, needs a road diet. Polk, from Golden Gate Avenue to Grove Street, has two southbound traffic lanes and one northbound traffic lane, with bike lanes in both directions. Plans to upgrade the bike lanes on Polk would remove the second southbound traffic lane between Golden Gate and McAllister, and Polk south of Grove was recently revamped with a contra-flow protected bike lane. But the traffic lanes on Dr. Carlton B. Goodlett Place would remain untouched.
"We should absolutely take this opportunity to apply this smart design to the City Hall block of Polk Street," said Kim. "It could save a life."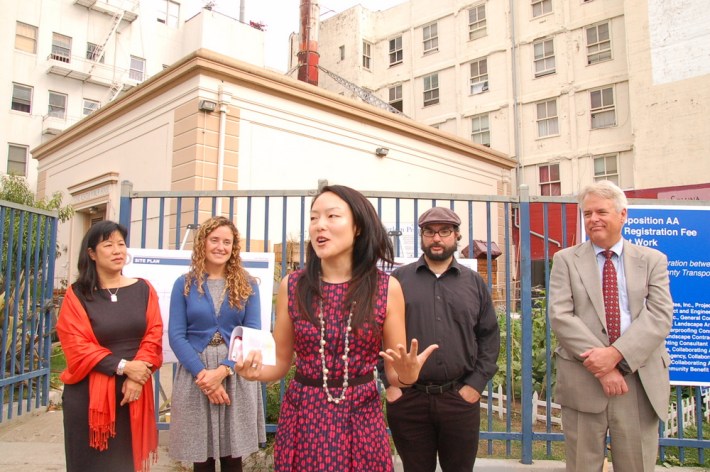 The groundbreaking ceremony on McAllister celebrated the start of construction on streetscape improvements and bulb-outs on the north side of McAllister, between Leavenworth and Larkin Streets. The University of California's Hastings College of the Law, which is located at McAllister and Hyde, provided $660,000 of the $2,505,800 project cost, according to the SFCTA.
"I've seen so many times when people, especially elderly and disabled people, try and cross wide streets -- and there's so much traffic going through. And that's why there are so many people getting hit," Kevin Stull, a Tenderloin resident who represents District 6 on the SF Pedestrian Safety Advisory Committee, said at the event.
Schneider noted that Polk is one of the city's identified "high-injury corridors," which are heavily concentrated in the Tenderloin, Civic Center, and SoMa areas. After the groundbreaking, Schneider and the SFMTA led a "Vision Zero" walking tour in those areas, as part of the National Association of City Transportation Officials' Designing Cities Conference, discussing the SFMTA's efforts to make the most dangerous streets safer.
"The way it's designed now" on Polk in front of City Hall, Schneider said, "it's not a place that says, 'come convene and congregate.' It's a dangerous street."
Aaron was the editor of Streetsblog San Francisco from January 2012 until October 2015. He joined Streetsblog in 2010 after studying rhetoric and political communication at SF State University and spending a semester in Denmark.
Stay in touch
Sign up for our free newsletter