Congestion Pricing
Studies Show Car Traffic in San Francisco is Dropping
6:16 PM PST on November 12, 2014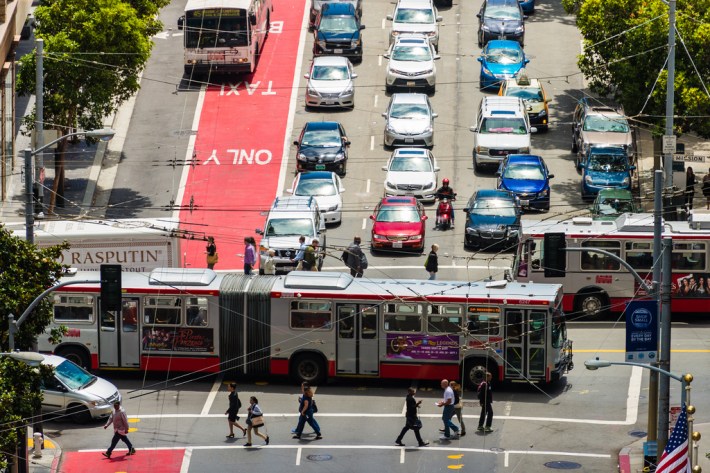 Car traffic has dropped in San Francisco in recent years, despite an economic boom and a growing population, according to studies by the SF County Transportation Authority.
A newly updated study (reported by SF Weekly) by the SFCTA counted fewer cars at 11 of 15 intersections during evening peak hours this year, compared to earlier counts taken between 2009 and 2012. Driving speeds, meanwhile, are "increasing moderately."
As SF Weekly's Joe Eskenazi pointed out, the data fly in the face of anecdotes from drivers -- who almost universally feel that car congestion is always getting worse. And given the city's booming economy, population, and construction in recent years, that's one scenario that certainly would have been plausible had the 20th-century status quo continued.
"Anecdotal evidence is hard to counter," Eskenazi wrote. "But what statistical evidence does exist flies in the face of your well-worn anecdotes."
SFCTA transportation planner Dan Tischler acknowledged that, despite the somewhat limited scope of the study, all of the evidence available indicates that San Francisco commuters are driving less, and likely switching to other modes to get around.
"We are not really sure if traffic conditions are worse now than they were a few years ago, but we do have strong evidence that transit is playing an increasingly significant role in handling growth in travel demand," said Tischler.
Most importantly, Tischler noted, driving speeds have largely remained flat, or even increased slightly, from 2011 to 2013. That contradicts any notion that fewer cars were counted because congestion is causing them to moving through more slowly. (Slower speeds would actually increase throughput, since cars follow one another more closely at slow speeds.)
"Lower traffic volumes, combined with higher speeds, indicates that lower traffic volumes may be due to less demand rather than too much demand," Tischler said.
The SF Chronicle reported on the increased driving speeds in April, and said the findings were confirmed by a separate study by Inrix, a traffic information company, conducted at the Chronicle's request.
The 15 intersections studied by the SFCTA were all in and around downtown, mainly along Mission Street (six intersections) and Van Ness Avenue (five intersections). Two intersections were in the Tenderloin: Turk and Hyde streets and McAllister and Leavenworth streets. The intersection of Columbus Avenue and Broadway was the only one to see an increase in vehicle traffic, by 5 percent.
One outlier in the data was the 31 percent traffic drop seen at Mission and Fourth streets, but Tischler noted that it was likely due to the closure of Stockton Street to vehicle traffic due to construction on the Central Subway.
Elsewhere, a traffic drop of 22 percent was recorded at Van Ness and Geary Street, a 20 percent drop at Van Ness and Broadway, and a 16 percent drop at McAllister and Leavenworth. The rest of the intersections saw smaller declines, while three saw a similar amount of traffic.
As the Chronicle reported in its April article, the SFCTA's studies showed average driving speeds have increased in downtown, by 3 to 5 percent between 2011 and 2013. "Speeds through 95 percent of the intersections monitored in the city's core remained the same (58 percent) or decreased (37 percent)," wrote the Chronicle's Michael Cabanatuan. "Freeway speeds showed even bigger increases, rising 15 percent during both the morning and evening rush hours. That implies that fewer people are driving into San Francisco, a supposition other statistics support."
On the Bay Bridge, car traffic decreased by about 2.8 percent from 2013 to 2014, the Chronicle reported. Golden Gate Bridge traffic reportedly increased by 3.7 percent, though Caltrans counts from 2011 to 2012 at the Highway 1 and 101 entrances showed traffic holding steady and declining 2 percent, respectively.
One major takeaway from all these numbers: The tired narrative of forever-worsening car congestion is often repeated by those fighting efforts to re-purpose space from cars, and make streets safer or make transit more reliable. But that narrative just doesn't have any grounding in empirical evidence -- only anecdotes, and often from the windshield perspective.
But evidence of the trend away from driving is mounting. As we reported, car-free households are also booming in SF -- 88 percent of net household growth since 2000 has been car-free.
Even if traffic was getting worse, saving drivers a few seconds still wouldn't be a good reason to abandon measures that save lives and provide better transportation options. Unfortunately, that was the approach SF took for too many decades, and at last we may be starting to see the fruits of efforts based on a more holistic and multi-modal approach.
Of course, if we really want to accelerate this virtuous trend, SF could finally implement congestion pricing, which is a proven strategy to make everyone's trip faster, safer, and more reliable.
Aaron was the editor of Streetsblog San Francisco from January 2012 until October 2015. He joined Streetsblog in 2010 after studying rhetoric and political communication at SF State University and spending a semester in Denmark.
Stay in touch
Sign up for our free newsletter