BART
BART Will Study Second Transbay Tube, West Side Extension
6:51 PM PST on December 1, 2014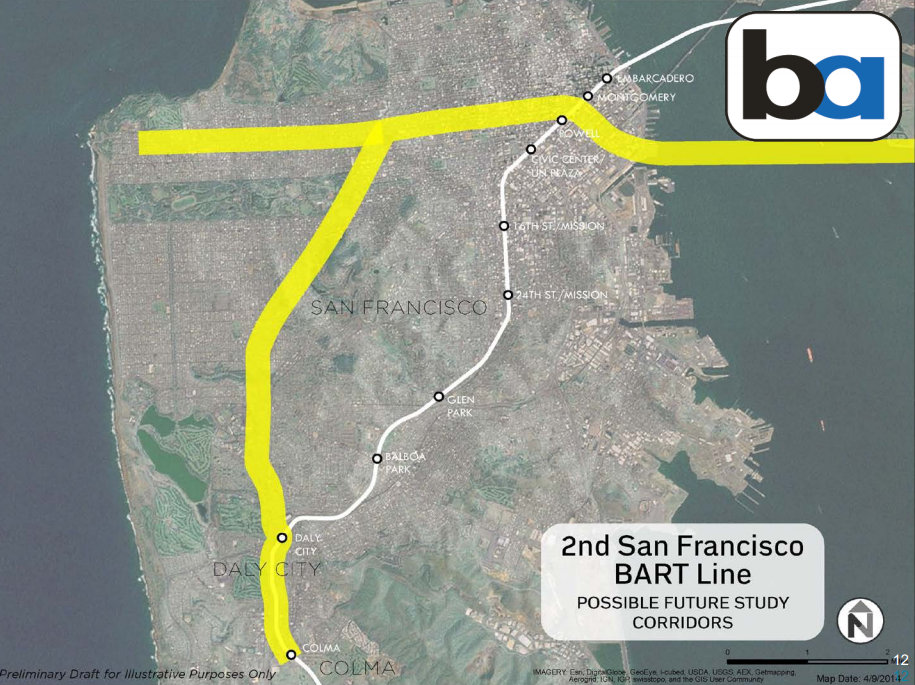 Updated 11:06 p.m. with comments from BART Board-elect Nick Josefowitz.
BART says it will formally study the decades-old ideas of building a second Transbay tube and extending service to SF's western neighborhoods.
Ellen Smith, BART's acting manager for strategic and policy planning, recently told a SF County Transportation Authority Board committee (comprised of SF supervisors) that regional transportation agencies plan to fund a study of a subway connecting the South of Market area to Alameda, with a possible extension west underneath the Market Street subway, towards the Richmond and Sunset Districts.
BART has only sketched out the ideas as conceptual routes, and has yet to provide even a ballpark estimate of a timeline or costs.
Don't expect to take a ride anytime soon, though: "We could be talking decades," Smith said. Building a new underwater tube is "clearly a massive investment and undertaking, technically, operationally, financially, and politically."
The tube would be a key piece of the infrastructure needed to accommodate the growing number of riders squeezing into the existing Transbay tube, BART's busiest section of track.
A second tube would "greatly increase our capacity, but probably not double it," said Smith. It would make the system more resilient, keeping service running even if minor mechanical problems occur within the existing two-track tube. It would also make 24-hour service possible, since BART maintenance crews currently need to clear the tube for nightly work.
The current single tube "was planned in the 1960s, when there were only 3.6 million people in the Bay Area," a small fraction of the 9 million expected by 2040, said Smith.
The ideas for BART expansions in SF are hardly new, but it's the first time BART said it will study them.
SPUR has long pushed the idea of a second Transbay tube, and explained its vision in a video in 2011. In the meantime, the organization says bus service should be given higher priority on the Bay Bridge with the creation of a contra-flow transit lane. Smith said BART is considering launching a new Transbay bus service, but the Metropolitan Transportation Commission has only just begun preliminary consideration of a transit lane on the bridge.
Under BART's preliminary vision, the Alameda-SoMa tube would extend underneath the existing BART and Muni tunnels that run under Market, crossing somewhere between Powell and Montgomery Stations, Smith said. The route would also cross beneath the Central Subway tunnel, which has been dug underneath Powell Station and Union Square.
From there, BART could run along the Geary corridor towards SF's western neighborhoods, finally bringing rail service to the Richmond. Smith said BART will look at alternatives like a spur to the Outer Richmond, with a branch turning south near Masonic Avenue, towards the east end of Golden Gate Park and the University of California at San Francisco's Parnassus Campus. From there, the route would run south near 19th Avenue, connecting to BART's Daly City and Colma stations.
"We would like to consider this, because there's a very high ridership with a strong transit habit in San Francisco," said Smith. "It's an underserved portion of our district, it would add service without degrading Market Street [BART service], and it advances our BART network."
The idea of a "BART to the beach" route to the Outer Richmond was long pushed by BART Board member James Fang, who lost his seat in the November 4 election after 24 years representing a district which included SF's western neighborhoods. Fang has seen little support for his idea from BART executives and other policymakers, who often said there were more pressing needs since the Outer Richmond lacks the population density for a dedicated rail spur. Another BART Board member, Zakhary Mallett, did pen an SF Chronicle op-ed in September pushing a new Transbay BART route to the west side via Fulton Street and 19th Avenue.
When asked about the Transbay tube and BART in the western neighborhoods, Fang's successor, Nick Josefowitz, only pointed to Geary Bus Rapid Transit as "a great step forward" for "faster and more reliable transit access to the Richmond." He also said bus lanes on the Bay Bridge would be needed while commuters await "critical" planning for a second Transbay tube.
"The existing tube and the Bay Bridge are very close to capacity," said Josefowitz. "Just look at the jammed trains and the standstill bridge traffic. But this scale of infrastructure project doesn't get built overnight. So while we're planning, we need to be more proactive about helping folks on their commutes today."
Initial plans for BART in the 1960s included a route running west along Geary before turning north toward Marin County. But Marin opted out of BART, canceling plans for that route and leaving Richmond transit riders with only Muni's overcrowded and unreliable 38-Geary line. Decades later, Geary is expected to get partial Bus Rapid Transit improvements in 2018, and planners say its design will set the stage for eventual Muni light-rail on the surface. Smith said any BART extensions in the Avenues would come well after Geary BRT.
At the SFCTA committee hearing, D1 Supervisor Eric Mar said he's still skeptical of bringing BART all the way through the Richmond, which is his district.
"'BART to the beach'...  is a catchy title, but for me it's BART to connect up to unconnected spots, like the Inner Richmond -- perhaps to Masonic or Arguello -- and connecting to Golden Gate Park [which] seems like a feasible project," said Mar. "I'm gonna do my best not to use the term 'BART to the Beach,' because it might raise too many unrealistic expectations of people."
"I know that for my district in the Richmond, it's not just about connecting up -- but it's also all the other areas, from District 5 to 2, that also don't have that same kind of connection to the core of the city."
Other projects being studied in BART's Vision Plan include turnbacks at locations like Glen Park Station, which would allow BART to run more trains on more crowded segments of its system. BART is also still considering building an infill station at Mission and 30th streets in SF, which was studied in 2002 but would slow down trains, Smith said.
SFCTA Executive Director Tilly Chang said the agency has included the proposed BART extensions in the SF Transportation Plan. She also said the proposed turnbacks would be important, since they'd make BART service more reliable and flexible. "While they're not cheap, they're certainly something that are cost-effective in the long run," she said.
The ideas are expected to be presented to the BART Board for discussion on Thursday.
Aaron was the editor of Streetsblog San Francisco from January 2012 until October 2015. He joined Streetsblog in 2010 after studying rhetoric and political communication at SF State University and spending a semester in Denmark.
Read More:
Stay in touch
Sign up for our free newsletter