Bicycling
Will the SFMTA Board Demand Complete Protected Bike Lanes on Polk Street?
5:20 PM PST on February 6, 2015
The watered-down re-design of Polk Street is expected to go up for approval by the SFMTA Board of Directors in March. But support seems stronger than ever for a bolder plan that includes protected bike lanes along the whole length of the corridor, as many residents and merchants call for safety to be a higher priority than car parking.
SFMTA board member Cheryl Brinkman said the board could vote to hold off on approval of the re-design until it includes an option for a full-length bike lane, which the board requested in December 2013, though it hasn't been presented by SFMTA staff.
"If we accept the notion that we can prevent traffic deaths and serious injuries, then we have a moral obligation to make sure that this project is a Vision Zero project," said Brinkman. "That's not something I take lightly."
"This is their chance to show what Vision Zero really means," said Tyler Frisbee, policy director for the SF Bicycle Coalition. "If the SFMTA Board is committed to Vision Zero, which they have been huge leaders on, we need to make sure that particularly when we're [re-designing] high-injury corridors, that safety is our number-one priority."
The current plan would create a protected bike lane only on a relatively small section of the street. Space would be reallocated by removing about 30 percent of the 320 parking spaces on Polk, or 2 percent of the 5,000 parking spaces within a block of the street. But even though 85 percent of people on Polk arrive without a car, and customers who drive spend the least per week, a vocal group of merchants and some residents demand that all spaces be retained for car storage.
At a 10 a.m. public hearing last Friday, about 45 speakers called for a safer plan, while 25 called for the preservation of the 110 parking spaces. According to the SF Bicycle Coalition, at least 220 letters calling for a safer plan have been sent to the SFMTA and other city officials, along with 320 petition signatures. And while some media reports have painted a simplistic picture pitting merchants against cyclists, at least 14 merchants have also sent in such letters.
"There are plenty of merchants who realize that their best customers are not driving and don't need parking," said Frisbee. "What they need are safer ways to get around Polk Street."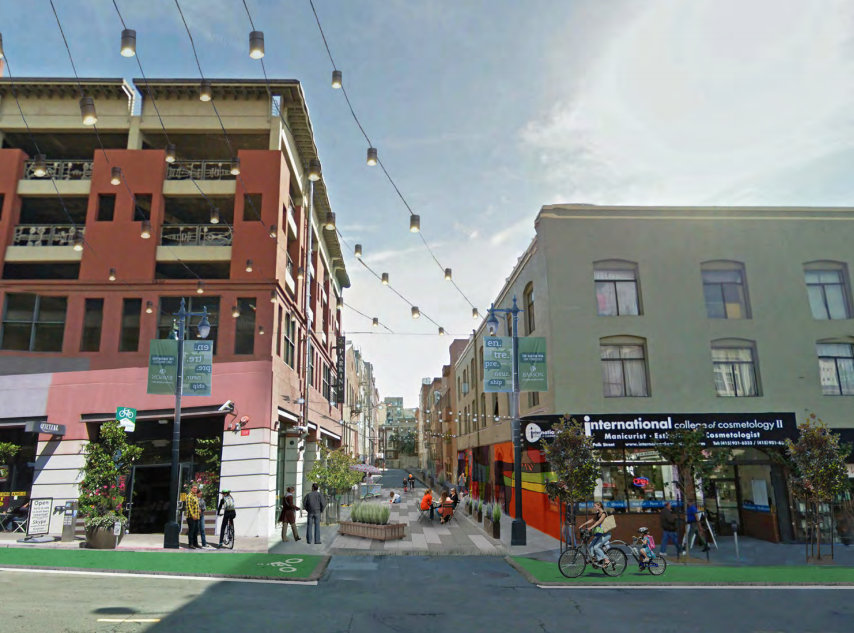 The initial 110 written comments sent to the SFMTA for the hearing "overwhelmingly" called a safer plan over parking, according to Brinkman, who said board members have received another batch of 84 letters, though she and SFMTA staff haven't been able to tally those ones up yet.
Additionally, a city survey released a year ago found that out of the 140 respondents who use Polk Street, 48 said "the biggest challenge affecting Middle Polk" was the "unsafe environment for pedestrians and cyclists." It was the top choice, while "not enough parking" was chosen by 16 respondents, making it the third-most selected choice.
In a city that has ostensibly committed to Vision Zero, safety should come first. But the half-measures put forward by SFMTA are aimed to placate a vocal parking-first crowd which has continued to reject fact-based arguments and spread misinformation.
Dawn Trennert, chair of the Middle Polk Neighborhood Association and a representative of the parking-first group "Save Polk Street," said at last week's hearing that re-purposing any parking spaces "makes it almost impossible to live in the neighborhood."
"Our residents are crying out for places to park," she said.
Dan Kowalski, another "Save Polk Street" leader and the owner of the furniture store Flipp, said, "We wish that we had the room to do protected bike lanes. Since we don't have that ability, we're doing our best to make sure that that happens in the areas where it's important... the interruption of traffic, the removal of parking could be devastating. We've been really flexible."
That's the same Dan Kowalski who told attendees at an MPNA meeting on the project that economic and safety statistics about protected bike lanes "aren't real," and erroneously claimed that similar protected bike lanes had been removed in other cities.
Speakers who defended the status quo insisted that most residents and businesses along Polk rely on cars, and that protected bike lanes would only benefit the small group of people who are already willing to bike on Polk, braving dangerous conditions. Many also blamed the street's dangers primarily on people who bike.
Police data shows that between 2006 and 2011, 53 pedestrians and 69 bicycle riders were injured by drivers on Polk, or about two people per month, and the city has designated the street as a "high-injury corridor."
"I'm not worried about getting hit by a bike. I'm worried about getting hit by a car," said resident Gregory Arenius, who described nearly getting run over by drivers as he walks his baby carriage through crosswalks on Polk. "Free and easy parking isn't a right... finding you parking isn't the city's responsibility. The safety of people on the street is."
Protected bike lanes would not only reduce injuries, but also invite more people to bike. Retail sales on streets in New York where protected bike lanes have been installed have outperformed other areas.
Henry Pan, a Polk neighborhood native, said his parents relied heavily on their bikes in China before they moved to San Francisco. "They haven't been on a bike in 25 years because it's so unsafe to ride" on streets like Polk, he said at the hearing. Pan urged the SFMTA "to re-consider implementing separated bikeways throughout the corridor so that my friends and I, as well as my parents, can be safe riding a bicycle which would increase the vitality."
The planned pedestrian safety improvements for Polk, including numerous sidewalk bulb-outs, are "really strong," said Walk SF Executive Director Nicole Schneider, who emphasized the importance of installing them without further delay. Protected bike lanes would also "create, in general, a more livable street," she said.
It's not clear how much delay could be added to the project if the SFMTA board sends planners back to the drawing board. It's already been delayed for a year after the agency scrapped its more ambitious plans to placate "Save Polk Street."
Still, Brinkman said some delay may be worth waiting for. "I think this corridor is important enough, and the chances of us touching it again in the next decade after we do this project are so slim, given all the other things we need to do in the city, that it's worth getting this one right."
Aaron was the editor of Streetsblog San Francisco from January 2012 until October 2015. He joined Streetsblog in 2010 after studying rhetoric and political communication at SF State University and spending a semester in Denmark.
Stay in touch
Sign up for our free newsletter