Bicycle Safety
New Bike Lanes in Sunnyvale Could Be Just the Beginning for El Camino Real
4:16 PM PST on February 18, 2015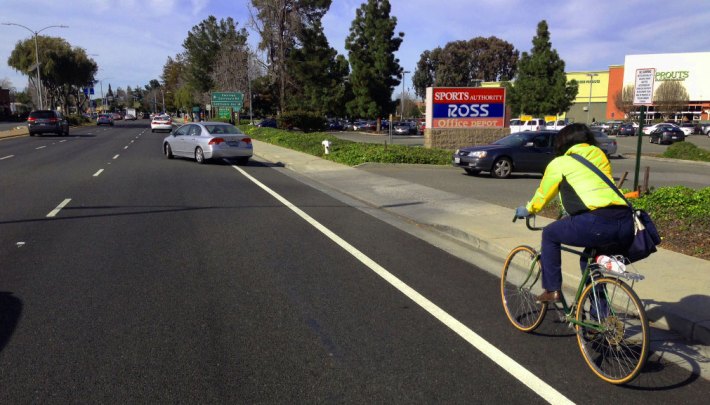 To build a bike network, you've gotta start somewhere, and on El Camino Real, it started in Sunnyvale last month. The first bike lanes on El Camino Real are six feet wide, striped along the curb with no protection from traffic, running half a mile from Sunnyvale Avenue to Fair Oaks Avenue/Remington Drive, near the city's downtown.
While it may not be all-ages bike infrastructure, the new bike lanes still set an important precedent for the 43-mile-long street-level highway connecting San Francisco and San Jose. James Manitakos, former chair of the city's Bicycle and Pedestrian Advisory Commission, has called the project "a good first step."
Now several other towns on the Peninsula are considering safer, better bike infrastructure -- including protected lanes -- for key segments of El Camino.
Sunnyvale chose to replace car parking with bike lanes on this section of El Camino Real only after commissioning a study [PDF] to ensure that the parking was barely used, so as to not inconvenience drivers. This despite the city's 2008 Policy for Allocation of Street Space [PDF], which states that "safe accommodation for all transport modes takes priority over non-transport uses," and that parking "shall not be considered a transport use."
According to the city's study, only one of the roughly 134 parking spaces on El Camino's curbs were used at peak hours on average, and city staff counted 3,337 spaces in the seven parking lots along the street.
Other sections of El Camino Real along the Peninsula could get bike lanes soon, though cities approve them on a piecemeal basis. Mountain View, to the north, approved six-foot wide buffered bike lanes on its 1.2-mile stretch from Calderon/Phyllis Avenue to the border with Sunnyvale at Knickerbocker Drive. That project was approved with the adoption of Mountain View's El Camino Real Precise Plan in November.
Menlo Park and Atherton are both currently studying ways to redesign El Camino Real as a safer street. The Town of Atherton, where residents are regularly killed by drivers while crossing the street, proposed converting the right-most of three lanes in each direction to a separated path for walking and bicycling in November with the adoption of its Bicycle and Pedestrian Master Plan.

Menlo Park has commissioned a study of design options for its section of El Camino. Potential designs include buffered or protected bike lanes, though the study will also consider a wider, more dangerous road expansion through downtown. Consultants hired by the city are hosting a third community meeting on the study on February 19, in preparation for its recommendation to the City Council on whether to install bike lanes on El Camino.
San Mateo's City Council is also expected to endorse a proposal on February 17 for protected bike lanes and wider sidewalks on El Camino Real as part of its Sustainable Streets Project.
Andrew Boone covers the Livable Streets Movements for Streetsblog in San Mateo and Santa Clara counties. Andrew's claim to fame is once having bicycled more than 12,000 miles of smiles in one year. nauboone@gmail.com
Stay in touch
Sign up for our free newsletter