London Breed
Supervisor Breed Calls for Removing Some of SF's Parking Mandates
6:00 PM PST on March 2, 2015
Supervisor London Breed has proposed a "Parking Flexibility Ordinance" that would make it easier for building owners and developers not to build car parking when it would impinge on the street environment for walking, bicycling, and transit. It would also count parking spaces against density limits, unless they're built underground.
The ordinance [PDF] was approved by the Planning Commission last week and is expected to be approved by the Board of Supervisors in the coming weeks.
SF's 1950s-era parking mandates increase the cost of building housing and limit the space available for apartments, storefronts, and other uses. Minimum parking requirements encourage car ownership, make buildings more susceptible to earthquake damage, cut up SF's sidewalks with driveways (which also reduce street parking and encourage sidewalk parking), and diminish the pedestrian realm with blank garage doors.
The proposal would amend the planning code so that "builders, businesses, and homeowners can have more say in where and if they put parking on their property," Conor Johnston, an aide for Breed, told the Planning Commission Thursday.
Breed's proposal would waive parking mandates in certain situations, including when parking spaces require drivers to cross a curbside bike lane, transit-only lane, or a sidewalk that's at least 25 feet wide. The additional flexibility will allow existing parking spots to be converted to other uses and let developers forego building new ones.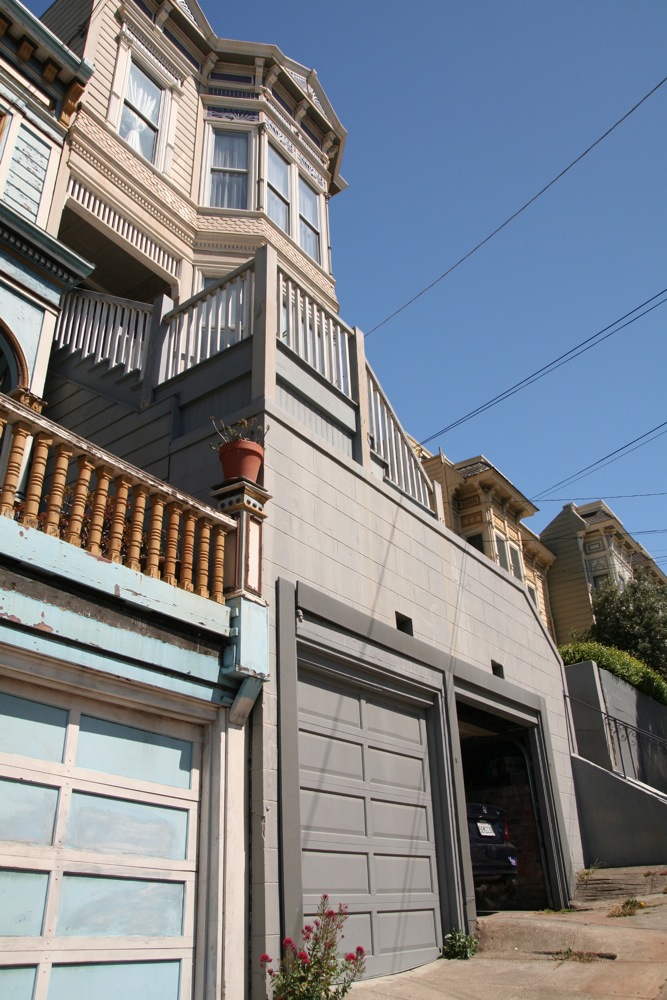 The legislation adds to the Planning Department's efforts in recent years to relax the city's "very strict minimum parking requirements," said Johnston. "They do not limit anyone's ability to construct parking if they choose, they simply give people more options."
As parking minimums are relaxed, space opens up for other pursuits. Last year, three cafes and restaurants were built out of former personal parking garages in the Castro, thanks to a 2011 ordinance pushed by Breed's predecessor, Supervisor Ross Mirkarimi.
Livable City Executive Director Tom Radulovich, who helped craft both Mirkarimi and Breed's ordinances, said Breed's new bill "has a lot of smart policy changes in it" that would "create opportunities to improve safety and transit reliability by reducing conflicts with driveways," and "help green the city, and restore neighborhood character."
Johnston said the proposal would also encourage homeowners to turn paved driveways into green yards which are required by the planning code. Even though it's illegal to park on any part of a sidewalk -- including the "setback" space between a sidewalk and building --  many homeowners, particularly in SF's outer neighborhoods, have paved over their front yards to park on them with impunity.
The ordinance would also count above-ground parking spaces against density limits by including parking in a building's "gross floor area" (GFA). Currently, said Johnston, "There are limits on how much commercial space or housing you can have, but not on parking." The only existing exception is in high-density "C-3" commercial zones. The ordinance, he said, "will encourage new developments to put their parking underground, and use the floor for active uses like retail and housing."
Under the status quo, Johnston said building owners are "almost forced" to use the ground floor for parking. "Do we really want to prioritize parking over jobs and housing?"
Aaron was the editor of Streetsblog San Francisco from January 2012 until October 2015. He joined Streetsblog in 2010 after studying rhetoric and political communication at SF State University and spending a semester in Denmark.
Stay in touch
Sign up for our free newsletter