Bus Rapid Transit
Fantasizing About Self-Driving Cars, Sunnyvale Opposes El Camino Bus Lanes
4:15 PM PDT on March 10, 2015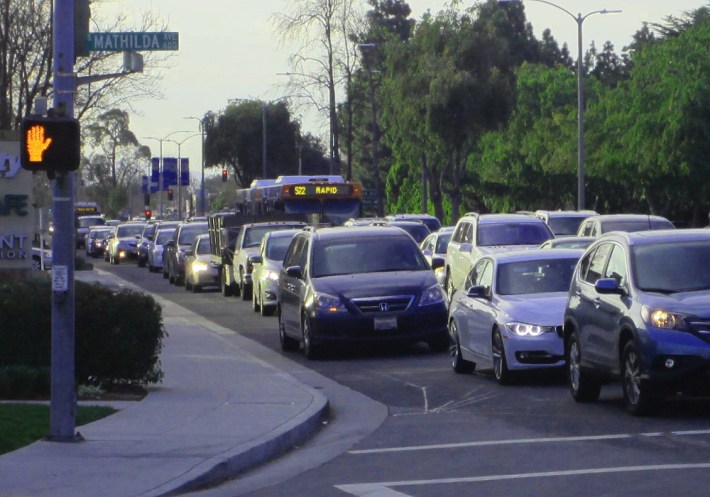 The Sunnyvale City Council voted 4-3 last month to oppose dedicated bus lanes that could cut transit riders' trips nearly in half along the length of El Camino Real, making bus trips almost as quick as driving. More than one council member said the city shouldn't invest in transit because self-driving cars are going to make it irrelevant.
The city's "officially preferred alternative" for the Valley Transportation Authority's future El Camino Real bus service would include new bus stations on sidewalk bulb-outs, but not bus lanes anywhere between Palo Alto and San Jose.
This "mixed flow" option, which would leave buses stuck in traffic, would shave just 4 to 5 minutes off the current 70- to 85-minute bus trip during morning and evening rush hours. By comparison, bus-only lanes on El Camino Real would slash rush-hour trip times by 25 to 35 minutes, according to the project's Draft Environmental Impact Report (EIR).
Converting two of the street's six traffic lanes to exclusive bus lanes would bring 6,000 new weekday passengers to VTA's El Camino Real buses in 2018, and another 12,000 on top of that by 2040. The Bus Rapid Transit project is the longest of three BRT lines planned by VTA to span Santa Clara County, converging in downtown San Jose.
"The travel time savings from a bus today to a dedicated lane bus would be so significant that it would make it an alternative for people who don't see it as an alternative today," Sunnyvale Public Works Director Manuel Pineta testified at the City Council meeting.
VTA expects weekday traffic volumes on El Camino Real to drop by up to 4,500 vehicles in Sunnyvale and 5,600 vehicles in Mountain View if the dedicated bus lanes are built, as some drivers shift to transit, bicycling, or walking, and others choose different routes. Car congestion on the redesigned El Camino would increase only slightly, with rush-hour driving trips from Palo Alto to San Jose taking 37 to 44 minutes instead of today's 36 to 40 minutes.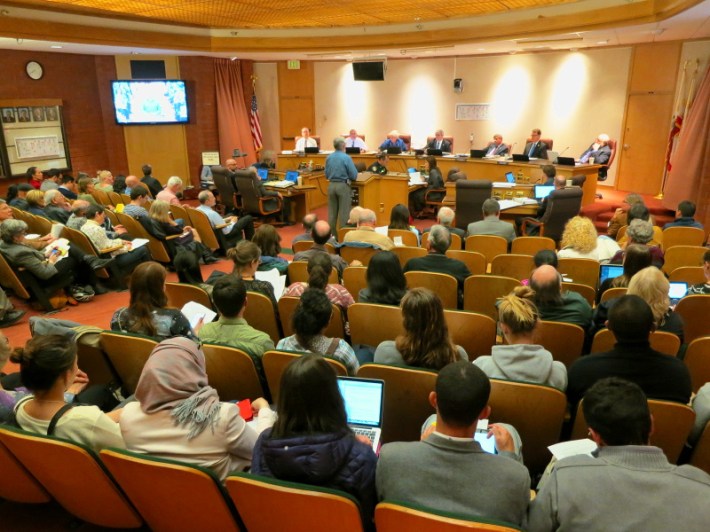 But after hearing two hours of public comment, with 30 speakers in support of the proposed bus lanes and 20 speakers opposed, City Council members David Whittum, Glenn Hendricks, Jim Davis, and Pat Meyering dismissed VTA's analysis. Speeding up El Camino Real buses through Sunnyvale, they said, isn't worth the "broader impacts" on the city.
"Let's make improvements to public transit, let's give improvements to the current and future riders of the service, but not going the step to dedicated lanes," said Hendricks, who along with Meyering argued that the "mixed flow" improvements proposed by VTA are good enough.
Bus lane opponents placed an ad in the February 22 San Jose Mercury News attacking the BRT project, which stated that bus lanes would "not materially reduce vehicle traffic on El Camino or anywhere else," would "only marginally reduce average bus rider transit time on El Camino," and would "forever compound traffic congestion."
Some council members dismissed better bus service entirely as impractical and outdated, despite the repeated success of dozens of rapid bus projects worldwide, and pointed to self-driving vehicles as a more appropriate transit solution for Silicon Valley.
"Instead of getting involved in Bus Rapid Transit, let's start thinking of new and innovative ways that make travel better for everyone," said Davis. "I'm not against smart transportation, but smart transportation is not increased numbers of buses. World class transportation systems are not those that rely on traffic lights and roadways."
"When cars are actually autonomous and speak to each other, they will be packed more densely on
the roads, and they won't be creating that congestion," said Whittum. "So the idea of spending huge amounts of money on concrete to do this, it's not a futuristic 21st century idea, it's actually a very 20th century idea."
Not only are self-driving vehicles many years away from hitting the market, let alone saturating it, but even in a hypothetical future with autonomous vehicles, the geometric reality is that cars take up far more roadway space than buses, and the financial reality is that many people won't use them.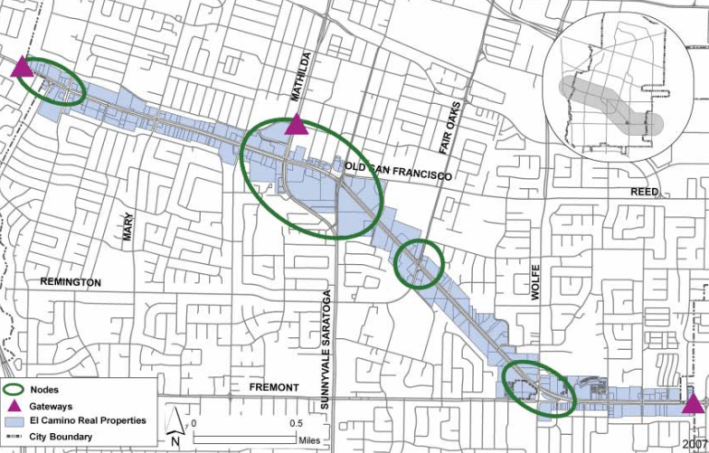 Not every official wanted to leave buses stuck in rush-hour traffic. A project without bus lanes "doesn't give people any option that approaches automobiles' usefulness," said Vice Mayor Tara Martin-Milius, who voted against declaring a preference for the "mixed flow" option, along with Mayor Jim Griffith and Council member Larssen. "The transit dependent are not going to do any better than what we've got right now, and I don't think that's good enough," she said.
In early January, Palo Alto's City Council also recommended against dedicated bus lanes for El Camino Real, but Mountain View and Santa Clara haven't taken a position on the project's design. Later in March VTA staff will choose whether or not to recommend pursuing bus lanes -- and for which sections of the street -- to the agency's Board of Directors, which is expected to review the BRT project in April and select a design alternative in June. 

Andrew Boone covers the Livable Streets Movements for Streetsblog in San Mateo and Santa Clara counties. Andrew's claim to fame is once having bicycled more than 12,000 miles of smiles in one year. nauboone@gmail.com
Stay in touch
Sign up for our free newsletter