Bicycling
SFMTA Shows Off Vision Zero Upgrades, Promises Quicker Implementation
6:18 PM PDT on April 14, 2015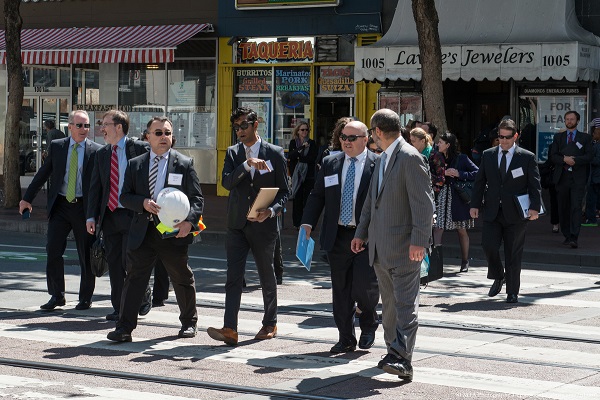 Several top officials from state and national transportation agencies were in town today to see some of the SFMTA's latest street safety measures. Meanwhile, local street safety advocates continue to push the SFMTA to pick up the pace on delivering pedestrian and bike safety infrastructure.
At a City Hall committee hearing yesterday, SFMTA Sustainable Streets Director Tom Maguire reported on some solid steps the agency is taking to cut through the bureaucratic red tape that holds up street safety fixes.
While the reforms are "definitely a work in progress," Maguire told Supervisors Jane Kim and Scott Wiener that the SFMTA has adopted new processes and hired new management to speed up the delivery of safer streets.
"There does need to be a bit of a culture change and a raised expectation that we do need to be doing more, better, faster within MTA if we're going to reach the Vision Zero goal," Maguire said.
In recent weeks, he said, project managers at SFMTA and SF County Transportation Authority have attended an "intensive training course" focused on rolling out a "capital project control system," so that managers at both agencies "are on the same level." The SFMTA is also hiring a project delivery director to "re-engineer and streamline the project delivery process across the entire Sustainable Streets Division" while "providing a single point of accountability."
The SFMTA also holds regular meetings with other agencies like the Department of Public Works and Caltrans to ensure that coordination is "baked into projects," said Maguire. He said there is higher priority on "getting the scope right the first time" and making sure other agencies "are at the table" up front, to ensure smaller projects don't become unexpectedly larger and slow down the original plans.
The SFMTA has shown that it can move faster for high-priority projects, such as the parking-protected bike lane coming to 13th Street in the next couple of months, which was announced in late January. As part of the project, the SFMTA began installing painted curb extensions today at the traffic circle at Division, Eighth, and Townsend Streets.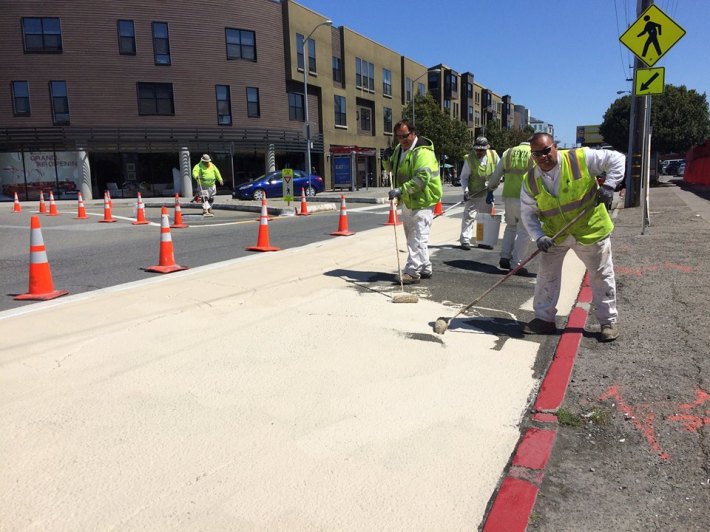 At the hearing, Supervisor Kim also noted that pilot projects like the bike lane widening on Folsom Street and a pedestrian scramble signal phase at Stockton and Sacramento Streets seem to have been installed "within two months" of traffic fatalities at those intersections.
"I don't want to sound like I'm accusing MTA of this, but it feels like, from a general public perspective, that it takes a fatality to get a project into place faster," she said.
Maguire pointed out that such pilot projects don't have to undergo the lengthy environmental review process required by the CA Environmental Quality Act. The recent Howard Street bike lane widening didn't have to either, since it didn't remove a traffic lane. But, he added, "I want to get to a point where we're moving much faster through the design, legislation, and environmental processes."
The SFMTA said in a press release today that city officials "are asking their state and federal counterparts to help in several areas, including cutting red tape for funding and making the environmental review process more efficient."
While SF has plenty of room to improve, the city is apparently ahead of the curve nationally when it comes to re-shaping streets for safety.
SFMTA Director Ed Reiskin today showcased recent street safety measures to senior officials from the California Office of Traffic Safety, the California State Transportation Agency, the Federal Highway Administration, and the National Highway Traffic Safety Administration.
The tour included Polk Street, where the SFMTA is installing an initial batch of safety measures. Already completed are painted bulb-outs at five intersections, zebra-striped crosswalks at 25 intersections, and an extended but unprotected southbound bike lane.
But that installation came after a two-year planning process, during which the project was delayed by a year and heavily watered-down due to some merchants obsessed with preserving car parking. Construction on the main changes that require concrete work is set to begin in a year.
Still, California OTS Director Rhonda Craft said in a statement that SF's Vision Zero efforts "can stand as a model for others who are trying to make their communities safer for all roadway users."
"Having these organizations and delegates here to learn about our Vision Zero efforts really underscores San Francisco's recent work to create a culture of traffic safety," Reiskin said in a statement. "While our goal of zero traffic fatalities by 2024 has a long time horizon, we are working quickly today to increase safety citywide while larger projects and initiatives are being developed."
Aaron was the editor of Streetsblog San Francisco from January 2012 until October 2015. He joined Streetsblog in 2010 after studying rhetoric and political communication at SF State University and spending a semester in Denmark.
Stay in touch
Sign up for our free newsletter