Carnage
Drivers Hit Two Seniors in Two Days at Castro and 19th Crosswalk
4:24 PM PDT on April 30, 2015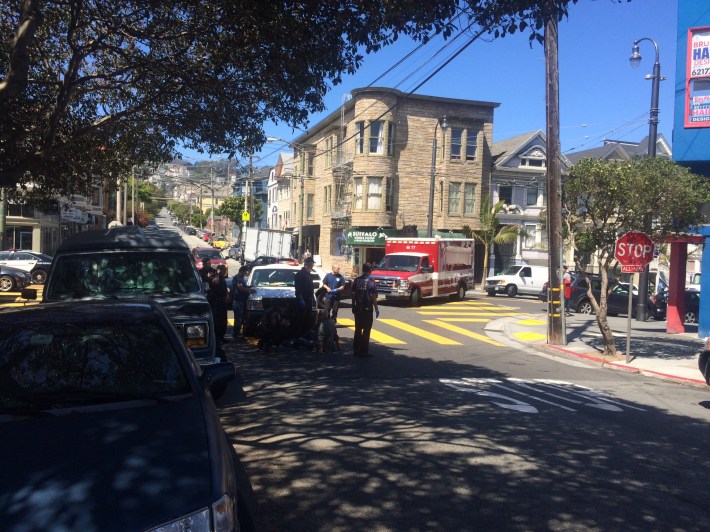 Two seniors were injured by drivers in a crosswalk at 19th and Castro Streets in separate crashes on Tuesday and Wednesday. Bryan Goebel, Streetsblog SF's first editor, and his neighbor Hank Cancel happened upon the aftermath of the crashes.
Both victims sustained minor injures, according to Goebel and Cancel. But they said close calls with reckless drivers are routine at the intersection.
On Tuesday, a woman and man who appeared to be in their late 60s were crossing 19th in the intersection's eastern crosswalk when the woman was hit by a driver making a right turn from northbound Castro. Cancel said the woman scraped her knee, and the female driver exchanged information with her, but nobody called 911.
Based on talking with the driver and victim, Cancel thinks the driver may have whipped quickly around the turn, as he sees many drivers do at the corner after coming down the hill on Castro. "The back of her car hit the pedestrian, because she didn't actually wait for the pedestrian to clear the crosswalk," he said.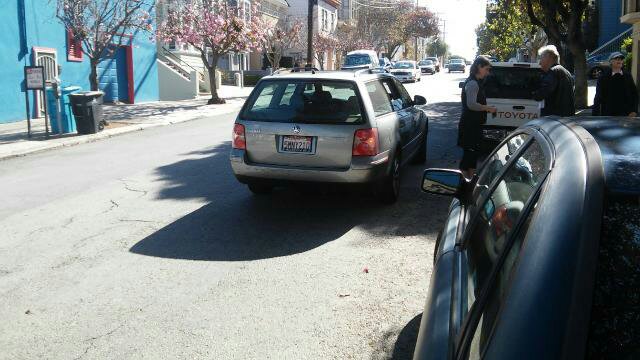 On Wednesday, a man who also appeared to be in his late 60s was hospitalized after he was hit in the same crosswalk by a pickup truck driver making a left turn from southbound Castro on to eastbound 19th. Based on a police description, Goebel said, "Another car that was on 19th had pulled into the intersection, and that truck had sped around it as he turned. And because there was this other car in the intersection, the driver apparently did not see that the pedestrian was crossing."
Cancel, who was also at the scene, thinks the driver must have been distracted. "The driver was going forward, but he wasn't looking forward," he said. "That crosswalk couldn't be bigger -- it's huge, it's yellow."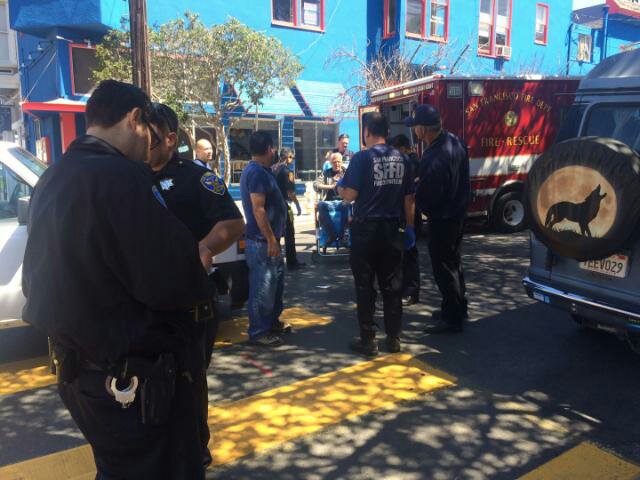 The crosswalks were upgraded with more visible striping last year as part of a redesign on Castro. Safety upgrades at 19th, including sidewalk bulb-outs, were among four options for how to spend one portion of the project's budget, but respondents to a neighborhood survey favored a package of permanent improvements to Jane Warner Plaza instead.
"Every streetscape project has to have a boundary, and unfortunately, the funding for the Castro Streetscape project only allowed improvements north of the 19th Street intersection," said D8 Supervisor Scott Wiener, who got the funding for the Castro redesign. "At the same time, we must be aggressive in implementing roadway improvements aimed at advancing road safety citywide." Wiener noted that he pushed Proposition B, approved by voters in November, "which in this first year, will advance more than $6 million for street safety improvements citywide."
Until traffic calming improvements are made, neighbors can expect drivers to continue flying down the hill on Castro and using 19th as a cut-through route, as Goebel and Cancel described.
"I hear from my window pedestrians cursing at drivers frequently," said Goebel.
Aaron was the editor of Streetsblog San Francisco from January 2012 until October 2015. He joined Streetsblog in 2010 after studying rhetoric and political communication at SF State University and spending a semester in Denmark.
Stay in touch
Sign up for our free newsletter