Bicycling
Money Abounds for Highways, Not Safe Crossings, at San Mateo County TA
2:58 PM PDT on May 4, 2015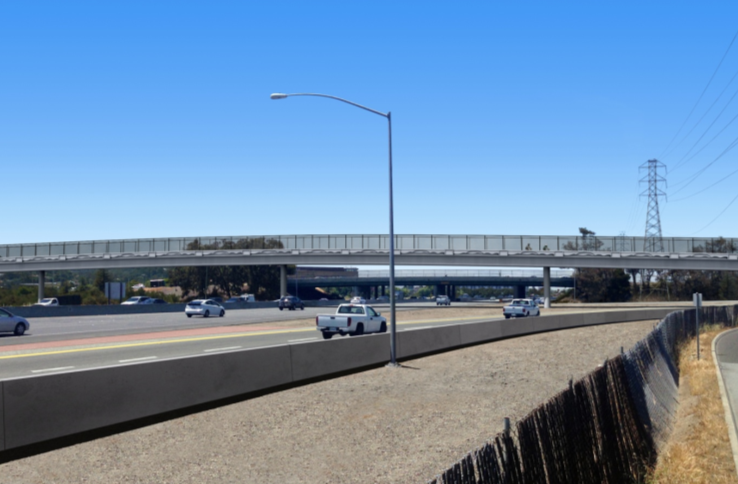 The San Mateo County Transportation Authority is still throwing tens of millions of dollars at freeway widenings in a futile attempt to build its way out of traffic congestion. But when it comes to building a safe passage for people to cross a frightening interchange, don't expect the agency to spend a dime.
The planned expansion of the Highway 101 interchange at Holly Street is San Carlos will cost $11 million, most of which is slated to come from the SMCTA's $60 million-a-year Highway Program. But the agency won't use that pot of money to fund a $5 million bridge for people to walk and bike safely across the wider interchange. If the money for the bridge isn't secured by late next year, the freeway expansion could be built by mid-2017 without a safe crossing.
To design the bridge, San Carlos plans to spend scarce "active transportation" funds from another county agency. But the bridge wouldn't be necessary without the dangerous cloverleaf interchange, which was built 28 years ago -- and city planners know it.
"There's a very small sidewalk on one side of the interchange, it's a very dangerous situation for bicycles," explained San Carlos Associate Engineer Kaveh Forouhi in a February review of the bike/ped bridge design [PDF]. "People don't use the interchange because they're fearful of it."
"Even experienced, skilled cyclists are intimidated by the combination of multiple turn lanes, short merge sections, high automobile speeds, and poor sight lines," wrote San Carlos Public Works Director Jay Walter. The proposed bridge "directly addresses inadequate sidewalks, lack of bicycle facilities, and an overall lack of pedestrian/bicycle connectivity."
Because the SMCTA keeps its money in "silos" for limited purposes, the agency has repeatedly rejected highway-related projects that would encourage walking and bicycling, even though those projects can help reduce congestion by making driving less necessary.
Paying for bike/ped bridges using highway funds would go against the agency's system, said SMCTA Communications Manager Jayme Ackemann. The tens of millions of dollars available annually for highway expansions through the Measure A sales tax are meant to benefit drivers -- and only drivers.
"Many projects have multiple areas of benefit, which is why we have many project categories through which projects are evaluated and funded," she said. "These categories guide our investment in a way that satisfies the greatest degree of improvement for the greatest number of project beneficiaries (in this case highway users)."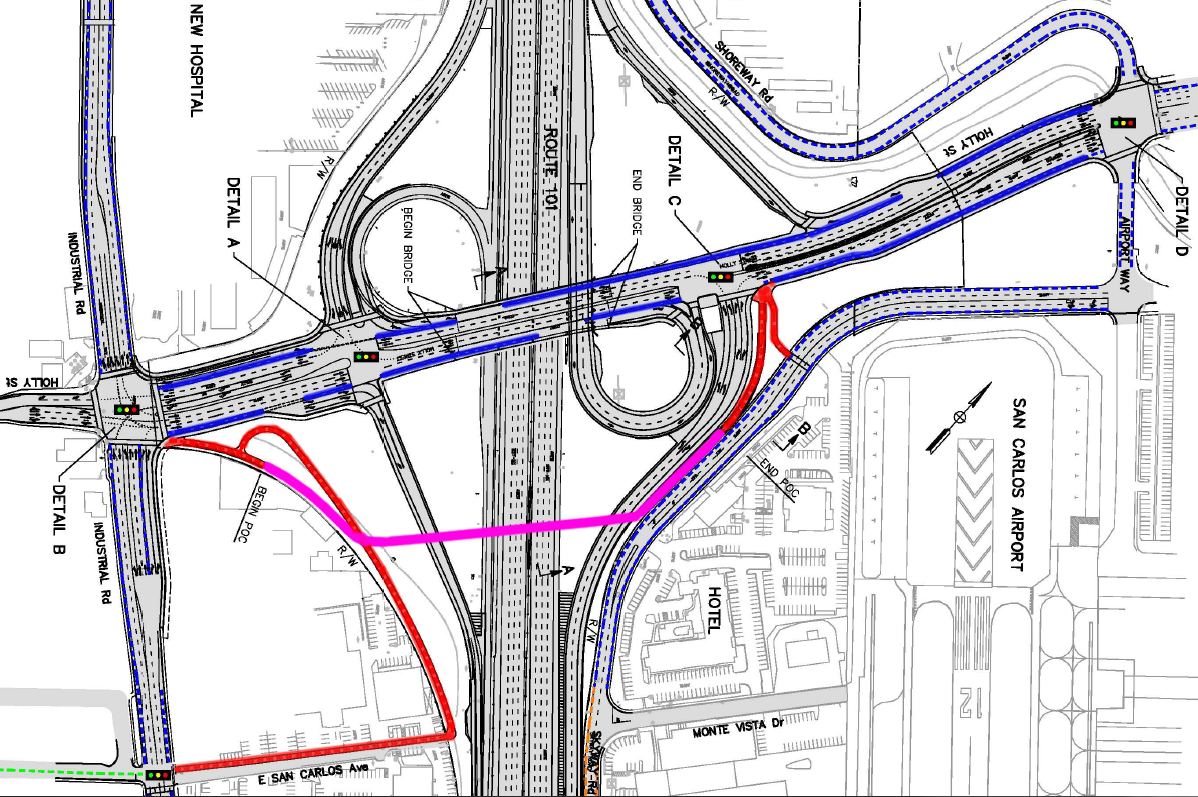 As a result, the bike/ped bridge "competes against other worthy bicycle projects" for other paltry funding sources, said Emma Shlaes, policy manager for the Silicon Valley Bicycle Coalition.
"Instead of including the bicycle and pedestrian overcrossing in the original Holly/101 interchange redesign, the city has had to cobble together various funding sources for the bridge," she said. "Complete Streets are mandated throughout projects in California, and thus bike and pedestrian improvements should be considered in any street redesign."
Caltrans hasn't stepped up to fund the bridge, either. Walter, the San Carlos Public Works director, explained that Caltrans is unlikely to provide funding for the Holly/101 interchange project because it's a smaller-scale "local project," and the state agency generally only funds bigger, "regional" highway projects.
Caltrans launched its Active Transportation Program last year, but it only provides a paltry $300 million every six months. Demand for bike/ped project funding has overwhelmed the program, with $800 million in project applications denied in the last round.
San Carlos's bike/ped bridge could qualify for some funds from the SMCTA's Measure A sales tax revenue, but bike and pedestrian projects only get 3 percent of that pie, or about $6 million a year. Highways get 27.25 percent -- nearly ten times as much.
The SMCTA does allow its highway funds to be spent on the replacement of bike/ped bridges which must be torn down to widen highways, as was the case for Burlingame's $83 million Broadway Avenue/101 interchange reconstruction that began last year. The SMCTA poured $51 million into the project, which includes the replacement of two existing bike/ped bridges, one at Broadway Avenue itself and another at Monte Diablo Avenue in San Mateo to the south.
Even though highway expansions have failed to reduce traffic congestion -- instead, they tend to just induce more traffic -- in 2012, the SMCTA awarded $83 million to 23 highway widenings [PDF]. The SMCTA did allow some of the $3 million it allocated for the Holly/101 interchange project that year to be spent on the bike/ped bridge's environmental review, but they said the bridge's design and construction weren't eligible for Highway Program funds.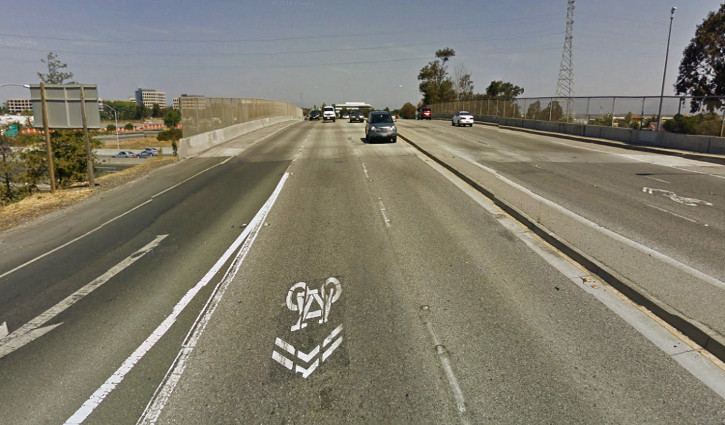 While the construction of the bike/ped bridge at the Holly/101 interchange remains unfunded, San Carlos is expected to receive $400,000 for its design from the City/County Association of Governments' Transportation Development Act program, which provides just $1.5 million for walking and biking improvements this year. Demand from San Mateo County cities for TDA funds this year more than doubled the money available.
"This situation highlights the unmet demand for funding for bike and pedestrian infrastructure projects statewide and nationwide," said Shlaes, "and the need to increase funding levels in the Active Transportation Program and federal, local, and regional funding sources."
Andrew Boone covers the Livable Streets Movements for Streetsblog in San Mateo and Santa Clara counties. Andrew's claim to fame is once having bicycled more than 12,000 miles of smiles in one year. nauboone@gmail.com
Stay in touch
Sign up for our free newsletter