Mayor Ed Lee
Mayor Lee Warms to Prop B Muni Funding Increase, Which He Opposed
3:32 PM PDT on May 5, 2015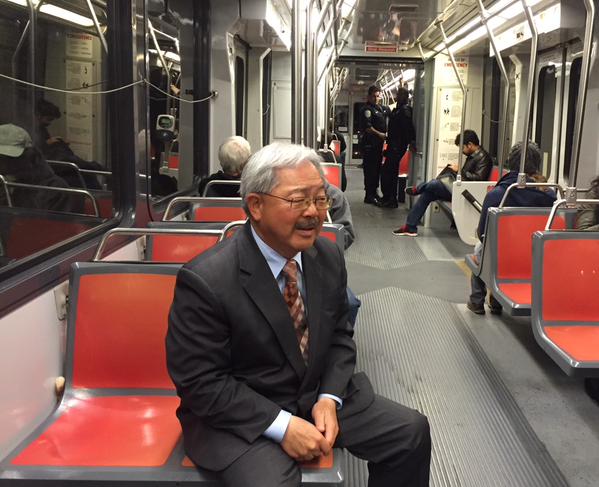 Mayor Ed Lee held a press conference yesterday to mark a $48 million increase in transportation funding for Muni and safer streets. But the largest chunk of that increase, and the only one that resulted directly from political leadership, came from Supervisor Scott Wiener's Proposition B -- which Lee fervently opposed.
The funding increase "is a great thing for the eighth-largest transportation center in the country," Lee told reporters yesterday, touting the boost it would bring to Muni vehicle maintenance and infrastructure. Lee was joined by Wiener, as well as Supervisors London Breed and Julie Christensen.
When the Board of Supervisors approved Prop B for the ballot last July, Lee threatened retribution for the six who voted for it, though he apparently never followed through.
At the time, the mayor called Wiener's measure "disturbing" and said it "can be very damaging" to the city budget. "I have to hold the supervisors that did this accountable," he told reporters. "Fiscally, it was not responsible to have done. It disbalances the budget, and it was not what we had all collaboratively agreed to do."
Prop B passed with 61 percent of the vote in November, mandating an annual increase in funds for transportation and safer streets based on population growth. Since the measure also factors in the last 10 years of growth, it is expected to yield a $24.2 million increase this year.
The $48 million increase to the SFMTA's budget also includes $7.2 million from the agency's share of the general fund, a result of greater tax revenue from a booming economy. The other $16.7 million comes from a boost in development impact fees earmarked for street improvements, which resulted from an increase in building construction.
While that $48 million should help SF implement safer streets and better transit, the city could have raised much more had Lee been willing to ask car owners to chip in for the disproportionate costs they incur. However, the mayor passed up an estimated $77 million by repealing Sunday parking meters and abandoning his support for putting a vehicle license fee increase on the ballot.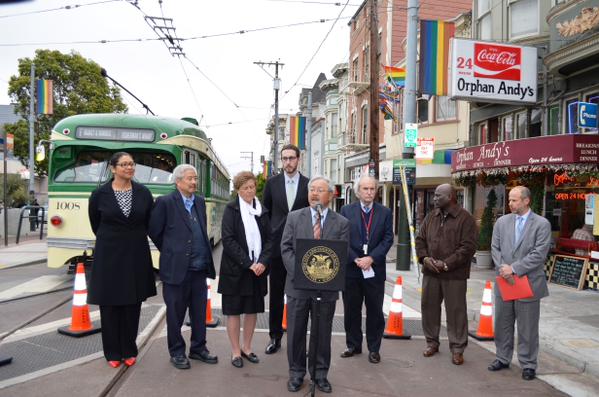 Sunday parking meters generated $11 million annually (and reduced car traffic). Restoring the local VLF rate to pre-Schwarzenegger levels, as recommended by the Mayor's Transportation 2030 Task Force, was expected to generate more than $66 million per year.
Lee's abandonment of the VLF measure is what spurred Wiener to propose Prop B as a stopgap measure. Prop B helps fund some needed transportation upgrades, but hands the bill to the general public, putting a disproportionate burden on those who drive the least.
Of the $48 million added to this year's SFMTA budget, $17.7 million will buy 18 new buses, and $8 million will go toward a deposit to "secure an option" for 40 new light-rail vehicles on top of the 175 already on order, said agency spokesperson Paul Rose. An additional $5.9 million will go toward citywide bike and pedestrian safety measures and "signal improvements." The rest, generated by development impact fees, will go towards street improvements near the development projects that contributed.
Those funds are in addition to the $66 million for transportation infrastructure coming this year from Proposition A, the $500 million general obligation bond also passed by voters in November. Mayor Lee campaigned for Prop A, but never mentioned Prop B publicly after he issued his initial condemnation.
When asked for comment on the mayor's newfound enthusiasm for Prop B-mandated funds, Wiener told Streetsblog he's "just happy" that Muni and street upgrades are getting some of the funding they need.
"That's what matters, that we're increasing investment at a very important time in our city's history," he said. "I'm in total alignment with the mayor. It's not about who did what, who gets credit for what."
Aaron was the editor of Streetsblog San Francisco from January 2012 until October 2015. He joined Streetsblog in 2010 after studying rhetoric and political communication at SF State University and spending a semester in Denmark.
Stay in touch
Sign up for our free newsletter