Bicycle Safety
San Jose to Adopt Vision Zero But No Target Date to End Traffic Deaths
5:20 PM PDT on May 11, 2015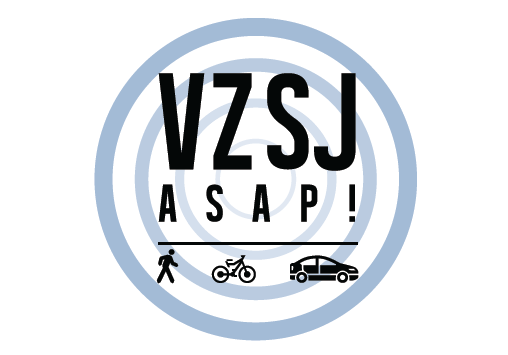 The San Jose City Council is expected to adopt a Vision Zero plan [PDF] tomorrow, making it the third major city in the Bay Area and the tenth in the nation to commit to ending traffic deaths. But San Jose isn't setting a timeline to achieve this goal.
"For years, San Jose created a roadway system exclusively for cars -- not for people on bikes, pedestrians, or transit," said Mayor Sam Liccardo in a statement. "Vision Zero is San Jose's commitment to prioritize street safety and ensure all road users - whether you walk, bike, drive, or ride transit - are safe."
Unlike San Francisco and New York City, which adopted ten-years goals, San Jose's version of Vision Zero doesn't include a target date. Instead the plan calls for an end to traffic fatalities "ASAP":
Vision Zero San Jose purposely has avoided setting a particular timeline as a practical matter and has instead chosen to pursue Vision Zero goals, as soon as possible (ASAP). The history of change particularly with regards to state and federal policy makes 10-years seem "unrealistic." However, the urgency for safe streets makes a 10-year goal seem "too slow." For now, our goal is to continue to make progress with advocacy, action and results, ASAP!
"While we understand concerns that a 10-year timeline may be too ambitious," said California Walks Planning and Policy Manager Jaime Fearer, "we need to commit to a date for our goal, even if it is 15 or 20 years."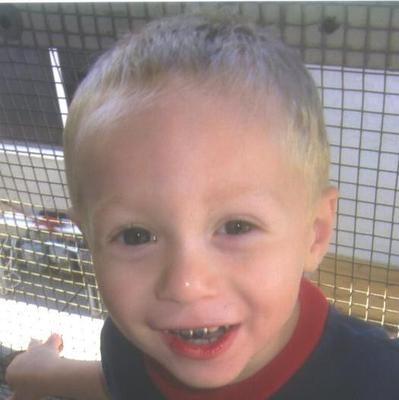 Dozens of supporters, including friends and relatives of people killed by reckless drivers, packed a committee meeting last week to plead for an end to the city's traffic violence.
"Anything that can be done to improve safety should not only be considered but embraced, to help prevent this from happening to anyone else," said Jenny Alvitre, whose 3-year-old grandson Elijah was killed in November 2013 by the driver of a pickup truck. The driver was not cited or charged for failing to yield to the 13-year-old girl pushing Elijah's stroller in a crosswalk, hitting both of them, as well as a six-year-old girl holding the older girl's hand.
Just hours later, 14-year-old Bianca Valdez was killed by a driver while walking across White Road near Hyland Avenue in east San Jose. A week later, 17-year-old Anthony Garcia was killed by an SUV driver while riding his bicycle on Branham Lane in south San Jose.
The death toll on San Jose's dangerously-designed streets has risen in recent years, and a growing proportion of victims are killed by drivers while walking and biking. In 2013, 44 people were killed on San Jose streets, and 42 in 2014. In both years, 21 of the victims were killed while walking. Most fatal crash victims in SJ are now people walking or biking. That wasn't the case between 2008 and 2012, when an average of 31 people were killed each year, 46 percent of whom were pedestrians or cyclists.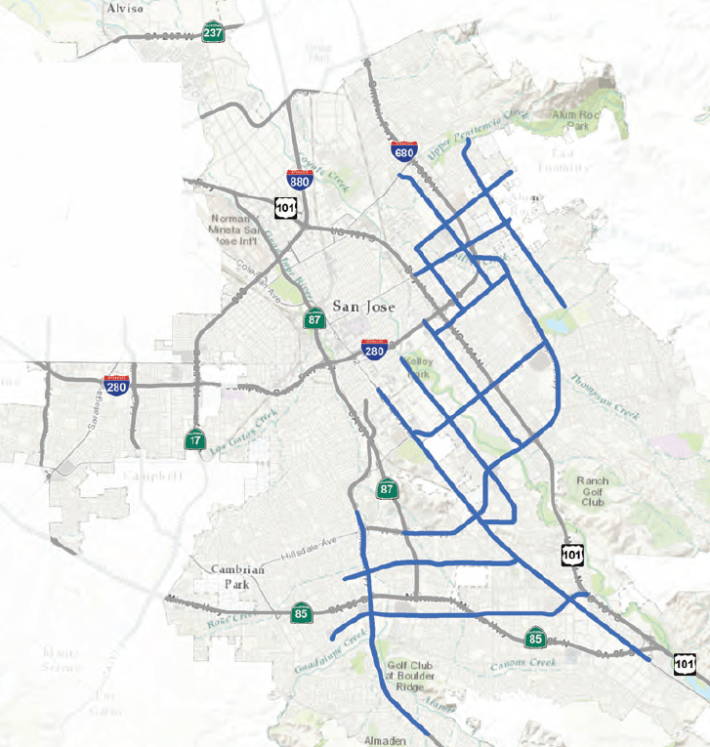 Already this year, 20 people have been killed in 18 San Jose car crashes, according to SJ Department of Transportation Director Hans Larsen. That's the highest rate on record, far outpacing the city's seven homicides this year.
The recent spike in traffic deaths has come as the SJ Police Department's dedicated traffic enforcement staff has declined from 40 officers to 10, SJPD Deputy Chief David Knopf told NBC. Under the Vision Zero plan, San Jose city officials would join San Francisco in the push for state legislation to enable cities to use speed enforcement cameras.
It's clear that many lives can be saved by redesigning a relatively small number of streets. Traffic deaths are "largely an issue on our major streets, the streets that are the widest and move cars the fastest, mostly four-lane and six-lane streets and County expressways," said Larsen. "They represent 93 percent of all of our fatalities."
SJ's Vision Zero plan identified 14 streets as the highest priorities for safety improvements, based on an SJDOT analysis of the past five years of crash data that found they have the highest concentrations of severe injuries and fatalities. All are high-speed multi-lane roads in eastern and southern San Jose.
"On these streets we can make the greatest positive impact with the resources we have," said Larsen.
Meanwhile, Santa Clara County still plans to widen its expressways, which would move SJ backwards and make its most dangerous streets more deadly. It would also contradict SJ's goal of cutting its driving rate in half by 2040.
Vision Zero SJ lists $80 million in safety improvements, including traffic lane reductions, new traffic signals, enhanced crosswalks, brighter streetlights, and 70 miles of new or enhanced bikeways over the next two years. Only a few of those upgrades are slated for the 14 most dangerous street segments, however, and some of them remain unfunded.
In addition to setting a Vision Zero timeline, California Walks and the Silicon Valley Bicycle Coalition are urging the city to provide greater public access to collision data, make commitments beyond those in the five-year capital improvement budget, and direct more resources overall toward street safety.
"Time-bound goals are critically important," said SVBC Deputy Director Colin Heyne. The targets set in SJ's Bike Plan 2020, adopted in 2009, "are time-bound and have certainly been effective in increasing the pace of bike network implementation."
Andrew Boone covers the Livable Streets Movements for Streetsblog in San Mateo and Santa Clara counties. Andrew's claim to fame is once having bicycled more than 12,000 miles of smiles in one year. nauboone@gmail.com
Stay in touch
Sign up for our free newsletter