BART
Millbrae's Transit Hub Plans: Lots of Parking, Same Car-Dominated Streets
3:53 PM PDT on July 24, 2015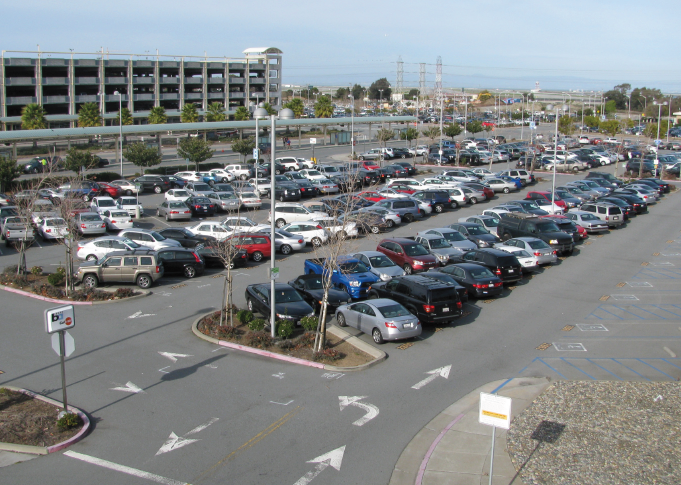 BART and the City of Millbrae are moving ahead with plans for two major mixed-use developments on the Millbrae BART/Caltrain Station's surface parking lots and along El Camino Real just west of the station.
The projects are expected to bring over 2,000 new residents and 2,000 jobs within walking distance of San Mateo County's busiest transit hub. The developer in the running for one of the sites promises it would become an urban center friendly for walking and biking.
But without a bolder vision from Millbrae officials, the plan has fundamental flaws that could undermine the purpose of transit-oriented development: to make it easier for people to get around without cars. The development, as proposed, would add about 2,200 car parking spots and make no substantial changes to the surrounding car-dominated streets to allow people to safely get around the area by foot and bike.
New residents and workers are expected to drive for 69 percent of trips, according to the environmental review for a proposed update to the Millbrae Station Area Precise Plan, which must be approved by the City Council.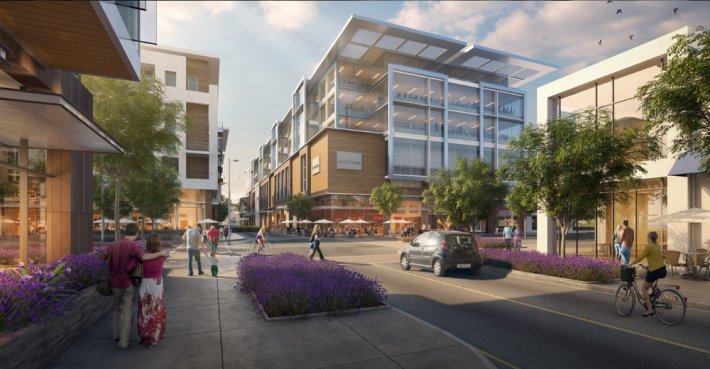 Millbrae Station's parking lots are owned by BART, which owns 47,000 parking spaces in the Bay Area. The agency is "one of the biggest operators of parking spaces in the western United States and we don't really want to be in that business," said Ellen Smith, BART's director of strategic planning, at a hearing with Millbrae officials last week.
While building on the lots holds vast potential, the current proposal would add far more parking spaces than it replaces. The offices and apartments on the parking lots themselves would replace 500 parking spots with 1,612 spots. Developments planned along El Camino Real would add another 1,067 spaces. Altogether, the net increase at San Mateo County's busiest transit hub would be roughly 2,200 parking spaces. Millbrae hasn't insisted on a more walkable, transit-oriented configuration.
On El Camino Real and Millbrae Avenue, the wide roads just outside the station, the plan does not call for allocating space to walking and biking. El Camino Real, a deadly Caltrans-owned state highway, would only get sharrow markings, and pedestrians would still have to cross as many as nine traffic lanes (at intersections with left turn lanes). An effort to redesign the length of the highway is underway, but has no timeline. No bike or pedestrian improvements are proposed for Millbrae Avenue.
In an October letter to the Millbrae City Council [PDF], the Sierra Club recommended reducing El Camino Real's traffic lanes from six to four, and building a ped/bike path alongside the Caltrain tracks beneath the Millbrae Avenue overpass south of the station.
Millbrae Station is designated in Plan Bay Area as a "priority development area," where "the main emphasis has been to provide a community where people can walk and bike to wherever they need to be, so they do not actually need a car," said Gita Dev, a member of the Sierra Club's Sustainable Land Use Committee. "When you actually look at the plan, the goal there is to get throughput for the cars. It's not pedestrian-oriented, it's not bicycle-oriented."
Housing advocates are also criticizing the plan for not complying with Assembly Bill 2135, passed in September, which requires that 25 percent of units built on public land sold to developers be provided at below market rate. BART officials say that since they are leasing the site, and not selling it, the mandate doesn't apply in this case.
Affordable housing is especially critical at transit hubs, since "low-income folks are least likely to own a car, and most likely to use transit," said Jasneet Sharma, senior community health planner for the San Mateo County Health System. More affluent residents, she said, will mean more traffic.
Public comments on the Millbrae Station Area Precise Plan's draft environmental impact report can be submitted until August 10, and should be addressed to Millbrae Community Development Director Christine di Iorio at cdiiorio@ci.millbrae.ca.us.
Andrew Boone covers the Livable Streets Movements for Streetsblog in San Mateo and Santa Clara counties. Andrew's claim to fame is once having bicycled more than 12,000 miles of smiles in one year. nauboone@gmail.com
Stay in touch
Sign up for our free newsletter