Bicycling
SFPD Tickets Bike Commuters Trying to Get By Car Queue on Page Street
4:38 PM PDT on July 28, 2015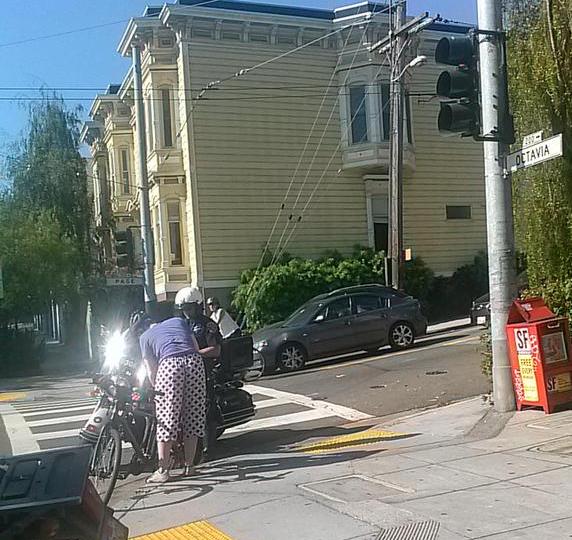 Here's today's edition of egregious waste of SFPD resources used to harass people on bikes.
SFPD officers were posted at the bottom of the hill on Page Street at Octavia Boulevard this morning ticketing bike commuters who squeezed to the left of stopped cars. Freeway-bound drivers routinely queue up to turn right, occupying several blocks of Page's only eastbound traffic lane.
Tickets were issued to people headed downtown who are essentially given no safe, legal, or practical alternative to use this official bike route. It's one more sign that the department has no plans to stop targeting innocuous, common-sense behaviors by people on bikes while violations that hurt people remain under-enforced.
"It's adding insult to injury," said Jason Henderson, a board member of the Hayes Valley Neighborhood Association and author of "Street Fight: The Politics of Mobility in San Francisco."
"Bicyclists don't want to be doing that," Henderson said. "It's because the city has shirked its moral responsibility and left bicyclists to fend for themselves at that intersection."
Squeezing to the left on Page, where the oncoming westbound traffic lane is mostly empty, has been normal for years and hasn't been known to cause any crashes. The SFMTA has actually proposed a partial center-running bike lane on Page to legitimize the behavior as part of street improvements on and around Octavia.
SFPD officials haven't responded to an inquiry asking how anyone could avoid the citations issued on Page this morning. It could be that police expect people biking to work to use a different route entirely, or to wait in line behind several blocks of motorists waiting to turn on to the Central Freeway.
Passing to the right, in the dooring zone between stopped cars and parked cars, is perilous if not impossible, since there's not always room. The other streets within a few blocks of Page hardly serve as safe or direct alternatives. As a result, some resort to illegally riding on the sidewalk.
A few blocks away at Octavia and Market Street, SFPD conducted another sting in March at an intersection that's so poorly designed the only rider spotted using it correctly in a "People Behaving Badly" segment was the city planner who's managing the effort to redesign it.
"Getting police out there to ticket" at those kinds of spots, said Henderson, "reflects a really broad problem in the police department acting in a really unenlightened and obstructive way. We want to encourage people to use the least-impactful forms of transportation. We need to make it safe to bike. From a public policy perspective, this is a huge fail."
Meanwhile, almost every SFPD station has failed to fulfill its pledge to prioritize enforcement against the five most dangerous driving behaviors.
When asked for comment on the operation, SFPD media relations staff directed us to Park Station's new captain, John Sanford, though Page and Octavia is located well within SFPD's Northern District. Sanford hasn't responded to our inquiry.
Sanford has called for a crackdown on bike violations, justifying it with a backward interpretation of crash statistics. (In protest, a demonstration is planned tomorrow in which bike commuters will fully comply with the impractical stop sign law.)
Henderson said Mayor Ed Lee "needs to call" Police Chief Greg Suhr and say "'What the hell are you doing? Call your people in. Don't harass people who are making the right choice.'"
Aaron was the editor of Streetsblog San Francisco from January 2012 until October 2015. He joined Streetsblog in 2010 after studying rhetoric and political communication at SF State University and spending a semester in Denmark.
Stay in touch
Sign up for our free newsletter