Congestion Pricing
SFCTA to Test Variable Road Pricing on Treasure Island
6:33 PM PDT on August 4, 2015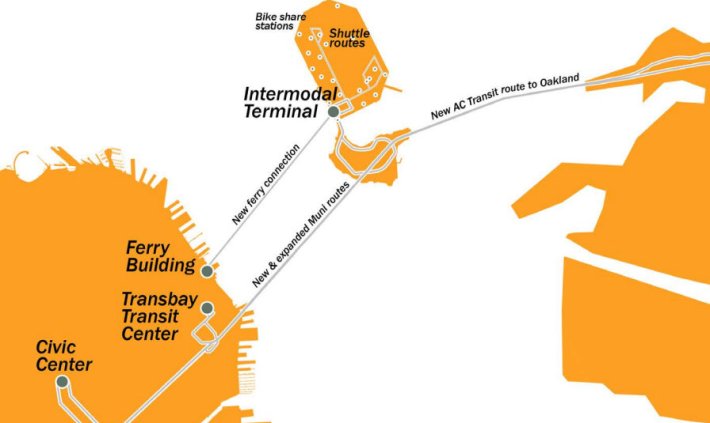 Treasure Island will serve as San Francisco's proving grounds for road pricing that adjusts in response to traffic conditions, as the city looks to minimize Bay Bridge car congestion generated by residents expected to move to the development site.
When the first housing units on the artificial mid-bay island, formerly owned by the Navy, are occupied in 2019, the SF County Transportation Authority plans to implement a fee to use the Bay Bridge ramps to drive on and off the island. The fee would rise and fall in response to car congestion as well as transit service, which would be dramatically increased with new Muni and AC Transit lines, as well as a new ferry line to SF that would launch in 2021.
As the "car-light" development adds 8,000 housing units by 2030, SFCTA planner Rachel Hiatt said the agency's goal is for at least 50 percent of trips on and off the city-owned island to be taken by surface transit or ferry.
The proposed tolls would apply from 6 a.m. to 10 p.m., seven days a week. From 2019 until 2021, the toll would be $1 during off-peak hours, and $3 during peak hours (which have yet to be determined). Those rates would increase to $3 and $5 after 2021, when ferry service will be introduced.
Livable City Director Tom Radulovich said that the tolls will need to be high enough to keep traffic moving on the Bay Bridge, which doesn't have bus-only lanes. The SFCTA is also banking on the toll revenue to fund most of the new transit service and incentive programs to encourage island residents to get around without driving.
"It's imperative that we protect the transbay transit service," said Radulovich, "because we're going to need to rely more and more on it as San Francisco's developing and not investing in more BART capacity."
In a presentation [PDF] last week, Hiatt told an SFCTA committee comprised of city supervisors that the agency recommends providing free transit passes for many residents, a free shuttle, and abundant car-share that's provided at a discount for low-income households. The agency also plans to limit and charge for all parking spaces, and envisions Bay Area Bike Share on the island.
The use of variable tolls could also generate momentum for other types of dynamic road pricing, like a London-style congestion charge to unclog the most traffic-choked parts of the city. Congestion pricing has proven a successful tool in London and Stockholm to reduce traffic, speed buses, and open up street space to be repurposed for biking and walking. It's a key part of a "mobility management" strategy, as the SFCTA calls it.
But in 2010, a mere study of congestion pricing in downtown SF and Peninsula highways encountered a fierce backlash. Five years later, the SFCTA sees Treasure Island as an opportunity to prove the concept.
"This is in many ways a laboratory," said Supervisor Jane Kim, whose District 6 includes Treasure Island.
Kim said she supported the program overall, but said driving on and off the island during off-peak evening and weekend hours should be free. Tolling from 6 a.m. to 10 p.m. every day, she said, is "crazy" and "really, really problematic."
But as Radulovich pointed out, Bay Bridge tolls and transit fares apply during those hours.
"There's always that odd [sentiment] that driving and parking should be free during certain hours to give folks a break," he said. "We don't apply that same logic to transit riders."
Limiting toll hours would also cut into planned revenue, noted Supervisor Scott Wiener, unless the tolls are raised during the remaining hours.  "Where would that money come from?" he said.
In recent years, the Bay Area Toll Authority has increased Bay Bridge tolls during peak hours, but the price differential ($6 during the peak, $4 off-peak) hasn't created enough of an incentive to achieve substantial congestion reduction.
Under the SFCTA's proposed program, drivers entering Treasure Island via the East Bay would receive a toll credit for a portion of what they already paid to get on the Bay Bridge.
To reduce costs for low-income residents, Hiatt said the SFCTA advises against toll discounts, and instead recommends discounts for car-share, transit fares, and a rewards program that accrues toll credits for residents of subsidized housing when they take transit trips. Encouraging low-income residents to "shed cars" is the most effective way to reduce their transportation costs, she said.
Of the roughly 2,000 residents who currently live on Treasure Island, about 60 percent "have access to a vehicle," and about 60 percent take transit to get to work off the island, according to the SFCTA.
Two island residents criticized the plan at the committee hearing last week. While one woman said she was pleased that the SFCTA dropped the original plans to toll only island residents, one man called the entire concept a "dystopian, authoritarian, punitive approach" that "routinely tramples on constitutional rights."
The island development would have a cap of 8,000 parking spaces, all "managed by price" and unbundled from housing rents, said Hiatt.
But "the real win," said Radulovich, "would've been a car-free development."
Aaron was the editor of Streetsblog San Francisco from January 2012 until October 2015. He joined Streetsblog in 2010 after studying rhetoric and political communication at SF State University and spending a semester in Denmark.
Read More:
Stay in touch
Sign up for our free newsletter