Bicycling
SFPD Chief Suhr Misses the Point of the "Bike Yield Law"
4:26 PM PDT on September 22, 2015
SF Police Department Chief Greg Suhr doesn't seem to grasp the point of the "Bike Yield Law" proposed by Supervisor John Avalos.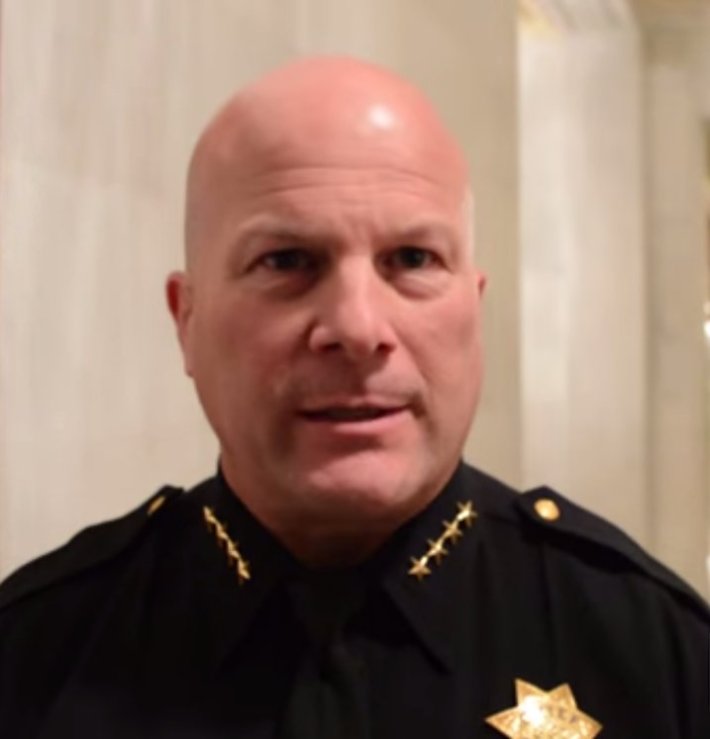 "Stop signs are pretty simple. They say 'stop,'" Suhr told KQED today. "They don't say 'yield,' they don't say 'slow down.'" Suhr added that anyone who violates the letter of the stop sign law "will be cited."
If only it were so simple. Here's the problem: California's stop sign law is based on the unrealistic expectation that people ride 30-pound bikes exactly like they pilot 3,000-pound cars. Just about everybody who gets on a bike, including SFPD officers (see the video below), treats stop signs by slowing down and yielding to others with the right-of-way.
There is an ethic to biking safely at stop signs, and it's more like the "golden rule," as Avalos put it, than the letter of the current law. Idaho updated its stop sign law in 1982 to reflect that, and bicycle-related injuries there have dropped since. As bike commuters demonstrated on the Wiggle recently, strict compliance with the stop sign law by people on bikes would result in absurd traffic queues -- and no one would be safer for it.
"Our traffic laws have not changed since the mid-20th century, but the way people move around our cities has," SF Bicycle Coalition Executive Director Noah Budnick said at a press conference introducing the Avalos ordinance today. "What the Bike Yield Law does is move our city into a leadership position in the 21st century."
That idea has been embraced by the six supervisors who co-sponsored Avalos' proposal, which emphasizes that anyone who violate others' right-of-way should be ticketed, while making "citations for bicyclists who safely yield at stop signs the lowest law enforcement priority." The ordinance was also endorsed by the SF Pedestrian Safety Advisory Committee.
Changing the state stop sign law would require a broader, more challenging campaign. Until then, Avalos' non-binding ordinance will need support from Chief Suhr and other SFPD top brass to affect police enforcement practices.
"We should be making sure that our traffic enforcement resources are used on the highest-priority traffic violations," Avalos said at a press conference today. "[Ticketing] cyclists at stop signs who yield is not the highest priority."
According to KQED, four supervisors have not taken a position on the ordinance, and Supervisor Norman Yee said he'll vote against it because it's "not clear enough."
"People who share the streets should follow our laws," Yee said. "What I worry about is the safety of all people and that comes first before any one lobbyist group."
But that's the point: Setting smarter enforcement priorities will help ensure limited police resources are efficiently allocated to preventing behavior that jeopardizes "the safety of all people." Spelling out in the law a reasonable standard for biking at stop signs, rather than sporadically cracking down on innocuous violations, should result in safer and more predictable behavior on the streets.
"This is, at the end of the day, about safety," Budnick said.
A hearing on the ordinance is expected to be held at the end of October, and it could be adopted in November.
Aaron was the editor of Streetsblog San Francisco from January 2012 until October 2015. He joined Streetsblog in 2010 after studying rhetoric and political communication at SF State University and spending a semester in Denmark.
Stay in touch
Sign up for our free newsletter