Bicycle Infrastructure
Mayor Vetoes Bike Yield But Advocates Must Never Yield to Regressive Politics
6:08 PM PST on January 20, 2016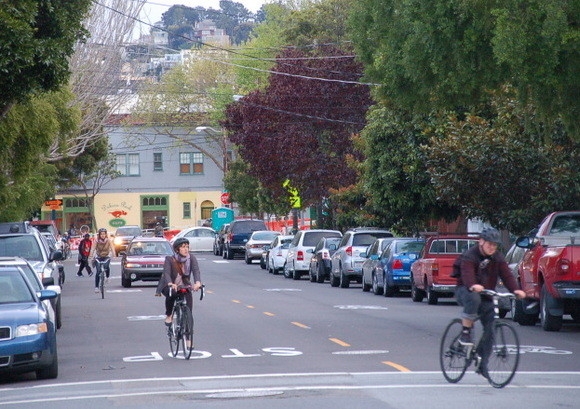 Mayor Edwin Lee officially vetoed the "Bike Yield" ordinance yesterday. Without enough votes to override, supporting supervisors will have to figure out a compromise plan, such as a pilot project. The bill's author, Supervisor John Avalos, already prepared for that contingency. Not surprisingly, Avalos was frustrated with the Mayor's veto. "SFPD has focused traffic enforcement on places where bicycling is common instead of on high collision corridors. It is clear we have a ways to go with our Vision Zero efforts," he said in an email to Streetsblog.
The veto is also an opportunity for safe-streets advocates to take stock and get clarity on what transpired.
First, the Mayor's veto. He said he is "not willing to trade away safety for convenience." In response, Avalos wrote that "it's disappointing to hear the Mayor confuse smart, targeted traffic enforcement with 'convenience.'" The Mayor has often referred to the ordinance as if it would have legalized the "Idaho Stop" in San Francisco; that means allowing cyclists to treat a stop sign as a yield. Of course, that's not the proposal, as this excellent editorial in the San Francisco Chronicle pointed out last September. Streetsblog has also attempted to clarify—multiple times.
Avalos and the other bill sponsors were responding to complaints from cyclists on the Wiggle and elsewhere because SFPD was cracking down on safety-minded cyclists for not coming to an absolute stop at stop signs. Cyclists might like an Idaho Stop law, but the proposed Bike Yield ordinance did not actually go there. It can't go there; San Francisco can't change state traffic laws.
All the ordinance would do is instruct the San Francisco Police to make citing cyclists who roll carefully through stop signs the lowest priority, so they can instead focus invaluable, finite law-enforcement resources on stopping dangerous traffic violations. In other words, the law was attempting to cajole the police into pursuing "Vision Zero" and the "Focus on the Five" most dangerous behaviors. Every minute a cop spends writing a ticket for a cyclist who went through a stop sign at less than six mph, is a minute he's not out looking for a crazy cyclist who blew through a stop sign at 25 mph; or speeding cars that regularly kill people.
"We must focus our scarce traffic enforcement resources on behaviors that are creating dangers," said Supervisor Scott Wiener, a supporter of the Bike Yield ordinance. Police need to focus on cyclists who are "blowing through stop signs and red lights. Or doing things that actually put people in danger."
Put simply, the Mayor vetoed a law that would have re-directed finite police resources from technical but benign offenses to things that hurt and kill.
Ironically, nobody illustrated the total disconnect better than Bike Yield opponent SFPD Captain John Sanford, whose crackdown helped start the whole thing. He was caught on video safely rolling through a stop sign on his bike; a practice he says creates "chaos on our streets." On the same page of his newsletter where he explained his opposition to Bike Yield, he wrote that his law enforcement approach is "guided by my Christian faith." Given the double standard, maybe he means in the spirit of the Spanish police of 1478?
Joking aside, deputies at city hall confirmed that the next step is likely a pilot Bike Yield on the Wiggle. Not great, but "it's certainly better than the status quo," said Wiener.
That may sound discouraging. But remember: San Francisco bike-share began as a 400 bike pilot. It's now starting a ten-fold expansion. San Francisco now has miles of bike lanes. There are raised bike lanes on the way on Polk, Second and Masonic. This started with pilots on Market.
In other words, setbacks happen. Let's hope Bike Yield will pass after it is reintroduced as a small pilot--and then grow into a larger change.
Stay in touch
Sign up for our free newsletter