Peninsula
Super Bowl Blocks Bikes
2:51 PM PST on February 5, 2016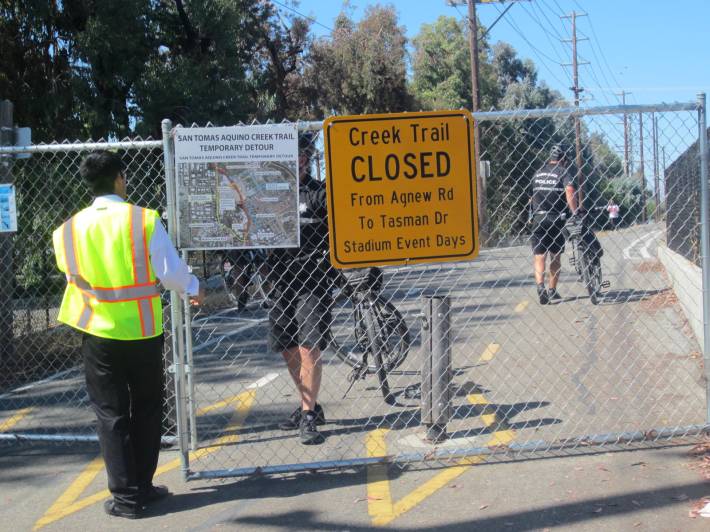 Want to walk or bike to Super Bowl 50 at Levi's Stadium this Sunday? It won't be easy. The big game's organizers have banned the Silicon Valley Bicycle Coalition (SVBC) from providing free valet bike parking at the stadium. The City of Santa Clara also agreed on a ten-day closure, from Jan. 31 to Feb. 9, of the San Tomas Aquino Trail for the construction of an entertainment area on the surface parking lot next to the stadium.
"Many of us were hoping to see Super Bowl 50 be the most bike-friendly big game yet. Instead, attendees will apparently have no place to park a bike, even if they are able to navigate past the closed bike path and double detour on surrounding streets," wrote SVBC in an online petition to the Super Bowl 50 Host Committee that has gathered 280 signatures. "In a region with soaring traffic and a country where transportation accounts for 27 percent of greenhouse gas emissions, ignoring people-powered transportation seems both irresponsible and antiquated."
Valet bike parking and quality pedestrian and bike infrastructure cut both car traffic and reduce demand for car parking on event days, direct benefits to both Levi's Stadium and those living or working in the area.
"The largest bike parking area takes up about 4000 square feet for up to 285 bikes," wrote SVBC Bike Parking Coordinator Alison Pauline in an email. "We are parking up to 285 bikes in an area that could fit 13 cars." Paluine said volunteers typically park between 100 and 200 bikes at 49ers games, depending on how many fans show up to watch the team play. Record turnout to date was over 700 bikes for a two-day Grateful Dead concert in June of 2015.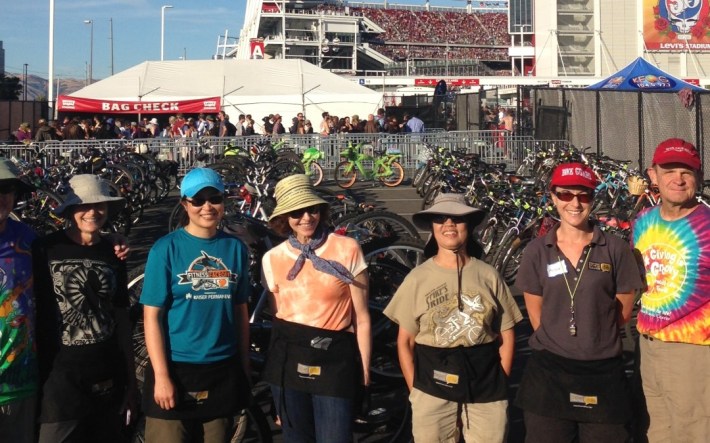 A network of over 100 miles of continuous off-street walking and bicycling paths stretching from Mountain View to San Jose connect directly to the football stadium's main entrances along the San Tomas Aquino Trail in northern Santa Clara. "Our publicly funded San Tomas Aquino Trail has been taken over by a private corporation with the complicit support of the City of Santa Clara," said former SVBC Board of Directors member Scott Lane. "This world-class network of off-street trails is intended for everyone to enjoy, not only those wealthy enough to afford 49ers football tickets." Lane led successful negotiations in October 2014 between active transportation advocates and Santa Clara Police Chief Mike Sellers to allow trail access for people walking or bicycling to stadium events.
"While there will likely be a sizable increase in pedestrians on the San Tomas Aquino Creek
trail before and after NFL events, the creek trail is open to both pedestrians and cyclists and there are no restrictions on use," promised Santa Clara city officials in the stadium's Environmental Impact Report. "Anyone at anytime can access and use the trail."
Additionally, the Super Bowl will cost Caltrain an estimated $400,000 to $500,000 to operate extra trains to shuttle fans to and from Mountain View, where they can transfer to Valley Transportation Authority (VTA) light rail trains - operating for the exclusive use of Super Bowl ticket-holders. VTA rail ridership to the stadium is capped at 12,000, and even at $20 a ticket the agency said it will not recover Super Bowl costs either. SamTrans is paying 12 bus drivers to remain on call so that bus bridges can be set up in case Caltrain breaks down. None of the transit agencies will be compensated by the National Football League or Levi's Stadium.
Andrew Boone covers the Livable Streets Movements for Streetsblog in San Mateo and Santa Clara counties. Andrew's claim to fame is once having bicycled more than 12,000 miles of smiles in one year. nauboone@gmail.com
Stay in touch
Sign up for our free newsletter