caltrain
Land Sits Fallow While Bay Area Housing Crisis Continues
4:14 PM PST on February 16, 2016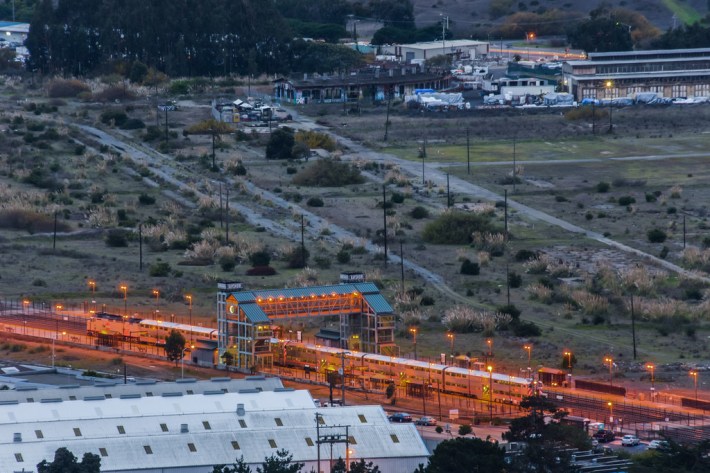 Anyone who rides Caltrain has probably looked out the window once or twice at the Bayshore Station, a stop that practically nobody uses. There's nothing there but a giant brown field.
It's a little strange that a stop that is literally a ten minute ride from San Francisco and about thirty to forty minutes from the booming tech centers of the Peninsula, has no housing, no stores, and basically just a bit of light industry--and that's only on one side of the tracks. The station itself was modernized a few years ago, but is still surrounded by a tall wire fence.
"This is an extremely underutilized station," explained Adina Levin, Director of Friends of Caltrain, a group that supports Caltrain modernization and transit oriented developments. "This is the weirdest one." Weird indeed, considering the White House announced it is seeking $125 million towards Caltrain electrification. The California High-Speed Rail Authority, meanwhile, is looking at focusing its energies on the Caltrain corridor. Both efforts will permit trains to go faster and run more frequently, which will make the land even more valuable for Bay Area commuters desperate for someplace to live.
So why has this land remained fallow for decades?

The problem, said Levin, boils down to the fact that the station and the adjacent land is located outside of the San Francisco limits, in the City of Brisbane, population 4,282 as of the 2010 census. Developers would like to add enough mixed-use, transit oriented development to double the population of Brisbane. But Levin said the city council doesn't want that--and has pushed for office parks and retail that, she said, might provide more tax revenue. "It's still partially a Proposition 13 mindset" which puts sharp limits on how much residential property taxes can increase.
Gerald Cauthen, a founding member of the Bay Area Transportation Working Group, also blames the problem on a tendency of San Francisco and Peninsula politicians to neglect Caltrain. "Even Oakland has enough sense to build decent centers around their BART stations, such as MacArthur and Fruitvale," he said. Another factor is that the soil will need to be cleaned up, thanks to contamination from the industries that previously existed on the site. But a short distance up the road one portion of the area that's controlled by the City of San Francisco is already undergoing a cleanup on what was once the Schlage Lock factory. "We recently approved 1,700 units at the Schlage Lock site and expect to see an additional 500 units at Executive Park," wrote San Francisco Supervisor Malia Cohen, whose district encompasses this parcel, in an email to Streetsblog. "A large piece of this puzzle also depends on the future of the Brisbane Baylands project, which is still in the middle of its deliberation process and we have been monitoring closely."
In other words, most of the site remains dormant. "We've been going through a fairly lengthy entitlement process," explained John Swiecki, community development director for the city of Brisbane. "I've been working on this, on and off, for ten years."
Meanwhile, the City of San Francisco is fighting over Google Buses, needed because of a lack of housing easily accessed by tech jobs on the Peninsula. "Our housing crisis results from decades of not creating enough housing for our growing population," wrote Supervisor Scott Wiener, in a recent letter to the chairman of the SFMTA, supporting allowing the Tech Shuttle program to continue using Muni bus stops. "We need to do everything in our power to allow people to live without cars." A new study from the Legislative Analyst's Office concluded that the only way to stem the increase in housing costs and stop displacement of the poor is by building more housing. The real problem, said one critic close to the Bayshore Station plan, is that San Francisco can't take over and build the project itself. "It's a shame San Francisco doesn't have tanks."
Swiecki said a vote on starting construction around the station is still over a year away. "It's a big project for such a small town," he added. "There are concerns about getting it right."
Stay in touch
Sign up for our free newsletter