BART
New BART Cars on the Way
2:15 PM PDT on March 15, 2016
As regular riders are aware, BART trains are quite old. Some have been running for more than 40 years, and date back to when the BART system first started operations in 1973. And although additional cars were purchased in the 1980s and 90s, the average age of a BART train is 30 years.
Of course, that's a little bit misleading: any BART train that's been running that long has undergone some pretty extensive overhauls--more than once. Still, the fleet is showing its age, and BART is now running train cars that, on average, are older than any other major system in the US. The problem, of course, is the older a train, the more often it ends up sidelined for repairs.
But shiny new train cars are finally on the way. "The new cars were designed with input from our riders, and we can't wait to show them off and put them on the rails once cleared for service," said Alicia Trost, a BART spokeswoman, in a release. "BART riders will get the benefit of at least 50 new cars added to service throughout next year, which will go a long way toward tackling our crowding problems."
The new, modern-looking train cars will have more head room, better air conditioning and--important to Streetsblog readers--dedicated bike racks. They also will have doors that seal better which, if they work as advertised, should go a long way toward quieting BARTs interior noise levels. There are 775 new train cars on order, but the goal is to fund the purchase of 1,081 in total. The new cars will trickle into the Bay Area from 2016-2021, with the 10 test cars arriving in 2016 and an additional 54 cars arriving in 2017. BART will begin to retire the oldest cars during that time.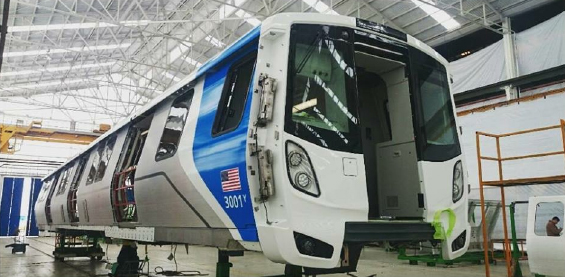 BART's first new train car is now starting a cross country journey from Bombardier's Plattsburgh, New York to BART's test tracks in Hayward, California. The train car's number is 3001 and it was strapped to a flatbed truck to start its slow 3600 mile road trip. Bombardier Transit Corporation is building BART's "Fleet of the Future." Notice the "wide load" signs in the top image? That will probably seem redundant to any passing motorists, since the train is 70-feet long, 10-foot-six-inches tall and weights 65,500 pounds. Once it arrives in Hayward it will undergo a testing regime before entering passenger service near the end of 2016.

It might strike one as a little inefficient--and maybe even risky--to deliver train cars by truck. But BART trains use wide-gauge tracks, so they can't roll on the national rail network (even if they were the right gauge, there are a host of regulatory and technical complications). They could potentially be placed on flat bed railway cars instead of trucks, but Bombardier decided "The air ride on a truck is better than the vibration the cars would get via rail," explained Trost.
Of course, once they arrive in the Bay Area they will still be running on BART's aged infrastructure. It's going to take the passage of a new bond to get signals up to modern specification to allow an increase in the number of trains. Just getting new cars won't help with that at peak times, except in terms of reliability. And then there's the question of the second BART tube. But, for now, it's nice to see things are finally moving along with the new car orders.
BART put together this short film of factory workers getting the cars ready to roll.
Stay in touch
Sign up for our free newsletter