Berkeley
Berkeley Advocates Win Agreement for Long-Delayed Bike Lanes
4:18 PM PDT on March 16, 2016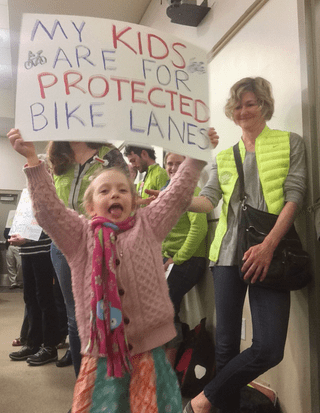 At a packed meeting last night, the Berkeley City Council approved a project to bring a long-delayed bike lane to Fulton Street, the site of a recent collision that seriously injured a cyclist.
The section of road where the crash occurred is where a bike lane disappears, forcing bicyclists to merge into traffic. The city's bike plan has long included bike lanes there, but they haven't been high on the city's list of priorities. The city hadn't taken action in the past in part because putting in the two-block-long lane would require a traffic impact study.
But California is in the process of updating requirements under environmental law that will allow cities to skip off-target traffic impact studies for projects like bike lanes. San Francisco went ahead and adopted the new rules already, but Berkeley has not.
Mike Wilson, whose wife Megan Schwarzman was the cyclist hit by a car in February, told the council, "The origins of this collision lie in choices made by traffic planning managers in the design of this busy intersection, which terminates a bike lane and suddenly puts cyclists in the midst of fast-moving traffic, greatly increasing the probability of a serious collision."
"I'm proud of our bike boulevards and our early investments in infrastructure to support cycling as a viable means of transportation," he said. "But we've fallen way behind. Let's aim for zero collisions, rather than holding our collective breath for the next collision."
The Berkeley City Council unanimously approved the bike lane and called for it to be completed by Bike to Work Day on May 12. This is a huge victory for advocates and bike-riding residents, who have been pushing to extend the bike lane there since before the street was repaved last year.  A concerted campaign for a protected bike lane gained momentum—and the council's attention—after last month's crash.
Dave Campbell of Bike East Bay says that the city's current plan to do a "very focused traffic study" should be a model for future planning.
"They're putting in the lane near the curb—they know where it's going—and then they're only going to study the remainder of the lanes, to figure out how to stripe the rest of the road to create as minimal delay as possible," he said. So instead of performing a time-consuming and expensive study of how much delay a new bike lane might cause cars in that two-block stretch of road, the city will simply study how to best manage the space remaining after the bike lane goes in.
This counts as a triumph for the new CEQA rules under S.B. 743, which are aimed at reducing obstacles to building infrastructure that encourages environmentally sensible travel modes.
Bike East Bay is pushing for the Fulton Street lane to be a protected lane, so that bikes are separated from car traffic at that narrow spot. The council's recommendation currently does not call for protected lanes, but Bike East Bay expects that they will be protected when they are complete.
Campbell points to recently added protected bike lanes on Folsom Street in San Francisco, which he estimated took about six months from approval to finis. "Here Berkeley's doing it in three months," he said. "We're all starting to learn we don't have to take a long time to do these things."
Berkeleyside has extensive coverage of the story here and here.
Streetsblog California editor Melanie Curry has been thinking about transportation, and how to improve conditions for bicyclists, since her early days commuting by bike to UCLA long ago. She was Managing Editor at the East Bay Express, and edited Access Magazine for the University of California Transportation Center. She also earned her Masters in City Planning from UC Berkeley.
Read More:
Stay in touch
Sign up for our free newsletter