Bicycle Safety
El Camino Real to Remain Deadly
3:45 PM PDT on May 5, 2016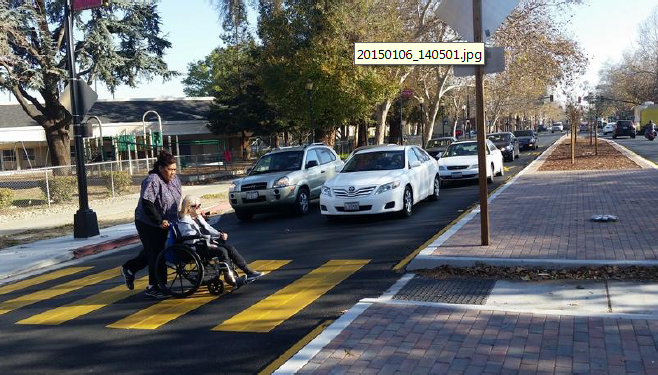 On Tuesday, Menlo Park's City Council postponed a pilot project to replace parallel car parking with buffered bike lanes on El Camino Real, deciding that neighboring Palo Alto and Atherton should also agree on a common design for bike lanes before proceeding with the permitting process required by Caltrans. Despite strong community support to fix the urban highway's safety hazards, the city remains content with today's configuration, after 11 public meetings held since April 2014 on the topic.
In late 2014 Atherton approved a similar conversion of two of El Camino's six lanes through the town into bike/ped paths physically separated from auto traffic. But Atherton's Town Council put the critical next step to conduct a traffic study with Caltrans of the proposed six-to-four lane conversion on hold in February 2015--just four months after approving it. The Menlo Park Fire Protection District remains staunchly opposed to bike paths and bike lanes on El Camino Real, claiming they'll threaten residents' lives by slowing emergency vehicles.
El Camino Real remains the most hazardous street on the San Francisco Peninsula, killing five and severely injuring 20 people in car crashes each year between 2005 and 2014, according to the Statewide Integrated Traffic Records System (SWITRS). A traffic safety report published by the San Mateo County Health System last month showed that 18 percent of all collisions involving pedestrians and bicyclists occur on El Camino Real, despite the street making up only one percent of total roadway miles in the county.
Elected officials representing the two counties (Santa Clara and San Mateo) and the 19 cities along El Camino Real between San Francisco and San Jose have long decried the street's traffic violence, but have taken little action to address it. In 2006 the region's leaders adopted a shared vision to transform the 43-mile-long auto-centric street into "a multimodal boulevard safe and efficient for all users (pedestrians, bicycles, transit, and automobiles of all ages and abilities)" through the Grand Boulevard Initiative. But one decade later, the vast majority of the safety hazards built into the urban highway's design remain.
El Camino Real's most dramatic improvements have taken place on its half-mile southern end in San Jose, where the city avoided Caltrans's bureaucratic permitting process by convincing the state transportation agency to relinquish jurisdiction over the street in 2012. A $4.5 million reconstruction completed in October 2014 added crosswalks, curb extensions, pedestrian refuges, and a center median with trees. But no dedicated space for bicycling was added, as city planners opted to retain four travel lanes and parallel car parking on both sides of the street.
South San Francisco plans to reconstruct a nearly one-mile section of El Camino Real between McLellan Drive and Chestnut Avenue with similar pedestrian improvements by early 2018, but like San Jose the city will prioritize auto traffic volumes and parking. Eight traffic lanes will remain at the intersections (six through lanes plus turning lanes), and even where sidewalk curb extensions are installed the crossing distances for pedestrians will remain over 100 feet. The proposed design is just as hazardous for bicycling, with only a striped shoulder between four and five feet wide provided, in some sections adjacent to parallel parked cars.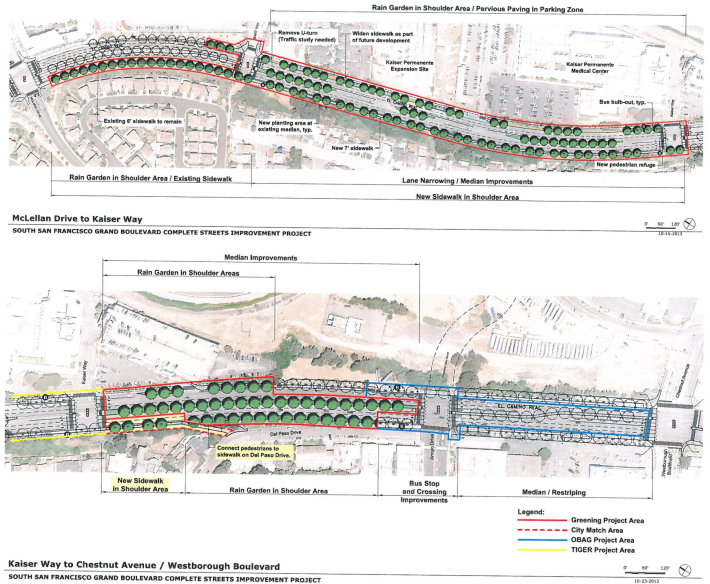 The South San Francisco project is one of four case studies pioneered by SamTrans to assist cities in San Mateo County overcome Caltrans's cumbersome permitting process by providing a set of specific design exceptions to the agency's Highway Design Manual. While these include narrower travel lanes (11 feet), curb extensions, and pedestrian refuges in wider medians with extensive landscaping including trees, narrowing the entire street by reducing the number of lanes wasn't considered for any of the case studies.
Daly City reconstructed a few blocks on the northern end of El Camino Real with some of the design elements described above in 2013, but also opted to retain parallel parking for cars rather than provide any dedicated space for bicycling. Sunnyvale installed bike lanes on a half-mile section of El Camino Real in January 2015, but made no pedestrian improvements.
Up next? Redwood City's El Camino Real Corridor Plan will consider redesigning the street later this year, but whether the city is the first to implement significant safety improvements on The Royal Road is far from certain.
Andrew Boone covers the Livable Streets Movements for Streetsblog in San Mateo and Santa Clara counties. Andrew's claim to fame is once having bicycled more than 12,000 miles of smiles in one year. nauboone@gmail.com
Stay in touch
Sign up for our free newsletter