On Bike to Work Day, 48-year-old Tim Doyle nearly died demonstrating, once again, the fundamental flaw of painting bike lanes between fast-moving traffic and parked cars.
There's no need to watch this horrible wreck again, which was shot from the cell phone of someone driving a few car lengths behind Doyle, if you've already seen it. It's sufficient to say Doyle was riding in the bike lane, doing everything right and legal, when a parked SFPD cruiser suddenly and completely without warning, pulled directly into him, catapulting him through the air. It's a miracle that Doyle is alive to complain about San Francisco bicycle infrastructure. And it's sufficient to say, again, that lanes like this don't work. We've seen it again and again.
Streetsblog spoke with Doyle, who is recuperating at home. "To be honest, I was just by chance in the bike lane. I will take whatever I think is the safest lane. It just so happens I was in the technical bike lane when the SFPD hit me," he said by phone from his home in North Beach where he's recovering from his injuries. "I would have been in the third lane over if it the bike lane had been filled with cars," he added, which, as any experienced cyclist knows, is usually the case. Doyle, who's been cycling the streets of San Francisco since 1991, knows painted markings don't provide protection. "Half the sharrows wear off and nobody pays attention to them anyway," he said. But he likes the few protected bike lanes, such as the contraflow lane on Polk just north of Market. "There's also an element on Market past 9th, that's a nice bike lane with white cones," he added, referring to the few short sections of bollard-protected bike lanes on Market.
Doyle's crash reinforces what any experienced SF cyclist already knows: unprotected lanes are all but useless, unless you're a truck driver looking for a place to double park. Streetsblog readers have shared their own observations. Here's a recent one from reader Christopher Kintner: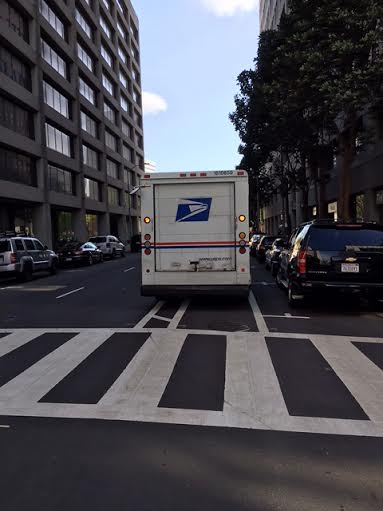 SFMTA looks at paint as a first, quick step towards permanent improvements, such as on 2nd street, as seen here. But given Doyle's crash and others, maybe it's time for SFMTA to stop using paint and start using something solid. Why can't SFMTA glue down plastic bollards as a quick fix or, better yet, drop down planters to make a quick protected bike lane and really keep cyclists safe, as was done recently in Vancouver as a stop-gap measure?
"The temporary bikeways we have implemented with raised objects have used flexible delineators (Safe-Hit posts), which we did on Oak and Fell before the planted medians went in," explained Ben Jose, an SFMTA spokesman. "Unless you restrict all loading and parking on the bikeway side of the street, you have to do a parking protected facility, which on a signalized corridor like 2nd, is generally a capital-intensive change, rather than a temporary fix."
One expert opined that such a dramatic change could trigger an environmental review. If that's the case, we have to ask ourselves: what are these reviews for? If people are dying, do we really need to shed more blood to study whether a street treatment that's saving lives all over the world is viable? Why aren't we studying the status quo, which is breaking bones and cutting lives short right now?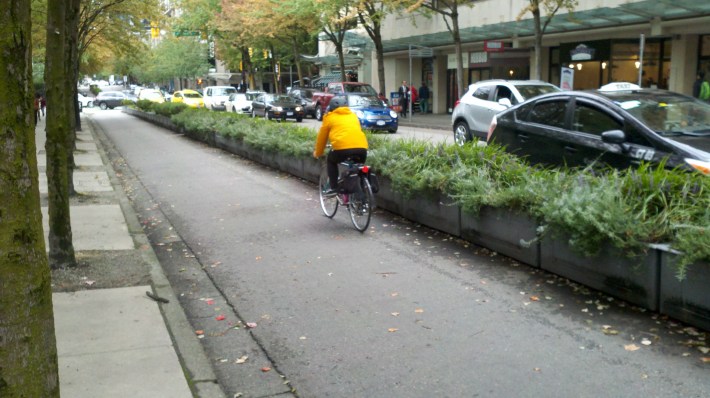 Either way, "It's blatantly obvious that more and safer bike lanes should be delivered faster in San Francisco. The fact that Second Street is scheduled for raised bike lanes to be added later this year doesn't help Timothy Doyle, as he sits at home coping with severe pain from being struck by that SFPD squad car," said Chris Cassidy, spokesman for the San Francisco Bicycle Coalition. "His injuries, and a culture of delays affecting projects like Masonic Avenue, are the direct result of City leaders demonstrating insufficient urgency to deliver safer streets."
As to Bike to Work day, Doyle isn't a fan of an event that he sees as an exercise in hypocrisy. "It's lip service to get votes...especially with Mayor Ed Lee and his veto of the Bike Yield ordinance," he said, bringing up the measure, vetoed by the mayor earlier this year, that was trying to get SFPD to stop cracking down on cyclists who slow, look both ways, and safely roll through stop signs at empty intersections. Meanwhile, Doyle had a very painful weekend courtesy of the SFPD. "I was like broken; I was in crazy pain--spasms. Hopefully I will come back," he said, before cutting the call short to take a call from his attorney.
Stay in touch
Sign up for our free newsletter