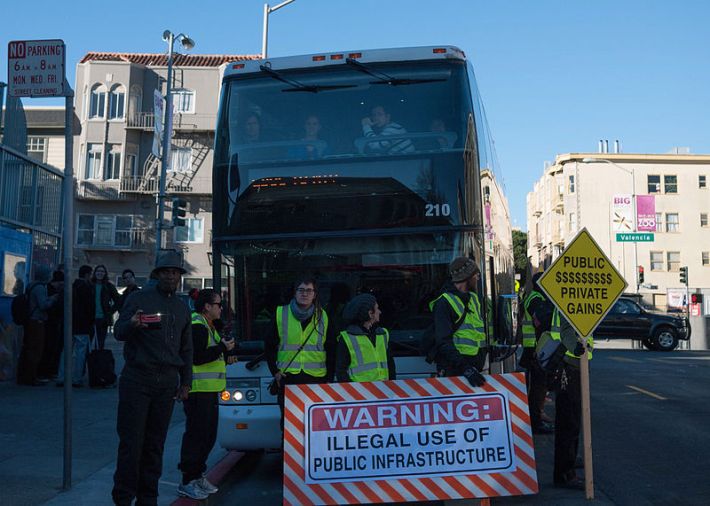 As Facebook prepares to expand its West Campus in San Mateo County, it is presenting environmental reports to groups such as the Menlo Park Transportation Commission. Commissioner Adina Levin brought this to Streetsblog's attention from the report: apparently more Facebook employees started driving in the past couple of months to the social media giant's headquarters in Menlo Park. From a post by Levin in the Friends of Caltrain Blog entitled "San Francisco shuttle changes increase car traffic:"
Facebook disclosed that their car commute trips had spiked in recent months, adding about 400 more cars to San Francisco streets, due to new San Francisco rules changing shuttle stops.

Reviewing the the next expansion of their Menlo Park campus, Facebook shared results of their successful transportation program, which had about 50 percent of employees refraining from driving alone – until SFMTA changed shuttle stops as a result of resident protests. The drive-alone rate, which had been about 50 precent, increased to 54 percent of Facebook's 10,000 workers.

Napkin math suggests about 400 additional Facebook drivers on San Francisco streets and highway 101 following the shuttle changes. Facebook's driving rate is still much lower than the 80 percent plus drive-alone rate at typical suburban office parks. But the extra cars are surely not what San Francisco's policymakers and activists were hoping for.
The SFMTA rules changes she's referring to started in February of this year. Some of them were designed to, according to SFMTA's material, improve labor relations and help the environment by mandating newer model buses. However, it also included the following change:
Commuter shuttles over 35 feet long must stay on Caltrans arterial street network.
"Recent changes to the program were in direct response to what we heard from many in the community and from elected officials," said Paul Rose, an SFMTA spokesman. "Shuttle companies can still use those smaller neighborhood streets. They just need to use shuttle buses that are more appropriate for them--buses that aren't over 35 feet long."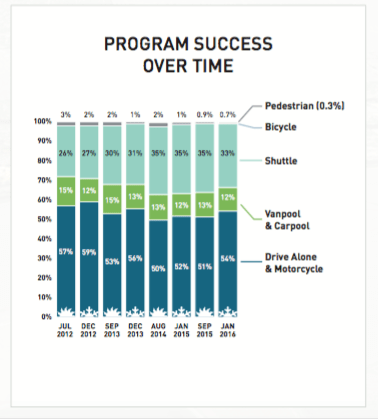 Is rerouting and restricting bus size really behind the increase in private car use? Here's where things get a bit murky. The increase Levin's writing about was in January--a month before the enhanced rules went into effect.
So what is Facebook's data really indicating?
Streetsblog put a request into Facebook for more information, but received only a general response about the company's desire to "work with city and community leaders to tackle local priorities, including transportation, housing and the environment."
For now, it is probably safe to assume, as Levin does, that the backlash against tech shuttles is being felt. There's a study underway to realign Tech Shuttles even more dramatically, by forcing them to pick up passengers in designated hubs sprinkled throughout the city. And as this publication has pointed out before, a likely outcome of ongoing studies, restrictions, hubs, changes, and protests may be to push many tech workers to go buy a car. Reportedly, Facebook anticipates that this recent increase in private automobile use is going to continue, which should not be that surprising--how many times does a tech-bus rider have to get held up by a protest, or figure out where to board on a realigned route, before at least some people stop riding the bus altogether?
Of course, this has larger implications than 400 more cars. "This trend is for Facebook," said Levin. "But logically, Google and Apple should be having the same issues."
Facebook, meanwhile, is offering incentives for workers to move closer to their campus and assisting in studies to improve transit access. 
Stay in touch
Sign up for our free newsletter