BART
Balboa Park Station Open House
3:49 PM PDT on June 15, 2016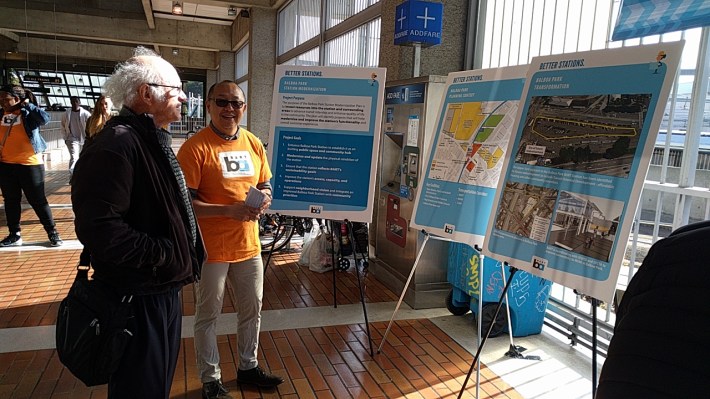 This morning from 7 to 10 am BART officials, consultants, and even a legislative aide for Supervisor John Avalos's office answered questions and heard comments from the public about plans to modernize Balboa Park Station, one of the busiest in both BART and Muni's networks.
From BART's webpage on the project:
The goal of the project is to develop and prioritize potential station improvements to upgrade and modernize the station's function, safety and security, capacity, sustainability, appearance, and improve the customer experience. BART is also partnering with the City to identify plaza improvements to support the Upper Yard Affordable Housing Project.
It would be hard to argue that Balboa Park station doesn't need improvements. A confluence of three Muni trains, seven buses, and the southernmost transfer station for four BART lines, it seems an obvious place for intense transit-oriented real estate development. But with I-280 on one side and a Muni Light Rail maintenance facility on the other, developing the area is challenging. "It doesn't work for cars, pedestrians, or cyclists," said Frances Hsieh, the legislative aide for Supervisor Avalos.
"It's an aging station desperately in need of an upgrade," said Tim Chan, manager of station planning and development for BART.
Members of the public who stopped by seemed to agree.
"It's generally dirty and it feels unsafe,"  said Edward Anaya, a lawyer who commutes through Balboa Park from his home in Excelsior. "There are walkability and safety issues competing with the traffic from I-280."
Jennifer Heggie takes the bus from Sunnyside to pick up BART at Balboa. She said the station has already improved and it used to "smell like urine," but she wishes there were a shelter on the Geneva side for people connecting to buses there. "It's cold at night."
Chan said that's one of the things they want to fix, by adding "more weather protection" for people transferring between BART and Muni. They also want to "extend the canopies at the ends of the BART platforms" so people don't have to bunch up when it's raining.
Meanwhile, the Mayor's Office of Housing and Community Development is working on the Upper Yard affordable housing project, planned across from the old car barn and powerhouse. It's currently used as a parking lot.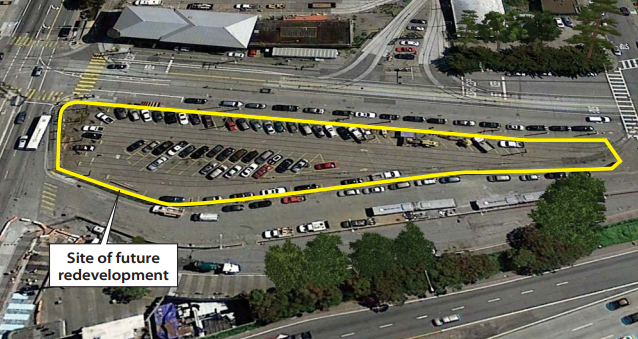 On a related note, Chan and Tom Radulovich, a BART Board Director who was also at the meeting, feel their community outreach works better than traditional approaches. Rather than holding meetings in community centers in the late evening, they set up their outreach in the stations themselves, to capture comments from people who actually use the system. "The goal is to do this during morning and afternoon commutes," said Radulovich. "We get lots of feedback." Even if a commuter is in too much of a rush, they will generally take a comment card and fill it out online during their ride on BART, explained Chan. "Station outreach is a far more effective way to engage customers," he added.
So what about the more fundamental problem of having the adjacent land occupied by I-280 and the Muni maintenance yard? Chan said the San Francisco County Transportation Authority looked at capping the freeway where it cuts off the station. It's in a depression, and there are sufficient clearances, but some obscure-sounding safety regulations would require them to increase the depth of the I-280's trench--which made the idea fiscally impossible. Instead, they are negotiating with Caltrans on a compromise: removing or at least re-configuring the I-280 ramps on the station side, which make trying to get into the station perilous for pedestrians and cyclists. "If we can close that off-ramp, we can make a connection point for buses and a passenger drop-off," said Chan.
Chan also hopes Muni can some day find an alternate location for its light rail yard, so it can be repurposed and developed into transit-oriented development. To Hsieh, the yard also has a lot to do with why Muni terminates the J-Church, K-Ingleside, and M-Oceanview at Balboa Park and makes everyone go through the inconvenience of an unnecessary transfer, instead of running at least some of their trains straight through. "Muni seems to think of this not as a station, but as a yard," said Hsieh.
BART also has some simpler upgrades in the works, such as more station lighting and larger windows over the entrance at the Ocean Avenue side. There will be another open house today from 4 to 7 p.m. Can't make that? Let them know your thoughts on Balboa Park Station by taking an online survey.
Stay in touch
Sign up for our free newsletter