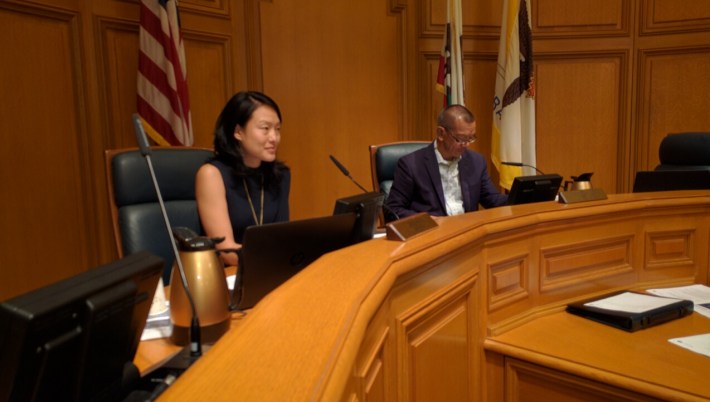 The deaths of Heather Miller and Kate Slattery highlighted the obvious: San Francisco is not on track to Vision Zero, a commitment to eliminating all traffic deaths by 2024.
That was echoed by Supervisors Jane Kim and Scott Wiener, as well as advocates from the public who spoke at Thursday afternoon's meeting of the SF County Transportation Authority's Vision Zero Sub-Committee.
"While I've been impressed with the progress the city has been making with temporary work we really need to see movement with long term projects such as protected bike lanes," said Kim. "I bike regularly and pass by where Slattery and Amelie Le Moullac died. As we encourage more people to walk, bike and take public transport we have to assure our residents it is safe to do so through design and enforcement."
Scott Wiener expressed similar thoughts. "I attended the vigil for Ms. Slattery at Seventh and Howard; I don't want to attend more vigils," he said. "I don't want them to happen. They are all 100 percent preventable. This does not have to be how our city is."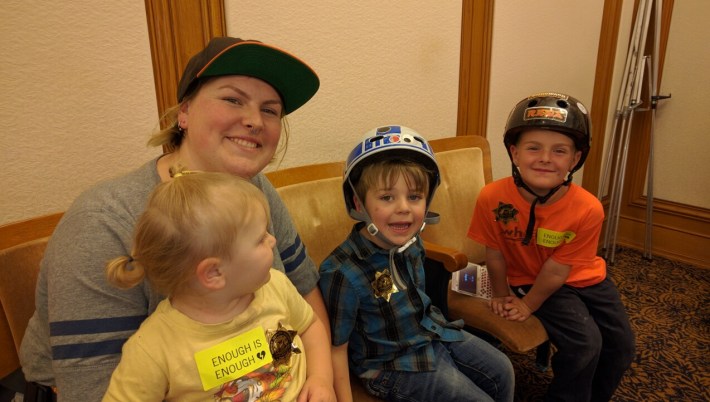 Some 40 safe-streets advocates came to demand SFMTA work harder and faster to make SF streets safe. Among them was Elisabeth Snider, who came with her three small children. She takes her kids on her cargo bike through Golden Gate Park. Miller's death left Snider terrified. "If my kids are old enough to get hit by a car," she said, "they're old enough to go to a public meeting."
Nicole Ferrara, Executive Director of Walk SF, also spoke to the committee. She talked about how 29 people were killed on San Francisco streets, while either walking or biking, last year. "Each one was preventable and should never have happened. That's why we came to adopt Vision Zero," she said. "But we're here at 25 percent of the way to our ten-year goal, and we haven't reduced any of the deaths or injuries. It's really depressing."
She called on SFMTA and the supervisors to get real infrastructure installed--the kind that will physically protect cyclists and pedestrians. "I'm not talking about painting a couple of bulb outs," she said. "I mean we have to really transform our corridors."
She also stressed the need for Automatic Speed Enforcement cameras, something echoed by Kim. The biggest challenge, however, is that state law bans their use.  "They can reduce collisions by 50 percent," said Tom Maguire, director, SFMTA Sustainable Street Division, citing their effectiveness in New York and Portland. "We need a change in state law."
Kim agreed and even suggested that San Francisco should install them and force a showdown with Sacramento. "I'm getting tired of waiting. At some point you have to stand up and say we're going to do this because it's the right thing to do."
Meanwhile, several advocates, including Margaret McCarthy, the San Francisco Bicycle Coalition's outgoing Interim Executive Director, were angered by a press release from Mayor Ed Lee's office, sent out shortly before the meeting:
Today Mayor Edwin M. Lee and the San Francisco Municipal Transportation Agency (SFMTA) joined by the Department of Public Health, San Francisco Police Department and other City agencies announced the City's new [emphasis added] listing of high-priority Vision Zero projects – 57 high-priority projects will be initiated this year.
The release's timing seemed to suggest that the "new" projects were a response to the deaths of Miller and Slattery. Also from the release:
"Any traffic death or injury is not acceptable, they are preventable," said Mayor Lee. "This is a real public health issue. We are working quickly to build safer, better streets, educate the public about traffic safety and increase enforcement to make our streets safe for everyone – whether they are walking, biking, driving or taking transit."
However, the statement's "new" projects were all already in the Vision Zero project pipeline. "The mayor's office presents the 57 projects as 'new'...we are shocked by this seeming attempt to mislead the press, city leaders, and the people of San Francisco," said McCarthy during the public comment period. "This is not the leadership we need. We demand real action from the mayor's office."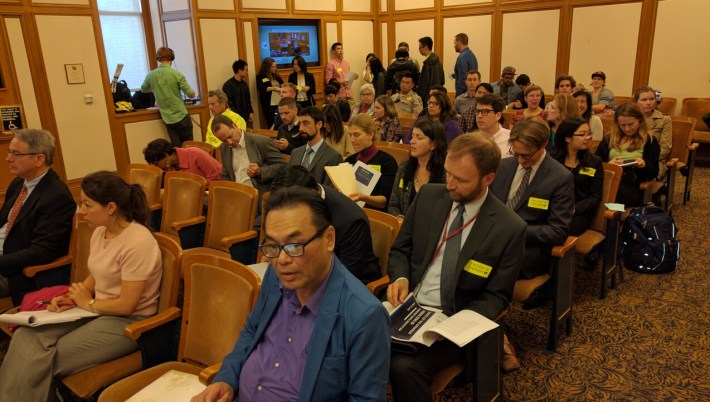 Kim asked why SF is behind NYC, Chicago or other cities that seem to complete bicycle projects more quickly. Maguire blamed California's environmental regulations, which often required studies, even for bike lanes. Moving forward, "changes to CEQA (the California Environmental Quality Act) will help us design faster,' he explained.
That said, as Ferrara pointed out, SFMTA uses paint, at least when doing short-term improvements. Vancouver, Chicago, and New York have used solid objects, such as heavy planters or Jersey Barriers, that can actually stop a car from intruding into a bike lane. Maguire, in a follow up interview after the meeting, said SFMTA has used planters, but with "mixed success," citing 6th street as a place where it was tried. "It was a maintenance issue," he said. "They were tipped over."
Given last week's fatalities, SFMTA is going to have to revisit the issue.
Which also begs the question: why set the bar against other American cities in the first place, as Kim and Maguire did in their exchange during the meeting? Portland has the highest cycling rates in the US--7.2 percent of commuters go by bike. To contrast, a typical Dutch or Danish city boasts more than 30 percent mode share, which is probably why San Francisco sent a delegation to Copenhagen last year.
And the Netherlands, which arguably has the best bike infrastructure in the world, uses protected bike lanes and protected intersections on all but the lightest-trafficked streets. So shouldn't San Francisco strive to design streets based on the best models in Europe, instead of on the relatively meager infrastructure in even the most bicycle-friendly cities in the US?
SFMTA's staffers told Streetsblog that, given last week's carnage, they are "questioning all assumptions."
Let's hope so. Because, as this publication has pointed out many times, even SFMTA's most ambitious improvement plans are saddled with safety compromises that get people killed.
Stay in touch
Sign up for our free newsletter