Bicycle Infrastructure
Bicycle Coalition Member Q&A with Executive Director Wiedenmeier
3:08 PM PDT on August 9, 2016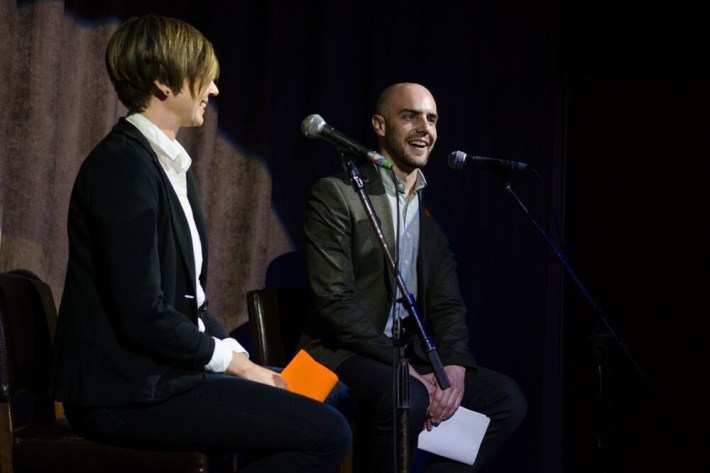 Yesterday evening some 200 San Francisco Bicycle Coalition (SFBC) members came to the Brick and Mortar Music Hall at Duboce and Mission to meet SFBC's Executive Director, Brian Wiedenmeier. They had bánh mì sandwiches, a few beers, and good conversation before a formal Q&A hosted by Kristin Smith, currently with SFMTA and former SFBC staffer.
The questions were varied, but key in the discussion was Mayor Edwin Lee's recent Executive Directive, instructing the police, the parks department, and SFMTA to accelerate Vision Zero projects and specific bicycle infrastructure plans in response to last month's deaths of two cyclists, Heather Miller and Kate Slattery.
By six, the venue was already crowded, with a hundred or so bikes parked in the valet stand outside. Participants were of varied ages and professions, but all had one thing in common--a passion for cycling and safe streets. "I'm interested in seeing what Brian has to offer," said Matt Dove, an SFBC member since 2004. Dove is Director of Bicycle Programs for the Presidio Community YMCA. "I'm curious to see what he'll do about inclusivity," said Eliza Barrios, a tech support staffer with the Wikimedia Foundation. She was especially interested in efforts to expand bike infrastructure in under-served and outlying areas of San Francisco, such as the Bayview and the Tenderloin.
If there was a common theme in concerns from participants, it was skepticism about whether the Mayor's new directive will lead to tangible change on the ground. "We get too stuck in the minutia of projects in San Francisco... we need leadership to stop being re-active and start being pro-active," said Dove.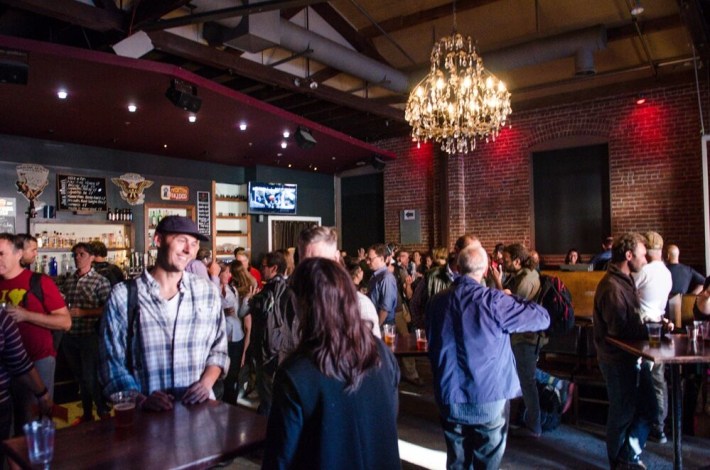 "I'm essentially encouraged [by the Mayor's directive]," said Adam Long, SFBC member and a bicycle advocate who has been featured in Streetsblog before. "But I'm discouraged by some of the vague deadlines."
"I don't think the city has my back," said David Bach, a office administrator for a San Francisco tech company, about the Mayor's directive. "I want to see the pedal to the metal [in installing bike infra], not more smoke!" Bach, who commutes by bike every day from near the San Francisco Zoo to Howard and 7th also asked why the city can manage to ban--and enforce the ban--on plastic bags and public nudity but not on texting and driving.
The perceived lack of speed in installing infrastructure was almost universally shared, although some seemed equally concerned about the quality of the infrastructure that has gone in to date. Steve Laporte, a San Francisco attorney, said portions of raised bike lane on Market Street are lacking because cars still park there. "Then I have to get off of it, go into traffic, and then I can't get back on because it's raised," he said. He wants to see physical protection on the lane. "I see piecemeal fixes, but a bike commute isn't piecemeal and everybody is only as safe as they are in the most dangerous section they have to ride on," he said. "Protected bike lanes--that's all I care about," said another participant in the event.
Wiedenmeier himself, meanwhile, was happily socializing and hearing from members informally before the Q&A began. "People are frustrated by the rate of project delivery and double parking," he told Streetsblog. "I love hearing from people about spot improvements... tweets etc. Our organization really relies on them."
The formal portion of the event started at 7 p.m. Smith read questions from the SFBC members. The first question was on efforts to increase diversity. "Our membership is strong and steadily growing but we could do better to have it reflect the composition of San Francisco in terms of race, gender, ethnicity and geographic distribution," Wiedenmeier said. "As a gay white man in my 30s, my experience is very different from a black person, a brown person, a woman of any race, or an older person. I won't make assumptions about the experiences of other." He added that the organization has to get Spanish and Cantonese materials and on-staff fluency. They also talked about double parking and cars blocking the bike lanes. "I think MTA and SFPD can do a better job of enforcement," he said. "But SFPD could ticket on Friday night and Saturday the same problem comes up." Instead, he opined, the answer is protected bike lanes that make it physically impossible to block the bike lane in the first place.
But will those lanes ever get installed? Wiedenmeier is hopeful that the Mayor's Executive Directive can cut through what he calls the "culture of delay."
"The Masonic improvements were approved and funded four years ago and broke ground last week! That's an unacceptable amount of time." he said. "But we have leverage now. We can go to the Mayor and say 'you directed the city to get this done in nine months' and we will call you out every time it doesn't happen."
While some in the audience remained skeptical of the Mayor's ability to follow through, Wiedenmeier expressed confidence. "It's a big deal. 1,700 people contacted the Mayor's office. When that many people write in, change can happen."
Stay in touch
Sign up for our free newsletter