Bicycle Infrastructure
Uber and the San Francisco Bicycle Coalition Partner on Safety Videos
3:12 PM PDT on September 22, 2016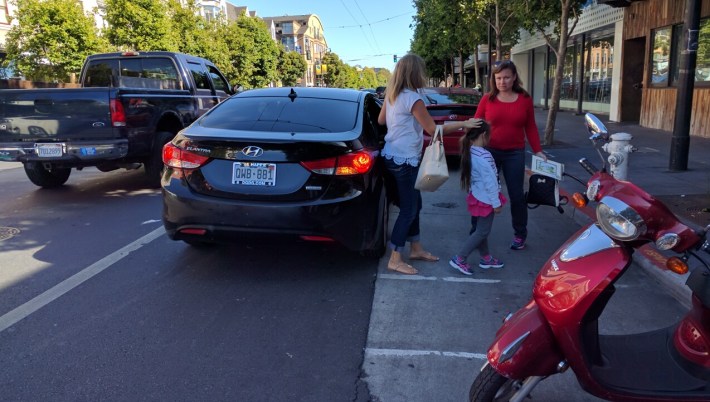 Note 'call to action' at the end of this post.
Today, the San Francisco Bicycle Coalition (SFBC) announced the release of four videos, produced with their help by Uber, to educate drivers on how to safely co-exist with cyclists in San Francisco. From an SFBC announcement:
Starting today, the SF Bicycle Coalition and Uber are giving hundreds of thousands of Bay Area riders and drivers expert tips to make smart, safe decisions around people biking. With the SF Bicycle Coalition's support consulting on content, Uber created and is distributing a series of four videos to regional users.

No safe streets curriculum has ever come close to reaching as many people as made possible by this partnership. It's safe to bet this will be a model for safe streets advocates, companies and cities across the country.
You can see all the videos here. Or watch our personal favorite, the one that deals with Uber drivers blocking bike lanes to pick up passengers:

Other videos deal with speed, making turns, and understanding bike lanes and markings
Safe-streets advocates have long viewed ride-hail as a mixed blessing at best. While they reduce car ownership--and with it, the space necessary for car storage--some studies show that they end up putting more cars on the road overall and draw people away from sustainable forms of transportation, mainly, public transit and bicycles, not to mention walking. Others worry that they continue auto-based urban design and curtail efforts to make cities more human scaled.
Ride-hail services have also been a near-constant frustration for cyclists, with bike lanes all across the Bay Area regularly blocked by Uber and Lyft drivers discharging and picking up passengers. The tension between ride-hail services is felt strongest on corridors such as Valencia, where advocates have watched as their hard-fought-for bike lane has been transformed into the world's longest Uber/Lyft drop-off zone.
But Uber and Lyft are here to stay. And the San Francisco Bicycle Coalition, through this effort, is looking for ways to improve the situation. With luck, these videos will get distributed beyond Uber drivers, and will be seen by drivers of delivery trucks and other taxi services--not to mention private automobiles. As any Bay Area cyclist knows, many motorists seem fairly ignorant about what our laws actually say about interacting with bicycles or choose not to follow them. Unfortunately, law enforcement is often included in that pool. Can we hope Uber's videos will get used in all driver-education classes?
And there's some question as to how much bad behavior by motorists is a function of failure to understand, or a failure to care. For the latter, Streetsblog hopes Uber will continue pursuing ways to take punitive measures against drivers who put vulnerable road users are risk.
Either way, Streetsblog applauds the Bicycle Coalition on this collaboration.
Of course, the best solution is safer infrastructure that reduces the opportunities for dangerous car-versus-bike- and-pedestrian interactions in the first place. That means protected bike lanes and intersections.
Speaking of which, here's the 'call to action':
Tonight is SFMTA's 7th Street and 8th Street Safety Projects Open House. As part of Mayor Lee's new Executive Directive on safety, SFMTA has been asked to put in protected bike lanes on 7th and 8th street in SoMa. As SFMTA explains it: 7th & 8th streets are intersected by multiple high-injury corridors on San Francisco's High Injury Network, which is the 12 percent of city streets that account for 70 percent of the city's traffic crashes. Staff will be on hand to explain how this project will make the street safer and more comfortable, and hear your feedback on how parking and loading can be better managed. Thursday, 5:30-7 p.m., Bayanihan Community Center, 1010 Mission Street, S.F.
Stay in touch
Sign up for our free newsletter