BART
SPUR talk on Local Measures: BART Bond Passes, Mixed Results on Others
3:41 PM PST on November 9, 2016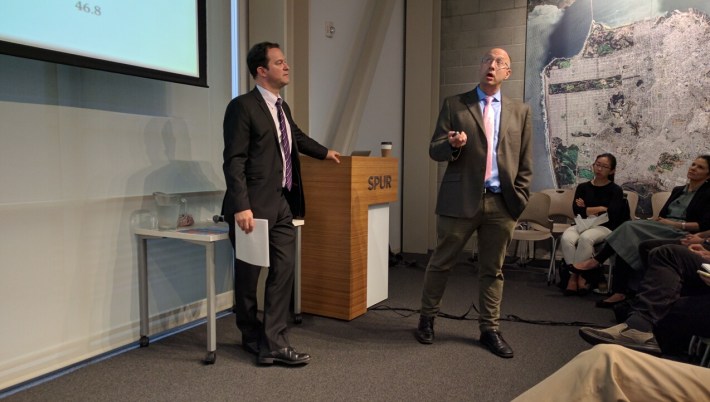 This afternoon, the San Francisco Bay Area Planning and Urban Research Association (SPUR), hosted a post-election analysis of local races and measures with political consultants David Latterman of Fall Line Analytics and Alex Clemens of Lighthouse Public Affairs.
Clemens started off his presentation and summed up the mood in the room with a single word: "sh*t!"
That was all they had to say about the national election, at least at the start of the presentation. They quickly moved on to a breakdown of San Francisco's complex ballot, with its 25 measures and several local races, some of them not yet definitively decided at the time of the presentation.
"Turnout was 53 percent so far, but will get to around 76 percent as the last ballots are counted," explained Latterman. He said that's the largest turnout since 2008.
That turnout, and the progressive votes that came with it, helped assure the passage of Measure RR, the BART bond. "BART will be on fire slightly less everyone!" joked Clemens. Unlike the national election, the strategy for the BART bond went exactly according to plan, which was basically to make up for soft support in Contra Costa by getting overwhelming support in the other two BART counties, to reach the two-thirds vote required to pass the $3.5 billion measure. "81 percent in San Francisco, 71 percent in Alameda, and 60 percent in Contra Costa," said Clemens.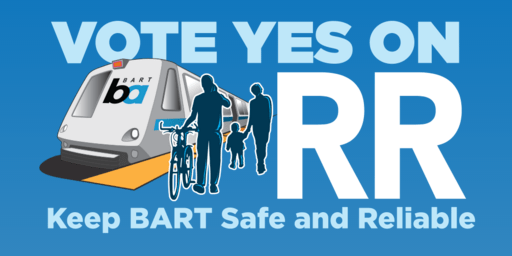 The reason for the relative weakness in Contra Costa? "You had [Senator] Steven Glazer up there, taking his revenge out on labor...so there was less of a persuasion plan," said Latterman. There was also the story of the overpaid janitor, which helped soften support, although obviously not enough to prevent its passage. "
"I'm sure it's causing you no small amount of joy," gibed Clemens, pointing at BART board director Nick Josefowitz, who was somewhere in the packed audience. "Nick can hook you up with a job as a janitor."
They also discussed the two BART board elections. "Bevan Dufty won the District 9 seat with 61 percent of the vote and Lateefah Simon won District 7 against incumbent Zakhary Mallett," explained Latterman.
Latterman also broke down San Francisco Proposition E, which transfers responsibility for maintaining street trees to the city. It won with 79 percent support. "When you have Supervisors John Avalos and Scott Wiener supporting the same thing on the ballot, you're good to go," he said. He expanded that the key to winning ballot measures is to get everyone on the same page and sort out compromises before introducing it, to assure a sweep of newspaper and advocacy endorsements. "Compromise behind the scenes, then put it on the ballot," he said.
As an aside, Clemens made it clear that, even though not all ballots were counted at the time of the presentation, Scott Wiener beat Jane Kim in the race for the California State Senate.
Meanwhile, Prop J, which set aside funds in the city budget for homelessness and transportation, won by 66 percent, while Proposition K, which would have raised the sales tax to provide funds for those set asides, failed with only 35 percent voting "yes." "We are willing to pay for our infrastructure, to make this a good livable city," said Latterman, but "general sales taxes often don't pass." He said there were just too many taxes, such as soda and another property transfer tax, for everything to pass. "The electorate was like 'no thanks.'"
The two covered the many other propositions and elections in a fast-paced presentation that lasted over 90 minutes. Near the end, they returned to national politics. "All of us have come to some conclusion that we don't understand the nation we live in. There's not a whole lot we can do to deal with the national and international and hopefully not global catastrophe that could befall us," said Clemens. "But the people in this room are strong and capable and creative, and it will be part of the vanguard of the US...it will be up to us to lead us back towards the path which just got derailed in a decadal if not generational way.
Latterman had a follow-up suggestion. "We're going to make the Golden Gate Bridge and the Bay Bridge into draw bridges, we're going to pull them up, and we will put alligators into the Bay," he said. "As for the rest of the country, we'll see you in four years."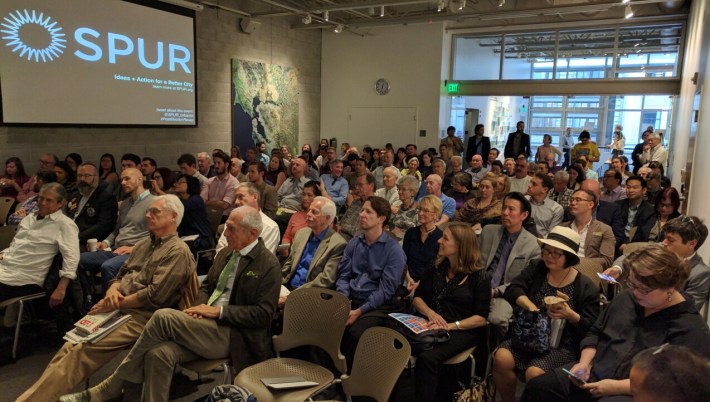 For more events like these, visit SPUR's events page. And, for a bit of calm, check out SPUR's election Haiku.
Stay in touch
Sign up for our free newsletter