Bicycle Infrastructure
Crash on Potrero: Injuries are Not Enough to Get Safer Streets?
4:53 PM PST on December 7, 2016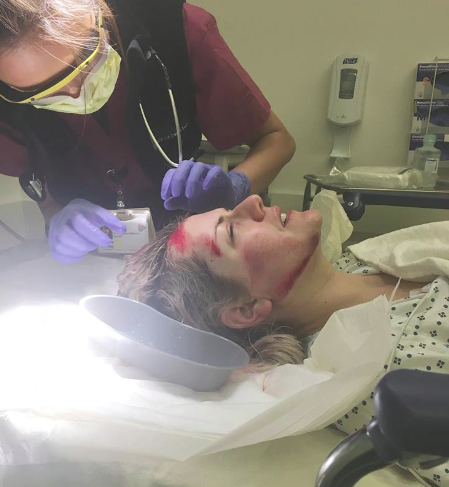 Last week, cyclist Dana Cray Fernie was out riding on Potrero when she was hit and knocked down by a motorist. AnnaGrace Arnold, a close friend, wrote this description on the SF Bike Ride Crew Facebook page:
My friend Dana was hit while riding her bike Tuesday 11/29 going southbound on Potrero between 22nd & 23rd (in front of SFGH), sometime between 10:15-10:27 pm. Specifically, she was hit at 1072 Potrero, which you can see in this photo [below], taken from across the street. PLEASE HELP US LOCATE THE DRIVER. If you were in the area at the time & witnessed the accident, or if you have seen a DARK BLUE, late model MINI COOPER which is now missing a SIDE MIRROR, contact me!! Any information could be helpful. SF is a small city and I know we can find the person who hit my friend & fled the scene if this post gets around. Please, please share!!!!
According to Arnold, Fernie is still not feeling in shape to talk with a reporter. "Dana is still foggy and sleeping," said Arnold of her friend, who sustained a lot of road rash, a concussion, and a gash near her hairline--and, fortunately, no broken bones. She also doesn't remember the crash.
Last Streetsblog checked, there are still no solid leads on finding the driver, who took off after striking Fernie. As Arnold mentioned in her post, a good Samaritan found the side mirror, which is how they know the color and the make of the car. Fernie and Arnold filed a police report and have been in touch with SFPD. This incident underscores the sad but essential conclusion that cyclists must have cameras on their bikes. Arnold and others tried to find some video of the crash from nearby security cameras but no luck so far.
But it underscores another troubling issue with how city agencies prioritize safety.
Fernie is going to be okay. But that doesn't mean she couldn't easily have been killed. It also doesn't mean that stretch of Potrero isn't deadly.
After June 22, the night Heather Miller and Kate Slattery were killed, there was an outpouring of sympathy and support for safety improvements. Because of that horrible night, and the hard work of advocates at the San Francisco Bicycle Coalition and elsewhere, the Mayor finally felt the pressure to do something. There are now speed bumps on the section of JFK drive where Miller died. There are protected bike lanes being planned and going in with unprecedented speed in the SoMa neighborhood where Slattery died.
But JFK drive didn't become dangerous the night Miller died. Same with the intersection at 7th and Howard, where Slattery died. They were dangerous before that. Why can't the city act before people die?
Since that horrible night, many more cyclists have had close calls with death--and in some cases sustained serious injuries, such as Michael Vasquez, who was hit at Geary and Divisadero. There was at least one crash on Valencia. And at least one on Market. And in too many other places to keep track of them all. And now on Potrero. There have been pedestrians killed and injured too.
Any street where a cyclist or pedestrian is hit needs examined and, if there are safety deficiencies, they need fixed--with the same speed and determination we're seeing on JFK drive.
Why doesn't SFMTA send a crew to 1072 Potrero, to see what can be done, right now, to protect cyclists there? Is it because Potrero is actually in the process of undergoing a street redesign project, headed up by the Department of Public Works? But that reinforces the point: as Streetsblog reported previously, there are no protected bike lanes or intersections as part of the project.  Doesn't this latest crash make it imperative that the plans are modified to include protection? Arnold, who also rides in the area, resents the lack of protective infrastructure on Potrero. Stripes are not enough, because "a crash that causes a scratch on your door for a car can be life or death for a cyclist or a pedestrian," she said.
"When a street is overhauled, the transformation needs to be far better than what is being constructed on Potrero today. The city knows how and where collisions happen, they know that collisions will continue without design changes, and they need to show far more courage in doing what's right to prevent those collisions," said Chris Cassidy of the San Francisco Bicycle Coalition.
Perhaps the conclusion is that city leadership doesn't care if Fernie, Vasquez, and others get badly injured, or even killed, as long as they don't die on the same night?
For now, advocates will have to keep demonstrating that the trickle of deaths and injuries are not isolated. They are part of systemic failures and a lack of leadership. Maybe it's time for some guerrilla safety teams to see what they can do around 1072 Potrero. Perhaps they can come up with some quick fixes, at least until the city rips them back out.
Meanwhile, Fernie continues to mend at home. "We're lucky she'll have a relatively speedy recovery," said Arnold. "But she is in as much pain as someone can be in without being broken."
If by chance you saw the crash on Potrero, please email tips@streetsblog.org.
Stay in touch
Sign up for our free newsletter