Bicycle Infrastructure
Fix SoMa Streets: Public Speaks at Folsom-Howard Open House
4:54 PM PST on December 9, 2016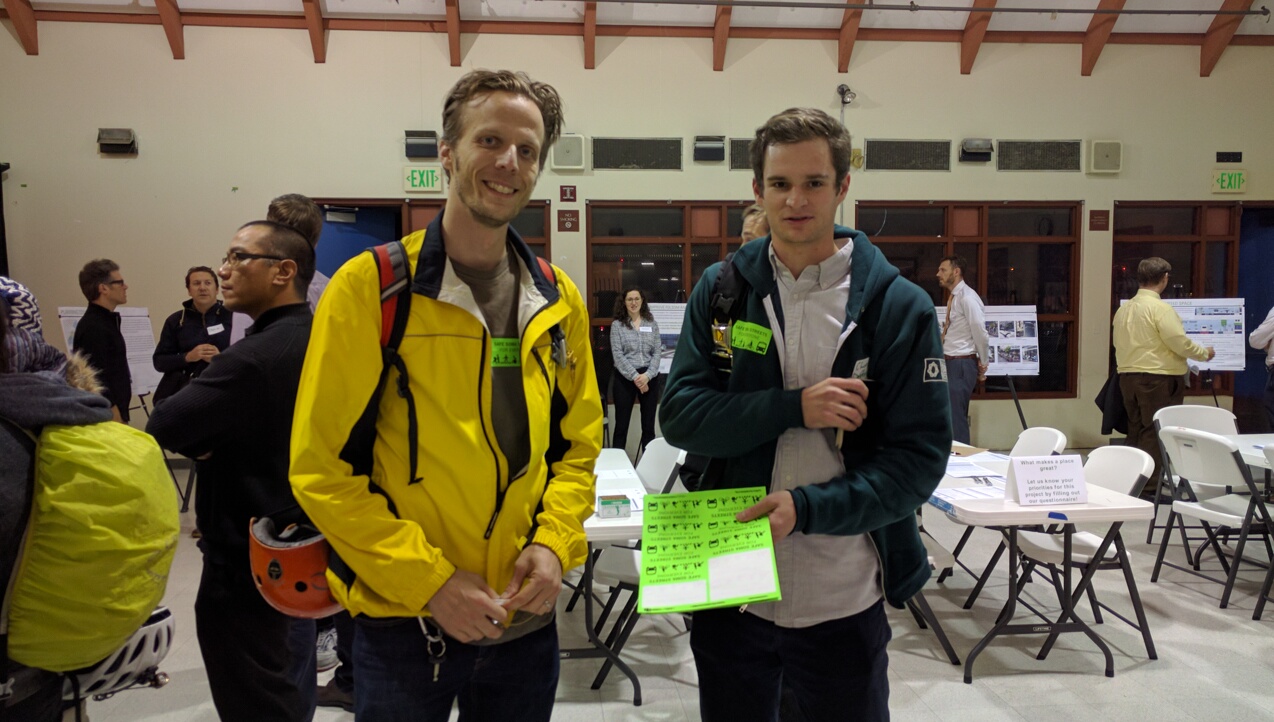 Last night, the San Francisco Municipal Transportation Agency held its first of two open houses to solicit feedback on possible safety improvements to Folsom and Howard Streets in the South of Market neighborhood. Some 50 people braved the cold and rainy night to voice opinions and hear from MTA staff at the SoMa Recreation Center. From the SFMTA's website:
Demand on SoMa's streets is increasing and will only continue to rise. The City estimates a 212 percent increase in SoMa residents and a 140 percent increase in SoMa workers by the year 2040. We need to prepare thoughtfully for the coming growth that will place more demand on the neighborhood's transportation network. This project will focus on updating and upgrading the Folsom-Howard couplet. It will prioritize traffic safety, community livability and enhancing the neighborhood's existing character. The initiative will also improve transit access and examine traffic circulation modifications.
Charles Deffarges, community organizer with the San Francisco Bicycle Coalition, was there, seen in the lead photograph on the right. Streetsblog readers will recall that part of SFBC's strategy is to get advocates out at open houses to make sure safety for cyclists and pedestrians, as opposed to parking and car throughput, remains at the top of the agenda. SFMTA, at least in theory, is on the same page. Jamie Parks, a Livable Streets manager for the agency, said the two main goals are to make Folsom and Howard "safe and vibrant." He said any changes are part of an ongoing improvement scheme that will "switch buffered bike lanes to parking protected."
Those changes will be welcome by members of the public who came to the meeting, at least from what Streetsblog heard. That was especially true for Thor Denmark, seen in yellow in the first photo. "I have three little kids now, twins who are nine and another who is 11," he said. Denmark, who rides his kids around in a cargo bike, is envious of what he's seen in other cities. "I want MTA to do what they've done in New York and Chicago--parking-protected bike lanes and true infrastructure. Not soft-hit posts and paint," he said. He also wants them to use an entire car lane if that's what's needed, even if it means political blow back from motorists in the short run. "In twenty years, it will happen and then everyone will try cycling."
Tracy Purrington, meanwhile, lives in the Mission and rides to SoMa frequently on transit. He wants to see protected bike lanes, but also "red carpet" bus-only lanes like they now have on Mission. He added that he's frustrated by the way buses slog through SoMa. "It's a clusterf*ck," he said. "Look at the 12 Folsom-Pacific bus." He added that paint and some planters is all that's needed to make transit work better and cycling safer.
Meanwhile, Louis Travieso and Nancy Horner had a slightly different perspective. They both work at Moscone Center and were concerned about changing Folsom and Howard into two-way streets, something some residents--according to officials at the open house--seem to want. "We prefer to keep them one-way," said Travieso, adding that the loading docks at Moscone weren't designed for a two-way street configuration. That said, both also supported protected bike lanes, since they are concerned that one of their delivery trucks could run over a cyclist. "They haven't hit anyone yet, but there have been plenty of close calls," said Horner.
Claire Amable (at the end of the table in the above photo) and Maverick Ruiz (closest on the right) came with Youth Organizing Home and Neighborhood Action (YOHANA). They want to see better street lighting and wider sidewalks, so it's safer for young and elderly residents to walk the streets of SoMa, especially at night. "We want our voices heard on these projects," said Amable.
Fair enough. And as Streetsblog readers have surely noticed, there have been quite a few open houses as of late, including one in Golden Gate Park just last weekend, and there was another one in SoMa in September. Some components of these projects have been in development for some time, although a few were accelerated because of the Mayor's executive directive on safety. The Folsom-Howard project, meanwhile, is part of the overall Central SoMa plan from the SF Planning Department (see map above).
For readers who couldn't make last night's open house, there's a second meeting about Folsom and Howard scheduled for tomorrow, Saturday, Dec. 10 from noon to 2 pm, at the SoMa Recreation Center, 270 6th Street, San Francisco.
Stay in touch
Sign up for our free newsletter