Bicycling
Open Thread: Is San Francisco Over Reacting to Bluegogo?
3:27 PM PST on January 19, 2017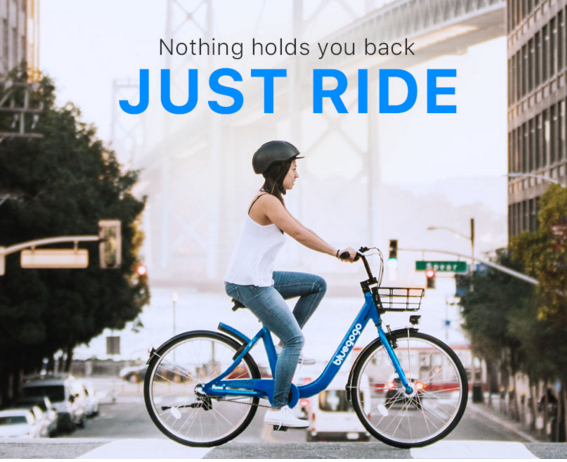 Yesterday morning, Supervisors Aaron Peskin and Mark Farrell held a press conference in response to a report that Bluegogo, a Chinese bike-share company, would bring thousands of rental bikes to San Francisco. From an earlier story in the Examiner:
Now, China-based bikeshare company Bluegogo may follow in the footsteps of Uber, Airbnb and other tech companies by launching in San Francisco without permission or permits, following the "disruption" template established by so many others.
As Streetsblog readers are surely aware, San Francisco has exclusive agreements with bike-share giant Motivate to operate Bay Area Bikeshare stations in the city.
As explained on their website, Bluegogo bikes don't depend on fixed bike-share stations. Instead, GPS trackers tell Bluegogo customers where to find the bikes with a cell-phone app. The bikes can be locked anywhere one would leave a regular bike. Users are asked not to park the bikes in parking garages, public walkways, or anywhere where they would be hard to locate.
"Our bikes have GPS and we will keep an eye on their locations with teams ready to be deployed and move them [when necessary]," wrote Ilya Movshovich, VP of US Operations for Bluegogo, in an email to Streetsblog. "We will also encourage user feedback when it comes to maintenance as well as asking our community to take photos and move bikes to the appropriate locations while giving them incentives and implementing a ratings system as they help us in this process."
However, Peskin and Farrell are threatening lawsuits because Bluegogo doesn't have a permit. In a letter to the CEO of Bluegogo, Ed Reiskin, director of the SFMTA and Mohammed Nuru, director of Public Works, pointed out that Bluegogo would be violating San Francisco's exclusive agreement for Bay Area Bike Share.
But this seems tantamount to SFMTA signing an agreement that everyone in the city has to use Uber but not Lyft, or has to drink Coke instead of Pepsi. The sanctioned bike share stations are often not conveniently located. If Bluegogo has figured out a better solution to making bikes available to the general public, isn't that a good thing?
"The concept of Bluegogo--truly untethered bike share--is a wonderful, if risky, idea. Promoting a healthy lifestyle that involves cycling is great...," wrote Ben Sin, a journalist with first hand experience with the bikes in China, in an article for Forbes. "When I rode the bikes in Shenzhen, I thought several times about how fun it would be do the same thing in New York or San Francisco."
Could it be disruptive? Sure. And if Bluegogo's approach seems abrupt, well, isn't it time we try something fast and messy for a change? This isn't the same as Uber testing a driverless car on the streets of San Francisco--a car weights several tons and could potentially kill someone if a line of code has a bug and the human-driver is unable to take over fast enough. Bluegogo is just talking about dropping bicycles around the city.
That said, part of the complaint from Peskin's office is that Bluegogo bikes will end up littered around the city, obstructing public access and creating a hazard. "...we can't drop bikes in positions that would disrupt an adequate path for pedestrian traffic. We don't intend to do that. We also have a system in place to monitor, review and reward/penalize our users for bicycle placement behavior," wrote Movshovich. "We are doing a lot of research to placing bikes in specific areas that would not impede any sort of traffic."
And if blocking public rights-of-way is really the issue for San Francisco officials, maybe the city can adopt a similar system of rewards and penalties for its own employees, who block bike lanes with impunity. For that matter, where's the press conference about public rights of way continually blocked by garbage, encampments, and broken bikes right now?
What do you make of all this? Do you have any experience with Bluegogo in China? Does the reaction at City Hall seem correct?
Comment below.
Stay in touch
Sign up for our free newsletter