Bicycling
More Details on Bluegogo Dockless Bike Share
4:50 PM PST on January 23, 2017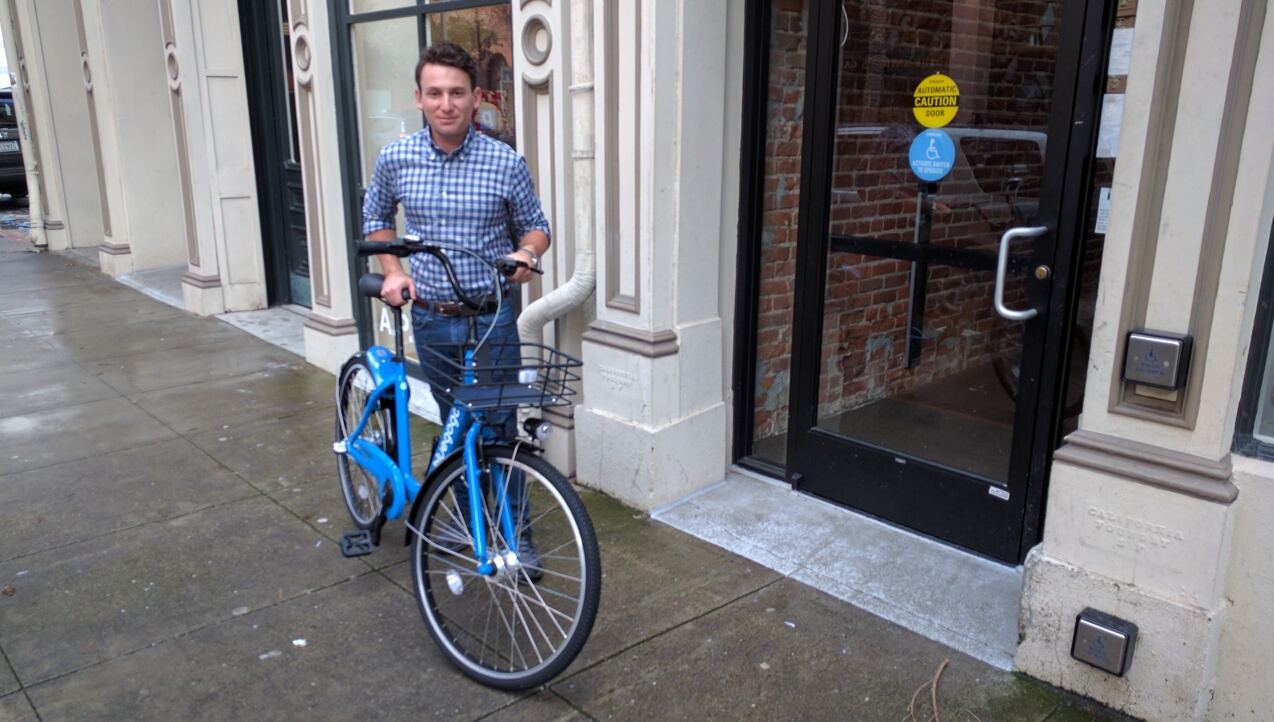 This morning, Chinese bike-share company Bluegogo held a press conference in downtown San Francisco to update the media on its launch plans and its negotiations with the city. From the announcement:
Enabled by smartphone, GPS and solar technology, users can search, reserve, unlock and pay for bluegogo bikes via the mobile app. As no docking stations or designated spots are required, Bluegogo provides the most convenient and reliable access to bikes without ownership. GPS combined with a smart lock, unique frame and tires, security screws and a built-in alarm system, safeguard against theft.
Readers will recall that last Thursday Supervisors Aaron Peskin and Mark Farrell also held a presser, pushing back against what they saw as Bluegogo's plans to dump thousands of bikes all over SF sidewalks and public spaces, without obtaining permits from the city. Bluegogo would also likely compete for customers with Motivate's Bay Area Bike Share, which has an exclusive arrangement to set up bike-share docking station racks in San Francisco.
This afternoon Streetsblog met up with Ilya Movshovich, VP of Operations for Bluegogo, US, at their shared office space in Jackson Square. The objective was to hear their side of the story, how they've adjusted their plans to the blowback from the city, and to try out one of the bikes and see how they actually work.
"There's no membership, and the bike is only a dollar every 30 minutes," explained Movshovich. Users download an app which shows them where the bikes are parked. Then they find the bike nearest to them and scan in the QR code, either on the fender or on the seat post. "We have two in case one of them gets damaged--they can also type in the number [marked on the bike] manually," he explained. The bike then receives a signal to unlock its rear wheel. When the rider is finished, they can end the rental with the app and it will automatically relock or they can manually close the lock on the rear wheel, which also serves to end the rental. "That way you have an option if, let's say, your cell battery dies," he said.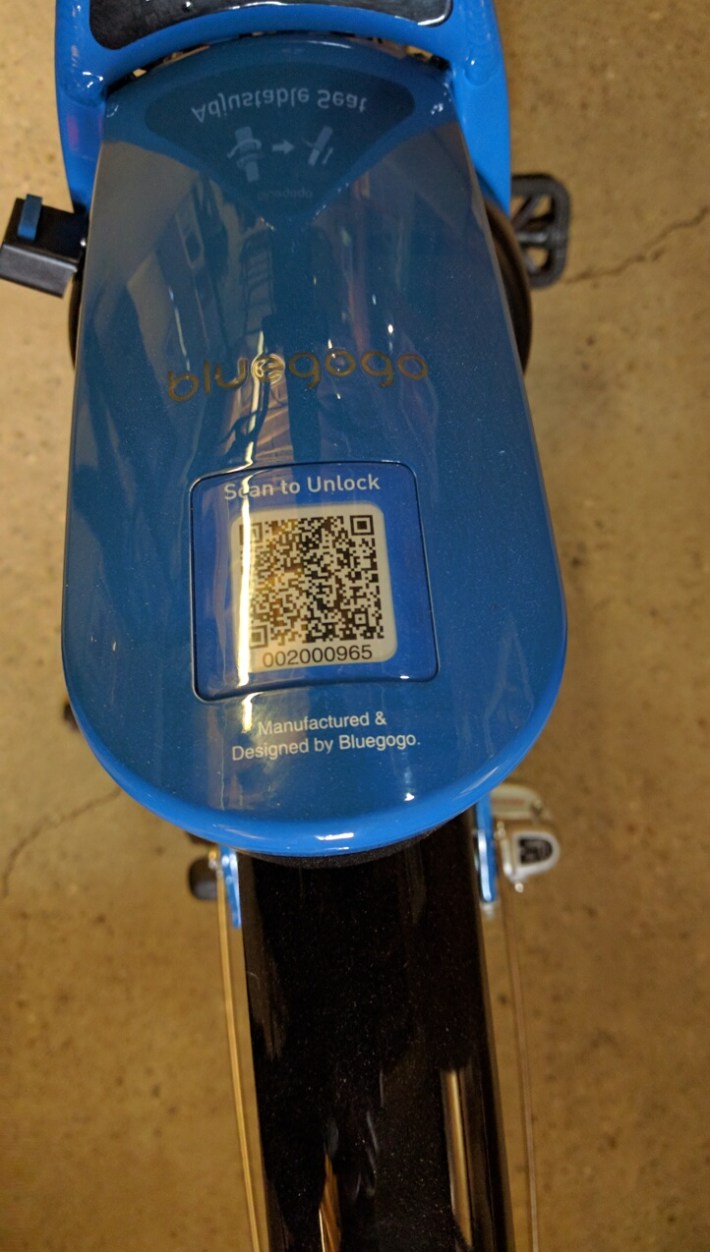 In that way, the Bluegogo bikes are a little bit similar to the Biketown System in Portland or the Mobi System in Vancouver, BC., where one doesn't have to return the bike to a system bike station. The difference is with Bluegogo there aren't any bike stations to start with. They also don't have to be locked to a pole or a bike rack--they can be left anywhere. That's what has city officials up in arms--the fear is that the bikes would end up littered about the city. But the company can track the bike's locations and scoop them up and relocate them if they end up in bad locations. It's also possible for someone to pick up the bike and move it--they're not particularly heavy, so if a user left one, let's say, blocking a doorway, you don't have to rent the bike to move it, although it won't roll, obviously.
Movshovich said when the Chinese parent company decided to open this subsidiary in San Francisco, they were aware local regulations could be problematic. Therefore, Movshovich reached out to the city--several times. From what he says, it sounds like the company's inquiries got lost in the bureaucracy. That's why they decided to "go rogue" and just launch. Now, however, the company has decided to "soft launch" on a smaller scale, and will instead place the bikes in car-park spaces in private lots and will encourage users to return the them to these designated parking spots scattered around the city--which keeps the city bureaucracy out of the picture for the moment. That will give the company time to negotiate an arrangement with the city for expansion. They will start with locations in the Financial District, SoMa, the Castro and a few other spots.
So what's to stop people from stealing the bikes? Like with any rental, users have to leave a deposit on their credit card. If someone tries to throw the bike over their shoulder or takes it in a car, an alarm on the bike will sound until they put it down again. Since Bluegogo bikes have GPS, it's easy for the company to report it stolen--along with the location. As Movshovich explained, most of the parts are non-standard, so there isn't much to steal in the way of components. Also, the tires are solid rubber, so flats are not a problem.
Streetsblog took one for a spin. It was -- as one would expect a share-bike to be -- solid, if a bit slow. Not as heavy as a typical share bike. They ride just fine and would be very handy for a short trip. The lights come on whenever the wheels turn--they are powered by a dynamo. There are three speeds. It was easy to use and simple to lock and leave.
For now, they've suspended any idea of rolling out to the East Bay, after the experience with San Francisco. In reality, they never planned to roll out as many bikes as was rumored. "A few hundred," explained Movshovich. "Nowhere near the 10,000 that's been reported." They also will have incentives to get the bikes returned to the private lots spots (for now) and they have teams ready to collect the bikes if they have to.
On the whole, however, it seems like a superior idea to tethering share bikes to fixed location, such as in the Motivate model. Movshovich hopes their bikes, because they don't need docking stations and are cheaper to rent, will become popular in low-income areas.
But mostly, he said he just hopes it gets everyone biking more. "The other day I was in an Uber pool, and one of the riders got out to go to the gym," he said. "We've got to get people out of cars and walking or onto bikes."
Stay in touch
Sign up for our free newsletter